---
DAVID ENANDER 26X18 CUSTOM BIG KAHUNA
Description
26X18 OVERALL PERGOLA DIMENSION
23X15 OUTSIDE POST TO POST DIMENSION
Pergola Depot custom pergola kit. This kit includes standard shipping, installation instructions, and the following pergola components: 2×8 mortised rafters, 2×8 double beams, 6×6 posts, 2×2 top slats, 2×6 angle braces, 2×8 ledger board (for attached pergola kits only), stainless steel hardware, 14-gauge steel angle bracket hardware (for Fedora pergola kits only).
Important notes:
– Upon delivery (2) or more adults are required to inspect and unload the kit piece by piece from the back of the truck. This will take approximately 15-30 minutes for kits up to 20×20. DO NOT unload the kit using a forklift. 
– Pine Kits: Pressure Treated Pine must be assembled first and allowed to dry 2-4 months before staining or painting. DO NOT stain, seal, or paint pressure treated pine before the lumber has dried.
– Cedar Kits: For best results, we recommend sealing or staining your cedar pergola before you install it or very soon after installation.
– We recommend installing as soon as possible after receipt. To store the kit on a short-term basis prior to install, please make sure the lumber is out of the weather (garage, shed or under cover), neatly stacked and under a tarp if outside. It is not recommended to leave the pergola parts out on the ground to allow the drying time as this will cause parts to twist and bow. If it will be a day or two before you can install it, we recommend stacking the lumber neatly, and keeping it under a tarp or in a garage until you are ready to install it.
– This quote will expire in 30 days.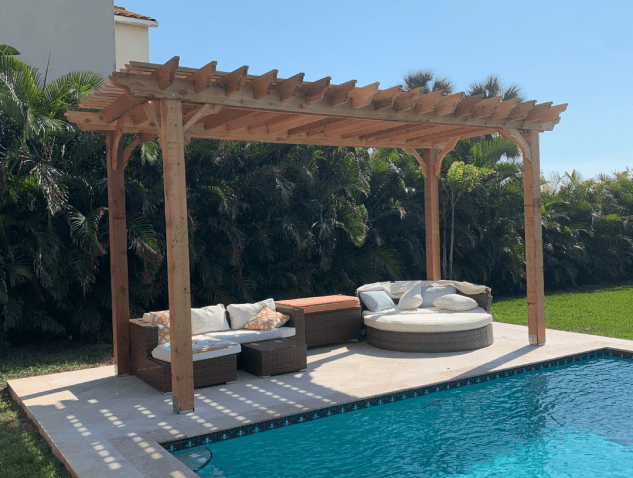 Pergola Depot got involved and went above and beyond to make sure that our pergola was delivered. The product and prices are great too.

How To Measure Your Space?

Frequently Asked Questions

Questions? Call, Email, Form
Let Us Customize Your Pergola Shopping Experience
Our world-class customer service team is ready and able to assist you with your questions. We understand that your needs are often unique and require special attention.
Call us now for expert assistance in choosing and configuring your ideal pergola kit.