10' x 20' Pergola Kit
Enjoy the outdoors relaxing under your distinctive 10′ x 20′ pergola from Pergola Depot.
Want a pergola that gives your backyard a contemporary look and style? The fashionable and durable 10×20 pergola from Pergola Depot will do just that, as well as serve other numerous purposes. You can use this pergola to cover the sitting area, make your guests comfortable, and protect them from the sun and elements. In the garden, the 10×20 pergola kit can protect your flowers from burning in the scorching summer sun.
Also, you can use the pergola to create a stunningly beautiful visual effect, especially when you put potted plants, hanging plants, and creeping vines under the pergola. The woods we use to make our pergolas are sustainably sourced. So, if you are an eco-friendly person, then Pergola Depot should be your go-to shop for your pergola kit 10×20.
Do you need a decorative addition to your outdoor space? The 10×20 pergola serves this purpose well. It also forms a stable base for flowers and climbing plants, making it such a lovely seating area during the summer, fall, or any time your flowers are in bloom! The pergola is carefully crafted from natural, sturdy, and durable wood that withstands extreme weather conditions when properly cared for. Moreover, this pergola comes with easy instructions, making it easy to assemble.
Choose from Three Kit Styles of 10×20 Pergolas
---
Our 10×20 pergolas come in different styles and designs. So, you can be sure that you'll get something that meets your needs when you order a pergola kit from Pergola Depot. Take a look at what we offer.
---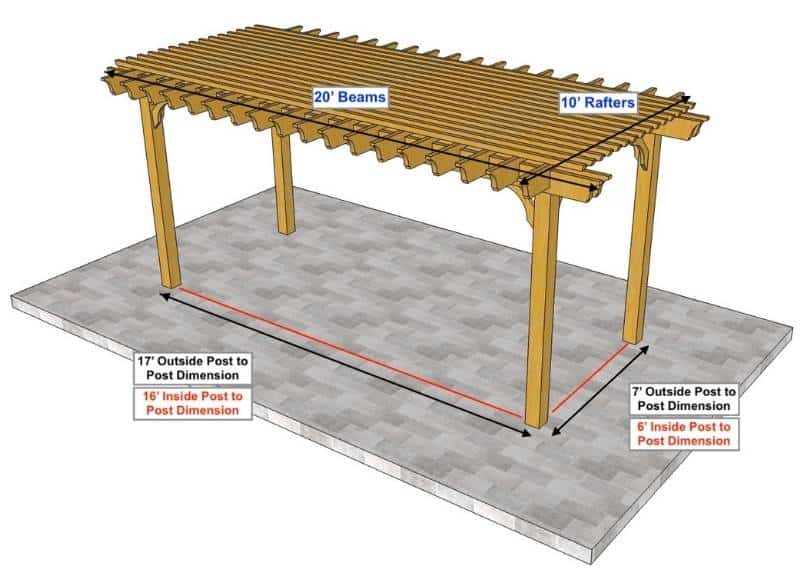 ---
The Big Kahuna Pergola kit commands attention and is our signature pergola. It combines style, craftsmanship, and strength. The pergola comes with rafters and top slats on 12 inch centers to provide maximum coverage for any of your backyard projects. Don't forget to choose the end shape of the rafters and beams to customize the look of your pergola.
---
The Sombrero 10×20 pergola creates a more exposed feel than the standard Big Kahuna and provides more coverage than other pergola kits on the market. Ultimately, the Sombrero is the Big Kahuna design but with half the rafters and top slats. This pergola kit is a great choice for your outdoor space. It's built for medium sun coverage and can be attached to a building or stand on its own.
---
Compared to our other pergola kits, the 10×20 Fedora pergola provides the most open shade. With lots of open space, fresh air floats through and under the pergola roof. At night, this pergola allows you to sit under the structure while watching over the stars.
Is the 10×20 Pergola Big Enough?
---
To know if your 10×20 pergola kit is big enough, be sure first to choose and decide where your pergola goes in your garden. That may sound a bit easy, given that you already know where you want to install your pergola before even buying it. But the fact is that various factors may affect the available space.
You need to walk in your garden or backyard and remove any obstacles that may limit the space of your new outdoor addition. You'll then need to know if your pergola will provide adequate spaces between the posts and the wall. Is the pergola tall and wide enough to cover your needs? See whether you want your 10×20 pergola freestanding or you want it attached to a building. You may now decide if the pergola fits your needs. If it's too big or small, head over to our catalog page and browse other sizes. Our pergolas come in different sizes to meet your space needs.
Shop 10×20 Pergolas from Pergola Depot
---
Pergola Depot stands out as the best pergola shop. We use quality wood and building materials on all of our pergolas. That said, the pergolas will give you a long service. No one beats us when it comes to style, considering that every one of our products is beautifully designed and crafted. Plus, we have various options you can choose from, not to mention that we can customize your pergola size to match your expectations.
Our 10×20 pergola kits come with easy-to-understand instructions. So, you won't have trouble installing your shade. If you need some help setting up your pergola or just have any questions about pergolas, feel free to reach out to us.