Pergola Wood Comparison
Our pergola wood comparison provides descriptions of the top wood choices for pergolas. Since the quality of your pergola depends on the materials and technique used to build it, buying a hand-built pergola kit made from top quality wood and hardware will make the difference in how long your pergola will last, and how it looks in your outdoor landscape.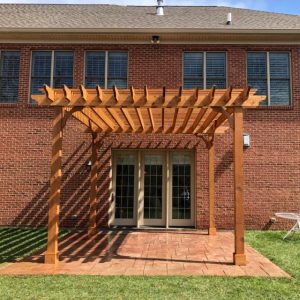 Consider these important questions when you're considering the different pergola kits offered online and in retail locations. What type of wood and hardware will be used – is it cheaply sourced? Lumber selection is very imporant for durability and longevity. Where are the materials sourced? What quality is the pergola wood you're considering?
We hand-picked our wood types that align with long lasting beautiful wood pergolas. Our wood types are rough sawn western red cedar and #1 pressure treated southern yellow pine – two pergola wood types that are not sold at big box stores. The lumber we use is sustainability harvested in North America and are top-rated choices for outdoor living structures. Together with our time-tested design and skilled production technicians, these wood types ensure a beautiful structure that will last for many years of enjoyment.
We've been building quality wood pergola kits since 2008, and have created this simple pergola wood comparison to help customers decide which wood to choose. What features are important for your wood pergola kit? Quality? Durability? Price? For our Big Kahuna, Sombrero, Melbourne, Fedora, Brim, and Visor pergola kits we always use either western red rough sawn tight knot cedar or pressure treated #1 southern yellow pine lumber. Either choice ensures you will have a quality wood pergola. For our Peak Timber Frame pergola kits we use Western Red Cedar, Alaskan Yellow Cedar and Southern Yellow Pine (kiln dried after pressure treatment). All of our pergola kits and cedar planter box kits are built using quality, durable wood that is able to withstand severe weather.
In addition to this wood type comparison, other helpful information for your backyard wood pergola include our guide to choosing a wood pergola and a comparison of pergola styles. The wood comparison below describes the two types of wood we offer. Pressure treated pine, the most affordable pergola wood option, is rot and insect resistant. Much like pine pergola kits, western red cedar is also naturally insect and rot resistant, and can withstand severe elements. Start here with determining the best wood type for your backyard space.
Pergola Wood Comparison: What's the difference between a Pressure Treated Pine and Rough Sawn Cedar Pergola?
Western Red Cedar Pergola Kit
Western red cedar is a beautiful light amber color with a wonderfully appealing fragrance that adds another dimension to its qualities. Two of the top reasons for choosing western red cedar for pergola wood are: 1) that it's highly resistant to decay, and 2) that it withstands severe elements. These reasons make this wood type ideal for outdoor use, and it is used in situations where exposure to the elements is continually severe. It is lightweight with close, even grain, and is easily worked and can be finished smooth with little effort. This type of cedar takes paints and stains very well. Paint or stain can be applied to western red cedar as soon as you receive the pergola kit. Western red cedar is sustainably harvested in North America.
Pressure Treated Pine Pergola Kit
Pressure treated pine, the most affordable pergola wood option, is also very rot and insect resistant and able to withstand severe elements. Pressure treated pine has chemicals added to give it those properties. This wood type comes with a green appearance. As it dries it will turn to a golden brown, then gray if it is not water sealed or stained. You will need to wait a few months before staining or painting the pine lumber since it will be saturated with the pressure treatment when you get it. Southern Yellow Pine is sustainably harvested in the southeastern United States.
Pergola Construction: Hand-built vs Mass produced pergolas
When you're making an investment in an outdoor area of your home or business, not only do you want the best materials, but you also want to consider the skill and reputation of the manufacturer.
Who is building the components of your pergola kit? Many times, lower cost pergolas are mass-produced. If you're looking for a cheap pergola, that is not our brand.
Our pine and cedar pergolas kits are hand made in the USA that are hand cut and drilled right here in Melbourne, Florida. We took great care in designing our pergolas and accessories, we take pride in our work, and stand behind our products.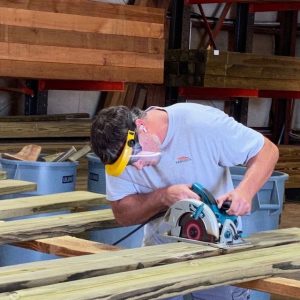 We thoughtfully designed our pergola styles to withstand severe weather conditions. Founded on hurricane-prone Florida's Atlantic coast, our company's flagship pergola kits were designed with durability and beauty in mind. Our best-selling pergola styles are engineered to withstand hurricane force 175 mph winds and are built using stainless steel hardware and durable wood types.
Take your time looking around at our pergola selections and let us know if you have questions! You can book a call with our pergola specialist, call us direct, or send us your questions using our Contact Pergola Depot form.
Pergola Wood Comparison: Description of Wood Types for our Timber Frame Pergolas
For our Peak Timber Frame pergola kits we use Western Red Cedar, Alaskan Yellow Cedar and Southern Yellow Pine (kiln dried after pressure treatment).
Western Red Cedar Timber Frame Pergola Kit
Western Red Cedar (of the Cypress family) has a beautiful light amber color, which will naturally fade to grey if left untreated. Its appealing fragrance adds another attractive feature to its qualities. For our Timber Frame pergolas, we use #1 or better grade, unseasoned Western Red Cedar that is surfaced (cut smooth) on all four sides. The cedar will show the natural wood grain and will have a limited number of knots and other characteristics. Western Red Cedar's natural resistance to decay and sturdy qualities make it a very popular choice for outdoor use. Western red cedar is beautiful with a simple clear preservative or light stain.
Alaskan Yellow Cedar Timber Frame Pergola Kit
Alaskan Yellow Cedar or Yellow Cedar (like Western Red also of the Cypress family), has many of the same insect, rot, and decay repelling properties as Western Red Cedar, but denser, and with excellent strength and stability. Alaskan Yellow Cedar has a beautiful pale-yellow color (almost white), that left untreated weathers to a light silver grey. For our Timber Frame pergolas, the Alaskan Yellow Cedar will be smooth on all four sides and can be treated with oil or stained. Alaskan Yellow Cedar is a popular choice in many high-quality projects.
Southern Yellow Pine Timber Frame Pergola Kit
For our Timber Frame pergolas, we use #1 or better grade Southern Yellow Pine that is kiln dried after pressure treatment. The lumber is cut smooth and treated to a ground contact level. Since it is kiln dried after treatment, our Southern Yellow Pine is a light brown color and an excellent choice if your plans call for painting. Pressure-treated pine can withstand severe weather and is very rot and insect resistant. Southern Pine is the most economical wood choice option for our Timber Frame pergolas.