Payment and Financing Options
Pergola financing has never been more accessible. We've added new pergola payment options to help complete your outdoor living project. Choose from traditional payment methods or several popular flexible pergola payment plans, such as:
Paying over time with a 0% loan
Extending payment over a longer period with an interest rate
Paying in installments
Pay with Credit Card or Debit Card
Pay using credit or debit card on our secure checkout and enjoy benefits that your card offers for purchases.

Pay with Venmo, PayPal, or PayPal Credit
Paying using PayPal, PayPal Credit or Venmo for a simple, convenient, and trustworthy payment experience.

Questions About Pergola Payments and Financing Options?
Call Pergola Depot at (877) 563-0002
Pergola Payments in Installments
Try a different pergola financing method, and pay as you go online without fees or credit checks. It's flexible and interest-free, although a down payment is required. This is a good plan if your order requires a hold for permit approval or if your project requires more flexibility. Features of our installment plan include:
A 25% initial down payment is required. Pay off your installments early to reserve an earlier date on our production calendar.

You determine the installment amount and schedule that works within your budget. We will provide you with a suggested pergola payment plan. If your balance is not paid within 45 days, your order is subject to pricing changes.

You can make payments by debit card, credit card, PayPal, Venmo or QuickBooks Payments (bank transfer or credit card).

We will invoice you with your running balance weekly. Pay the recommended payment amount for that week, or customize your pergola payment amount. Pay off early and get an earlier date on the production calendar.

Your order will be considered an On-Hold Order and will not be added to the production calendar until we receive the final payment.

On-Hold Orders can be canceled or refunded at any time. Please see our

Terms & Conditions

for details.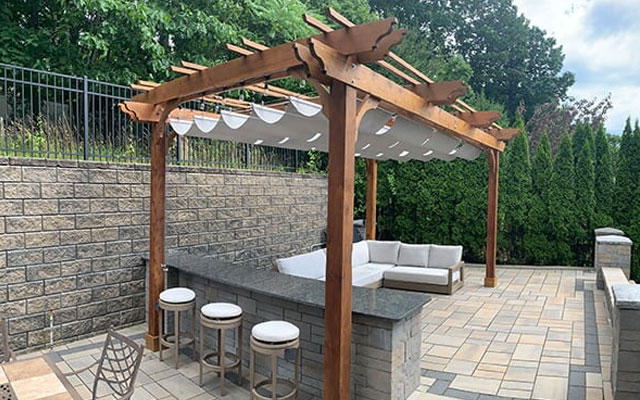 Pergola Financing Options That Fit Your Budget
Pergola Depot wants to match you with the pergola of your dreams. That's why we offer a range of pergola financing methods. Whether you like to pay by credit card, Venmo or some other option, there's a plan that works for you. We work with you to ensure you get the pergola that completes your outdoor living space.
Pergola Payment Plans + Pergola Depot Service
Whatever pergola payment plan you select, our customer service team has your back. We're here to help you every step of the way. We can answer your questions about pergola payments, sizes and more. We're also here to field your suggestions and help you select the best pergola for your space.
Pergola Financing for a Wide Array of Pergolas
You have access to our full range of DIY pergola kits, regardless of how you handle pergola financing. And you can take advantage of our fantastic pergola discounts. We offer affordable pergolas in over 90 sizes and styles, so there's something that will suit your outdoor space. Whether you select the full coverage of the Big Kahuna or a more breezy option like the Melbourne, we have the pergola that's right for you. Looking for something different? We can create a custom-size pergola that's the perfect fit. Select your pergola payment plan and get started today.
Frequently Asked Questions About Pergola Financing
Pergola financing is simple. Pergola Depot offers options that will make your outdoor living dreams a reality. Read the following questions to learn more.
Can You Finance A New Pergola?
Yes, financing is available on all new pergolas. We offer several different pergola payment plans to suit your specific needs.
How Much Does a Pergola Cost to Install?
If you build the pergola, your installation cost will be relatively low. If you choose a professional installer, your cost will depend on your area, the size of your pergola and your installer's rates.
Does a Pergola Increase the Value of My Home?
Depending on your market area and type of home, a new pergola will definitely increase the value of your property.
Buy Your Wood Pergola Kit From Pergola Depot
In addition to our talented customer service team, we offer a buying guide to help navigate the process and choose the best wood pergola kit for your backyard and budget. Start shopping today and create the outdoor living space of your dreams. Learn more from our FAQs and Outdoor Living Blog.
Information Related to Pergola Financing
Pergola Kits Buying Guide

Discover everything you need to know about pergola measurements, comparisons, customizations and more.

FAQs About Our Pergola Kits

You have questions about pergolas, and we have the answers. Browse our extensive FAQs for the information you want.

Pergola Depot Blog

We offer a wealth of details on landscaping, installation, maintenance and much more. Learn something new every time you visit our blog.