Pergola Depot Customer Reviews and Pergola Photos
…The most surprising thing is that the brand new pergola instantly looked as if it had always been there: a missing piece that now completes the whole. It ties the house, the patio, and the garden all together, enhancing every element and relating each to the others. The dimension fits, in every way.

The patio is a more attractive and useful space, shady but not dark. The shadow patterns are dramatic and ever-changing. The effect of the pergola is so much more profound and beautiful than I could have imagined. There's a magic to it. Don't you think? The shape echoes that of the bedroom extension on the back of the house. It makes sense of the patio and the stairs that descend from the deck.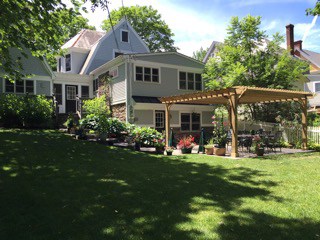 "We love our new pergola! Went together so slick and all done in one day. We will update with more photos when furniture is added and the landscaping completed. Thanks for such an outstanding product!"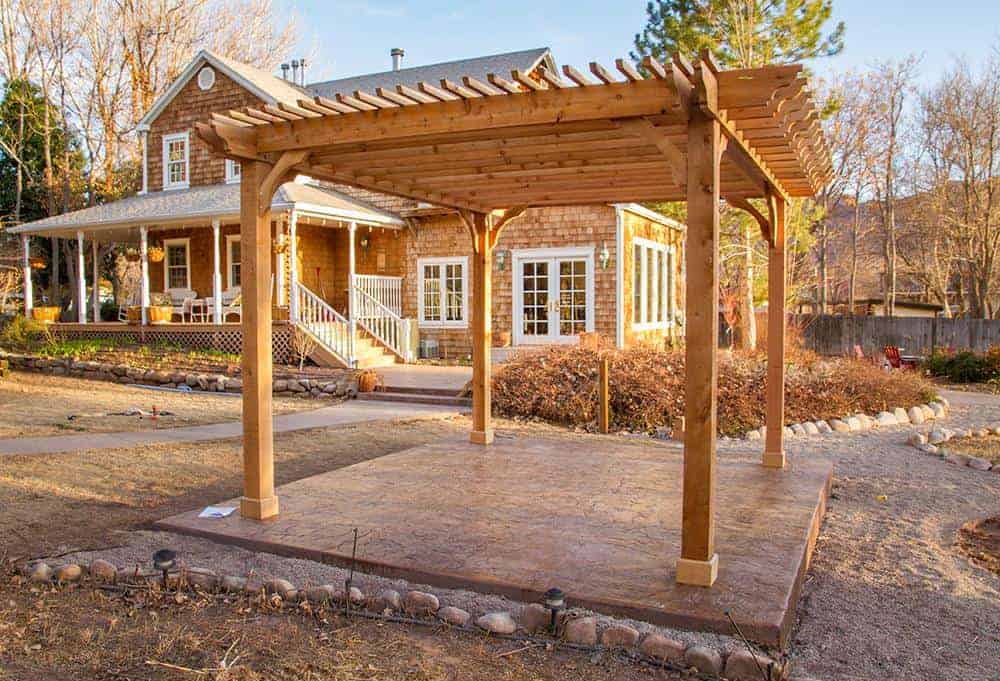 "We love the pergola.  Everyone is impressed with the quality and love the look and feel it gives our new outdoor room!  It's a work in progress but we are so pleased with your contribution to our transformation of this outdoor space.  The fireplace is built in, natural gas, and filled with glass – amazing at night.  It doubles as a table with a glass top.

P.S.  The guys who built it were impressed with just how well the kit was pre-built – 2 people with my husband carrying all pieces and it was completed in 6.5 hours!"

Thanks again!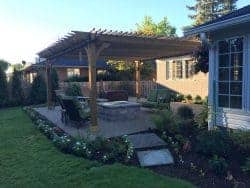 "We ordered one of your pergolas 5 years ago and we have been so pleased with the craftsmanship and how well it all went together!! We enjoy our patio so much and have had many happy hours and get togethers, we would recommend your product to everyone and have done so frequently! It has held up well in the weather, we put a coat of sealer on it about every other year after washing it down, looks great! Here are some photos of how our patio turned out. We have enjoyed it for 5 years and it is such a relaxing added area for our home! Thanks again for a great product that keeps on giving us many hours of enjoyment each year!"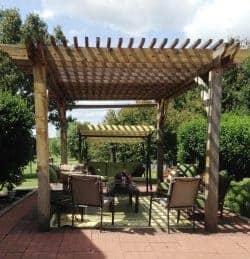 "I'm attaching some pictures of the installed pergola, it's simply AMAZING!! My wife LOVES it, I love it!, it's perfect. My contractor loved it. He was amazed how square and easy everything was to put together. I would HIGHLY recommend you guys.  In fact, I suggested that the next time my contractor needs to build one for a customer he use you guys."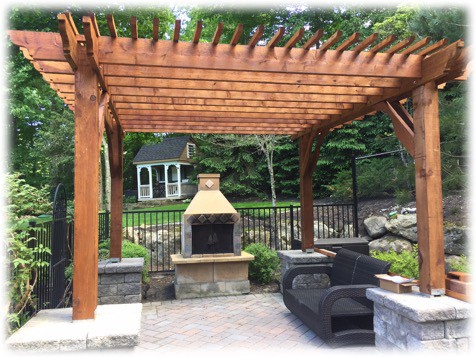 …A review from a past customer about the 15×20 Big Kahuna:

I researched pergolas for a year or so, saw Average Joe's website, was thoroughly impressed so I ordered a 20′ X 15′ Big Kahuna and a the smaller Visor style in cedar. Delivery was fast, packing was excellent and the cedar aroma is heavenly! As a self acclaimed DIY Junkie, I had all intentions of installing these with only the help of my son. As a 5'5″ female with decent tools and ladders, it was extremely easy. The directions were clear and those times when I couldn't convince my son to follow my lead (we all know how 20 something's think), I would refer to videos on their website. Over the year my pergolas have developed a beautiful patina. I'm planning to move in 2-3 years and seriously contemplating disassembling and taking my pergolas with me. Icing on the cake: I've used the cedar pieces used in packing/shipping my pergolas to make rustic shelves in my bathroom! Love, love, love those folks at Average Joe's, if I could give 10 stars I would.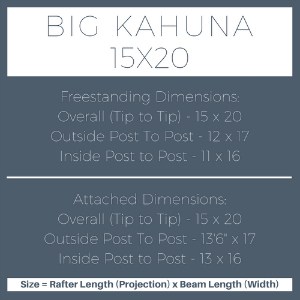 "I wanted to express my thanks for the way the Pergola Depot handled the issue of our pergola design.  The replacement parts were shipped out very quickly and I was able to finish up the construction.  It is safe to say not every company would have performed in the same manner.  You were great to deal with and I really appreciated the "customer first" attitude of the Pergola Depot.

If you have ever have someone on the fence, please forward my contact information to them.  I'm more than happy to provide a summary of my experience and a glowing recommendation.  We are very pleased with the quality of the wood, the design, and your superb customer service.

As soon as the patio pavers go in, I'll send some before and after pictures.  The pergola has made an amazing difference in our back yard."
"Thank you for going above and beyond to build our kit so quickly.  I really appreciate your calling to talk about options, and the extra effort to help me get our patio construction schedule worked out."
"It went up without any hitch at all! In short, this has been probably the most rewarding home project we have ever done! I would be happy to act as a reference, both for your company, and the quality of your product. Thanks again for a great product, at a superb price, and delivered in a fast and efficient manner!"
"My pergola kit arrived exactly as you stated it would, and went up easily with some help from a couple of friends. This pergola has made a huge improvement to our backyard space, and we will be recommending you to our friends."