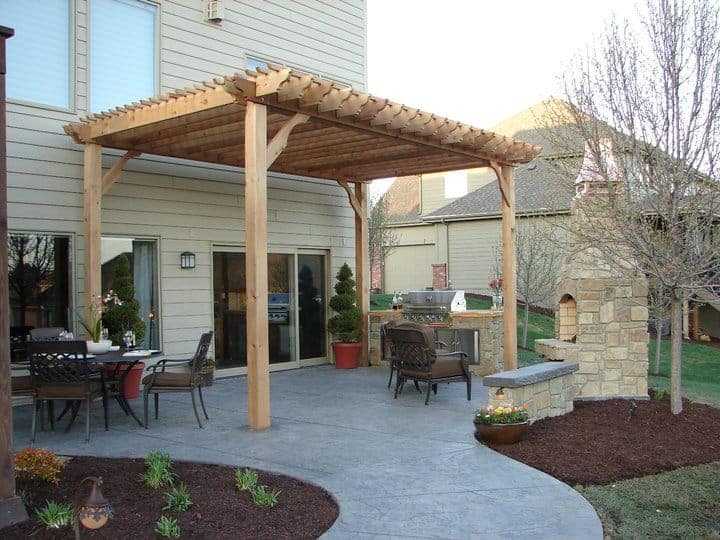 Would you like to add your business to the Pergola Installer/Service Provider Directory? Or are you looking for a pergola installer?
If you're a customer in need of a local installer, please use the search function below to see if we have any listings in your area. If you're a solar contractor and would like to create a listing, complete the form at the bottom of the page. If you're a pergola installation professional and would like to create a listing, please submit your info on the Contractor Program page to apply.
Please be advised that Pergola Depot is not affiliated with the businesses in the directory. It's up to you to determine if the business will be suitable for you to use to complete the pergola installation or other related projects you may have. You may want to check to make sure they are licensed, insured, and have the ability to do the job.
Although our pergola kits are easy to install, many customers hire a professional to handle the installation and to assist with other projects like staining/painting, patio/pavers, hardscaping, and outdoor kitchens. Pergola Depot has this listing of a network of pergola contractors, pergola installers, and service providers in the United States and Canada as a reference for our customers.
Pergola Installer Directory
| Business Name | Primary Phone Number | City | State / Province | ZIP / Postal Code |
| --- | --- | --- | --- | --- |
| AAA LANDSCAPE SPECIALISTS, INC | (760) 295-1980 | San Marcos | California | 92078 |
| Accelerated Construction Services, LLC | (304) 406-7434 | Morgantown | West Virginia | 26505 |
| All Housing Solutions | (973) 810-5642 | Succasunna | New Jersey | 07876 |
| All In Construction and Landscaping, LLC | (360) 840-7990 | Mount Vernon | Washington | 98273 |
| Alliance Contracting | (903) 440-0243 | Sulphur Springs | Texas | 75482 |
| Alphascapes | (512) 222-9445 | Georgetown | Texas | 78628 |
| American Upgrades LLC | (843) 796-2889 | Myrtle Beach | South Carolina | 29579 |
| API Solar | (217) 679-3399 | Springfield | Illinois | 62702 |
| Apple Door Systems | (804) 674-7774 | N. Chesterfield | Virginia | 23236 |
| Aqua Fire Pit | (954) 708-7041 | Main House | Florida | 33315 |
| Arbordale | (716) 688-9125 | Getzville | New York | 14068 |
| Ashley Farrell Landscape Design | (805) 826-3802 | Santa Barbara | California | 93110 |
| Atlantico Outdoor Services | (954) 245-2398 | Coconut Creek | Florida | 33073 |
| Atlas Fence | (315) 463-9207 | E. Syracuse | New York | 13057 |
| Awning Company - Weathercraft | (844) 545-5115 | Emerson | New Jersey | 07630 |
| Barrett's Landscaping and Garden Center | (321) 987-5495 | Melbourne | Florida | 32935 |
| Beck Outdoors | (386) 255-2233 | Daytona Beach | Florida | 32124 |
| Ben Plowed Landscaping, LLC | (303) 801-8240 | Englewood | Colorado | 80110 |
| Bob's Pools and Screens | (407) 834-7100 | Casselberry | Florida | 32707 |
| Bosker Brick Company | (269) 968-8181 | Battle creek | Michigan | 49037 |
| Bradford Fencing, LLC | (501) 205-4345 | Conway | Arkansas | 72034 |
| Built Right By Brothers | (281) 513-4923 | Spring | Texas | 77380 |
| Bumblebee Property Services | (918) 955-1384 | Deltona | Florida | 32725 |
| Capital Construction | (704) 923-9140 | Charlotte | North Carolina | 28214 |
| Centex Lawnscaping Company | (254) 554-1842 | Killeen | Texas | 76547 |
| Cincinnati Home Improvement Company | (513) 282-5900 | Lebanon | Ohio | 45036 |
| Cinergy Homes & Remodeling | (763) 400-0777 | Rogers | Minnesota | 55374 |
| CLC, Inc. | (434) 546-3863 | Forest | Virginia | 24551 |
| Coastal Construction and Custom Pergolas | (321) 525-2809 | Bradenton | Florida | 34207 |
| CONCEPTS TO CONSTRUCTION, INC. | (407) 325-2329 | Orlando | Florida | 32826 |
| Constrology | (954) 507-7056 | Davie | Florida | 33331 |
| CTI Property Services | (919) 787-3789 | Raleigh | North Carolina | 27617 |
| Dependable Handyman | (321) 210-5497 | Melbourne | Florida | 32901 |
| Design Plus Construction Corp | (617) 755-2917 | Boston | Massachusetts | 02116 |
| Diamond Outdoors, LLC | (214) 906-2504 | Lewisville | Texas | 75067 |
| Diamond Rio, Inc. | (803) 242-5415 | Fort Mill | South Carolina | 29716 |
| DLR Construction, Inc. | (760) 680-1227 | Apple Valley | California | 92308 |
| Doctor Tree and Landscape Specialist LLC | (317) 833-7093 | New Palestine | Indiana | 46163 |
| Down South General Maintenance | (910) 990-4481 | Clinton | North Carolina | 28328 |
| DRC Landscaping | (989) 295-0558 | Saginaw | Michigan | 48603 |
| Dreamscape Outdoor Living | (866) 437-3919 | | USA | |
| Dynamic Construction Services | (936) 205-0151 | Longview | Texas | 75605 |
| ECB Landscaping | (267) 663-9142 | North Wales | Pennsylvania | 19454 |
| Elko Green Landscaping | (208) 724-6951 | Elko | Nevada | 89801 |
| Energized Homes, LLC | (551) 427-5781 | Fair Lawn | New Jersey | 07410 |
| Enviroscape, Inc. | (812) 265-6781 | Madison | Indiana | 47250 |
| Fireman Premium Home Services (FPHS) | (817) 825-2855 | Burleson | Texas | 76028 |
| Fontaine Landscaping | (919) 380-8286 | Holly Springs | North Carolina | 27540 |
| Freedom Commercial & Home Services | (281) 955-8789 | Cypress | Texas | 77429 |
| Garden Dreams Landscaping, LLC | (904) 251-5677 | Saint Johns | Florida | 32259 |
| Garden of Eden Landscaping II, Ltd. | (732) 522-1065 | Englewood | New Jersey | 07631 |
| Grass Masters LLC | (304) 541-8735 | Hurricane | West Virginia | 25526 |
| Green Guy Solutions | (708) 261-1119 | Matteson | Illinois | 60443 |
| Grounded Solar, LLC | (240) 587-8937 | Lexington Park | Maryland | 20653 |
| Handy Howard | (864) 616-8005 | Greer | South Carolina | 29650 |
| Handyman Matters of Katy | (281) 994-4271 | Katy | Texas | 77450 |
| Handyman Now Services | (720) 505-6535 | Parker | Colorado | 80134 |
| Hardscapes & Lighting Solutions, LLC | (941) 786-6951 | Rotunda West | Florida | 33947 |
| Hazeltine Nurseries | (941) 488-8820 | Venice | Florida | 34292 |
| Hurricane Design & Construction and Services, Inc. | (786) 367-4944 | Cutler Bay | Florida | 33189 |
| Incredible Installations, LLC | (770) 235-8248 | Hoschton | Georgia | 30548 |
| INNOVA PROPERTY SERVICES INC. | (786) 556-0622 | PRINCETON | Florida | 33032 |
| Into-Structures Handyman Solutions, LLC | (252) 202-0353 | Coinjock | North Carolina | 27923 |
| JAG Construction Corp | (704) 929-6068 | Mooresville | North Carolina | 28117 |
| John Butler Interests | (844)953-7012 | Londonderry | NH | 03053 |
| Joseph Marino, Jr. Builders | (401) 212-0947 | Westerly | Rhode Island | 02891 |
| Landscape Artistry, LLC | (443) 496-1651 | Stevensville | Maryland | 21666 |
| Landscape Depot of Brevard, Inc. | (321) 259-1620 | Rockledge | Florida | 32955 |
| Landscapes Etc LLC | (315) 655-9292 | Cazenovia | New York | 13035 |
| Landworks Ltd | (630) 759-8200 | Bolingbrook | Illinois | 60440 |
| Lawn Care Solutions | (315) 480-0942 | West Monroe | New York | 13167 |
| Leafy Landscape & Lawn Care, Inc. | (386) 492-8862 | New Smyrna Beach | Florida | 32128 |
| Leapfrog Landscaping | (360) 481-8885 | Olympia | Washington | 98512 |
| Legacy Woodworks | (813) 431-6662 | Riverview | Florida | 33578 |
| Legion Landscape Management and Design | (928) 517-0022 | Payson | Arizona | 85541 |
| Levasheff Construction | (360) 317-6737 | Friday Harbor | Washington | 98250 |
| Lightning Lawn & Landscape | (248) 446-8903 | South Lyon | Michigan | 48178 |
| Little Buddies Services | (763) 913-6493 | Blaine | Minnesota | 55449 |
| Live Aloha, LLC | (904) 614-9053 | St. Johns | Florida | 32259 |
| Lombardo Landscaping and Water Features, Inc. | (239) 634-5477 | Fort Myers | Florida | 33912 |
| Lonesome Dog Home Improvements | (603) 261-1497 | Irmo | South Carolina | 29063 |
| Maendecks a division of Destiny Road, Inc. | (410) 353-1879 | | Maryland | |
| Mama's Boys Construction, LLC | (609) 455-3183 | Skillman | New Jersey | 08558 |
| Mason Fencing and Construction, LLC | (432) 258-4841 | Odessa | Texas | 79761 |
| Mati Sales LLC | (215) 518-4544 | Glenside | Pennsylvania | 19038 |
| Mega Fixture Installers, Inc. | (909) 595-3592 | Rancho Cucamonga | California | 91730 |
| Mid Matthews Construction | (209) 484-4788 | Copperopolis | California | 95228 |
| Midstate Excavation & Landscaping, LLC | (860) 978-1505 | Columbia | Connecticut | 06237 |
| Mike's landscape and Design | (804) 640-5428 | VIRGINIA | Virginia | 23875 |
| Moore Creative Construction, LLC | (727) 686-8050 | St. Petersburg | Florida | 33703 |
| Omega Construction Company | (713) 202-2857 | Houston | Texas | 77020 |
| Osborne Construction | (425) 827-4221 | Redmond | Washington | 98052 |
| Outdoor Accessories Unlimited | (586) 557-0613 | Utica | Michigan | 48318 |
| P.L. Johnson's J.I.D. LLC | (251) 656-2568 | Theodore | Alabama | 36582 |
| Patio Options | (919) 845-9090 | Raleigh | North Carolina | 27613 |
| Perfect Pools | (571) 267-7488 | Sterling | Virginia | 20166 |
| Performance Outdoors, LLC | (913) 775-1619 | Leavenworth | Kansas | 66048 |
| Pinnacle Landscaping | (614) 374-8310 | Columbus | Ohio | 43224 |
| Plume Interior Architecture & Design | (828) 398-9292 | Fletcher | North Carolina | 28732 |
| Pools by Bradley | (407) 323-7946 | Lake Mary | Florida | 32746 |
| Power Production Management, Inc. | (866) 828-3337 | Gainesville | Florida | 32601 |
| Primeline Outdoor Living | (317) 902-8191 | Fishers | Indiana | 46256 |
| Pro Brush, LLC | (817) 789-5441 | Arlington | Texas | 76010 |
| Pro Helping Hands, LLC | (563) 320-7456 | Apex | North Carolina | 27502 |
| Prost Builders, Inc./Missouri Solar Applications, LLC | (573) 659-8657 | Jefferson City | Missouri | 65102 |
| Providence Landscaping, LLC | (678) 410-6789 | Griffin | Georgia | 30223 |
| Put It Together | (850) 890-4727 | Fountain | Florida | 32438 |
| Quality Design Construction, Inc. | (209) 578-1432 | Modesto | California | 95350 |
| Randall's Handyman Service & Woodworks | (580) 478-7495 | Enid | Oklahoma | 73703 |
| Randazzos Landscaping Inc. | (845) 721-7593 | Cornwall | New York | |
| RAYCO Properties & Services, LLC | | Zachary | Louisiana | 70791 |
| Renovva LLC | (346) 213-4878 | Katy | Texas | 77494 |
| River Heights Lawn & Landscape | (612) 701-0648 | Inver Grove Heights | Minnesota | 55077 |
| Roanoke Landscapes | (540) 992-4845 | Fincastle | Virginia | 24090 |
| Rob Rocks, Inc. | (630) 742-4996 | Yorkville | Illinois | 60560 |
| Robert's Construction | (817) 307-3803 | Lakeside | Texas | 76135 |
| RW Proctor Contracting | (443) 871-1359 | Davidsonville | Maryland | 21035 |
| Santini Landscape | (209) 942-0439 | Manteca | California | 95336 |
| Schema Construction | (714) 482-6000 | Anaheim | California | 92806 |
| Scottsdale Concrete Inc. | (480) 758-2448 | Phoenix | Arizona | 85041 |
| Shear Perfection Landscape | (916) 757-0065 | Roseville | California | 95747 |
| Smith Lawn and Landscape | (507) 317-8833 | Madison Lake | Minnesota | 56063 |
| Solar Gain West | (209) 265-3352 | Stockton | California | 95202 |
| Sorensen Outdoor Services, LLC | (540) 845-6203 | Fredericksburg | Virginia | 22406 |
| South Plains Golf Greens Texas,LLC. | (806) 559-7048 | Lubbock | Texas | 79424 |
| Southern Light Solar LLC. | (774) 473-9339 | New Budford | Massachusetts | 02746 |
| Stafford Fence Company, Inc. | (508) 927-4998 | Plymouth | Massachusetts | 02360 |
| Stemar Restoration | (619) 460-0044 | La Mesa | California | 91942 |
| Stone & Wind LLC | (425) 501-6132 | Lynnwood | Washington | 98036 |
| Stone Creek Builders | (732) 566-0395 | Matawan | New Jersey | 07747 |
| Stonewurks | (315) 374-1916 | Kirkville | New York | 13082 |
| Studio A Renovations/Builder | (864) 404-6567 | Greenville | South Carolina | 29615 |
| Sunstate Tree and landscaping Inc. | (321) 745-0551 | Indian Harbour Beach | Florida | 32937 |
| Synergy Florida | (813) 344-8334 | Tampa | Florida | 33619 |
| Syracuse Lightscapes, Inc. | (315) 751-0540 | Syracuse | New York | 13206 |
| T-Y Landscaping LLC | (307) 421-9317 | Cheyenne | Wyoming | 82008 |
| Tampa Pool Installation | (800) 457-1622 | Tampa | Florida | 33624 |
| TBO3 | (208) 830-0094 | Eagle | Idaho | 83616 |
| The Organic Gardner NYC | (917) 383-0818 | New York | New York | 10013 |
| Thompson Improvements, LLC | (208) 484-7873 | Boise | Idaho | 83714 |
| Top Knot Delivery & Assembly | (918) 636-2260 | Tulsa | Oklahoma | |
| Touch of Paradise Designs, Inc. | (352) 307-5129 | Ocala | Florida | 34480 |
| TradeMark Home Improvement, LLC | (203) 913-9220 | Fairfield | Connecticut | 06824 |
| Tree Amigos Outdoor Services, Inc. | (904) 778-1030 | Fleming Island | Florida | 32003 |
| Trophy Home Design | (678) 896-6600 | Cumming | Georgia | 30041 |
| US Sun Solar | (417) 708-8310 | Springfield | Missouri | 65803 |
| Venturi Enterprises | (661) 237-0015 | Bakersfield | California | 93306 |
| Wildwood Land Design | (865) 556-5816 | Knoxville | Tennessee | 37922 |
| Woare's, Inc. | (217) 429-4404 | Decatur | Illinois | 62526 |
If you're a solar contractor, you can submit your info here to be considered for the Pergola Installer Directory:
If you're a pergola installation professional, you can submit your info here to be considered for the Pergola Installer Directory: