12 x 18 Pergola Kits
Enjoy the outdoors relaxing under your distinctive 12′ x 18′ pergola from Pergola Depot.
Meet the 12×18 traditional-styled pergola by Pergola Depot. The pergola provides maximum shade, and you don't need to add fabric for extra shade. The geometric post design delivers a popular appeal for the backyard. The pergola is large enough and tailored to fit your outdoor space perfectly. Designed with decay-and water-resistant woods, such as Southern Yellow Pine, every 12×18 pergola will give you a durable quality product. Check out our quality 12×18 pergola kit from Pergola Depot.
If you're in the market for a pergola that's high quality and stylish, the 12×18 pergola kit meets both these needs. The pergola kit 12×18 is constructed with 100 percent premium wood to make it mold, rot, and mildew resistant. Every piece of wood and pergola comes pre-cut, and with carefully pre-drilled holes. All you need to do is get your order, assemble the kit, and sit under the shade to relax and enjoy. It would be best to ask your friends or family for some help with assembly. Ultimately, assembling and setting up is easy, but the larger pieces require two to four people to lift.
Which Style and Design Fit My 12×18 Pergola the Best?
---
As you know, choosing the best pergola kit for your patio or backyard depends on what you intend to use the pergola for. Space also matters a lot here. Do you have a small or large family? And how big or small is your deck or garden? We have different designs and styles in our three standard pergola kits, as mentioned below:
Capture the sun's rays while relaxing in your garden with the Big Kahuna pergola kit. The Big Kahuna is built for maximum sun coverage. The pergola kit is engineered to withstand extreme weather conditions, such as high winds up to 175 mph. One thing that makes the BigKahuna stand out is that it can be purchased as a solar-ready pergola. Also, you can configure the pergola kit in a way that it attaches to a building, or it's freestanding.
Take the Big Kahuna and remove half the rafters and slats, and you have the Sombrero pergola kit. This pergola is more open than the Big Kahuna, and it's a perfect addition to your patio. Like the signature Big Kahuna, the Sombrero comes with both attached and freestanding versions.
TheFedora pergola style is more open and has a taller, unnotched design.Unlike theBigKahuna and the Sombrero, the Fedora offers plenty of space on its roof. That means that lots of sun rays are likely to penetrate through it. You can also sit under the shade at night to protect yourself against the wind while having a clear view of the stars.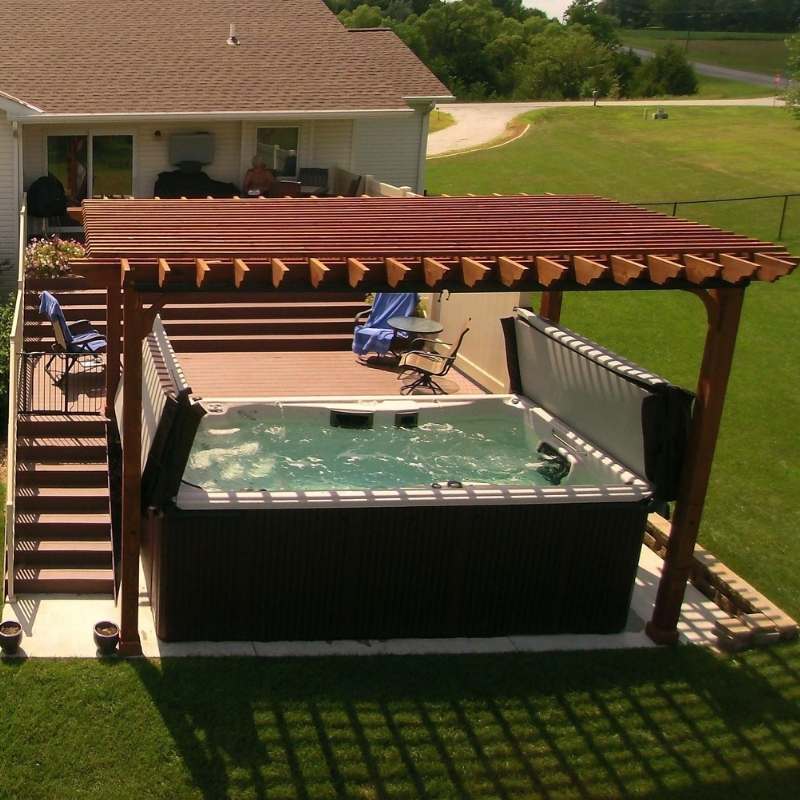 Can the 12×18 pergola fit a large family?
---
The 12×18 is one of our larger pergolas. That said, it's enough for a large family or group of friends. You may want to install the 12×18 pergola as a freestanding structure for space. Consider placing a grill underneath the classic pergola or various Adirondack chairs for picturesque retreats. That will certainly extend your outdoor living space and still protect you from light rain and provide some shelter from the sun.
Get the Best 12×18 Pergola Kits from Pergola Depot
---
If you need a 12×18 pergola, buy it from Pergola Depot. We're the best pergola manufacturers in the world. But it's not just in our name. Our products are unbeatable because of the quality materials we use to make pergolas. The pergolas are durable and will give you a beautiful outdoor living space for years to come. Plus, the 12×18 pergola is large enough to provide shade for a large family. Or, you may use the shade to host an event for a large group of friends. The pergola also provides an ideal outdoor space for eating, barbeque, drinking, and entertainment. To get this top-quality pergola, get in touch with Pergola Depot.