16' x 20' Pergola Kits
Enjoy the outdoors relaxing under your distinctive 16′ x 20′ pergola from Pergola Depot.
You may be wondering if you can build that beautiful 16′ x 20′ pergola you've always wanted. Pergola Depot makes it easy with precision pre-drilled holes and the highest-quality materials. With instructions that are simple to follow, you'll easily assemble whichever 16′ x 20′ pergola you choose. And when you're done, you'll have a top-quality product for a lot less money, plus the pride of doing it yourself. Start browsing for 16′ x 20′ pergolas today at Pergola Depot.
Which Kit Style Fits Your 16′ x 20′ Pergola the Best?
---
Made from #1 pressure-treated southern yellow pine or rough-sawn western red cedar, each kit brings unique elements to consider when deciding which 16′ x 20′ pergola is right for you. Let's look at some frequently asked questions about our pergola kits.
---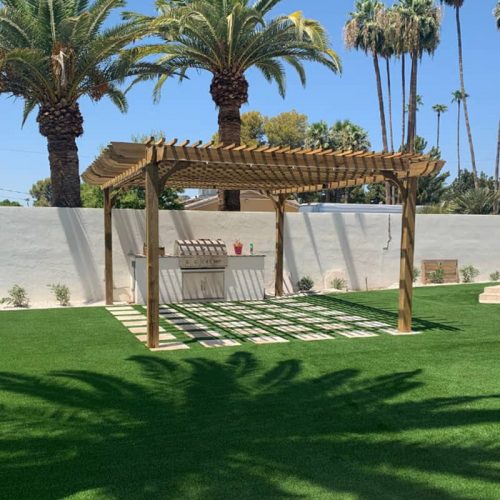 Which 16′ x 20′ Pergola Kit Offers the Most Sun Coverage?
---
The Big Kahuna is the answer. It's a classic design that provides the most protection from the sun and handles rough weather conditions with ease. With rafters on 12-inch centers and slats on 6-inch centers, you'll have it made in the shade with a Big Kahuna 16′ x 20′ pergola from Pergola Depot.
Where Can I Find the Installation Instructions for 16′ x 20′ pergolas?
---
All of the instruction information for each product we offer is available on our site. We highly recommend checking out the instructions to begin to get a feel for what it takes to assemble 16′ x 20′ pergolas and other items.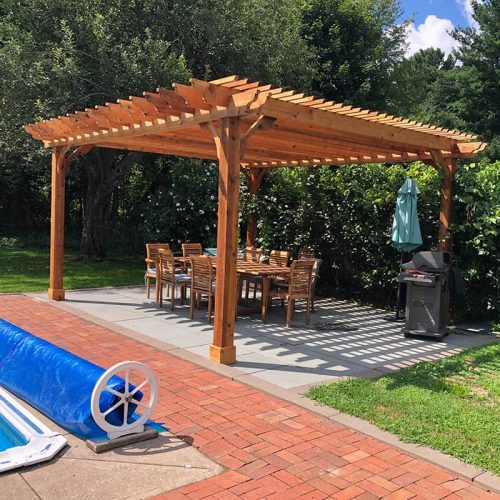 How Do I Measure for a Pergola?
---
You may know you want a 16′ x 20′ pergola, but you should still measure for it, just in case. For example, the sizes listed on our website are the overall tip-to-tip pergola dimensions. For the 16'x20' Big Kahuna freestanding pergola, the posts will land at 13' and 17' (outside post-to-post dimension). This measurement will be the same for the Sombrero, the Melbourne and the Fedora. Why is that important? If you have furniture, an outdoor kitchen, or fireplace that you're designing around, you'll want to have the correct measurement to allow space between the posts.
Buy Your 16′ x 20′ Pergola Kit from Pergola Depot
---
The 16′ x 20′ pergola you've been wanting is ready and waiting for you at Pergola Depot. With award-winning customer service and the highest-quality wood and building materials, we're sure the 16′ x 20′ pergola coming your way will fulfill all your expectations. And we're here to help because, at Pergola Depot, we stand behind every product we sell. Feel free to reach out to us with questions about any of our 16′ x 20′ pergolas and other products.