Freestanding Pergola Kits for Outdoor Living
What Makes Freestanding Pergola Kits Popular?
Today's most popular landscape features focus on elements such as pergolas, swings, fireside seating, and other components that make your backyard enjoyable. Many of the most inviting outdoor spaces include a patio cover feature to create an outdoor dining area for a home or business, a shady spot for poolside entertaining, or a cover for an open-air kitchen.
Free standing pergolas (also known as stand alone pergolas) are top choices of many homeowners and commercial businesses who are interested in modern landscape designs. They're one of the easiest ways to create a beautiful functional space from an otherwise forgotten area of your backyard. If you have a big empty patio space in the middle of your yard, consider adding a pergola and you've just found a solution to add extra shade, a new outdoor room, and a beautiful seating area all in one!
It's hard to know where to start when you're trying to design a shaded area that also offers a modern flair. Freestanding pergola kits offer the average home or business owner a way to easily add a covered area for dining, relaxing, or entertaining.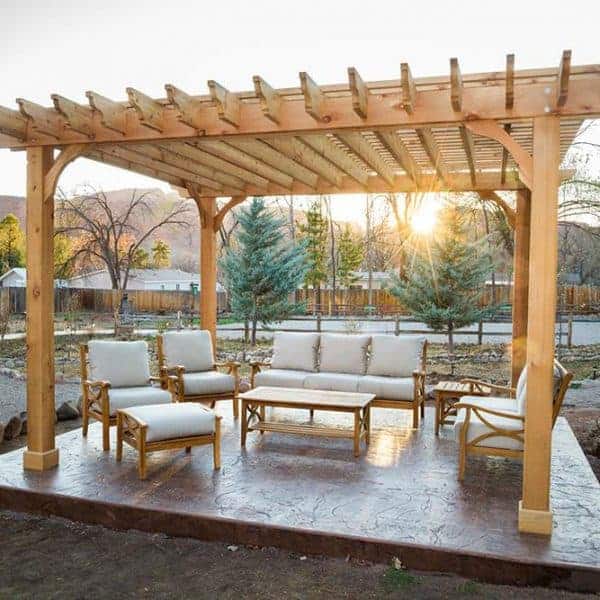 Freestanding Pergola Kits with Extra Shade
Our wood pergola kits were designed to offer a range of shade levels. From maximum shade to an open design pergola, our DIY pergola kits offer a range of options. Our Big Kahuna maximum shade pergolas are built with lots of rafters and top slats to provide shade simply from the wood components. The Sombrero pergolas are modeled after the Big Kahuna, with half the rafters and top slats. Even those that have a more open roofing system like our Fedora pergola kits and Melbourne pergola kits can be a shade pergola. Sometimes sunny spaces require a pergola that offers more shade than the pergola top slats can provide. That's when it calls for a little extra coverage.
For our freestanding pergola kits, we offer the option to add a retractable pergola canopy, or a pergola shade sail. Or you can opt for our covered pergola kits design, the Big Kahuna PLUS pergola kit. Offered with optional roofing, this style is our maximum shade pergola design for optimal shade.
How to Choose Freestanding Pergola Kits for Patio Shade
So you've decided to create a new outdoor room or extend your usable space out your back door. To get started, you'll need to choose the style and size pergola. First, decide on how much coverage you'll want and the general design. Do you want maximum shade, open design, or somewhere in between? Then measure your area to determine the overall size. Next, you'll decide on the height of the pergola which will correspond with your post height. Choose your end cuts and you're another step closer to sitting outside under your very own pergola.
There are a few simple decisions you'll make when you're choosing a freestanding pergola for your project: style, size and material.

Freestanding Pergola Style
Do you want a patio pergola that provides a lot of shade, medium coverage or a more open design? Our standard pergola kits are made in varying levels of coverage and can be ordered in a custom size if the standard sizes don't align with your project. From the open structure of our Melbourne pergola to the medium coverage provided by the Sombrero pergola, or the extra coverage of the Big Kahuna PLUS, there's a perfect choice for everyone. Compare coverage options for your pergola to choose the style that'll work for your space.
Pergola Sizes
How large is the space you'd like to cover? Do you know how much space you'd like in between the posts? Our standard freestanding pergola kits are made with 4 posts and range in sizes from 8×8 to 20×20. Review the sizes and dimensions needed for your space planning: overall tip to tip, outside post to post and inside post to post. Plan out your space for each of these measurements to determine the size you'll need to cover your outdoor space. Use our guide on how to measure a pergola for extra help.
Since each freestanding pergola can be built with varying amounts of coverage and in many different sizes, from smaller 8×8 freestanding pergolas up to 20×20 pergolas, the size you choose depends on what you're planning to create.
For our freestanding pergola kits, the most popular pergola sizes are those that would fit a typical backyard or commercial setting, such as 10×10, 12×14, 12×16, 14×14, 15×20, 18×18, and 20×20. You may find that your backyard project is a perfect match with one of those sizes! If not, there are many other sizes to consider.
Pergola Building Material
Freestanding pergolas can be built using a variety of materials. Two leading lumber materials for pergola components are western red rough sawn tight knot cedar and #1 pressure-treated southern yellow pine. We've been building quality wood pergola kits since 2008 with these top wood types. Both of the wood types we use are sustainably harvested in North America. Our pergola kits are built using top quality wood that results in a sturdy, beautiful structure you'll admire and enjoy for years to come. Compare the pergola wood types for your DIY pergola project.
Consider all the aspects of your project when planning to incorporate a pergola into your backyard. The freestanding pergola kit you choose depends on how you're planning to use your backyard space.
Top 5 Uses for Freestanding Pergola Kits
Designing your outdoor space and looking for a way to make your backyard memorable? Make a statement with a pergola. Freestanding pergola kits offer functionality as well as beauty for any patio or garden. One of the fab 5 uses for pergolas that always appears at the top of popular gardening lists is garden enhancement.
Enhancement for Garden
Create your own "Garden Room" for your own enjoyment, or your guests. Freestanding pergolas provide a natural structure that blends well with a variety of landscape features.
Decorative Patio Feature
Decorate your patio with a wood pergola on stacked stone or paver bases. Choose a more open design to create a soft airy look for your backyard room.
Shade Cover for Pool or Spa
Build some shade and privacy around your pool deck. Freestanding pergola kits add texture and interest to a tropical retreat, and an added privacy wall can make it feel even more like an escape.
Game or Movie Viewing Area
One of the best views of the big game is in your own comfy chair. Set up the ultimate movie or sports viewing area covered by one of our Big Kahuna freestanding pergola kits.
Outdoor Breakroom or Picnic Area
Offer a new space for your team to hold meetings or take a lunch break. Open air break rooms and picnic areas can be built with a concrete or paver patio and a pergola to provide some welcome shade or cover during any type of weather.
So many ways to use a pergola, and now it's time to put your ideas in motion.  This is where the fun begins!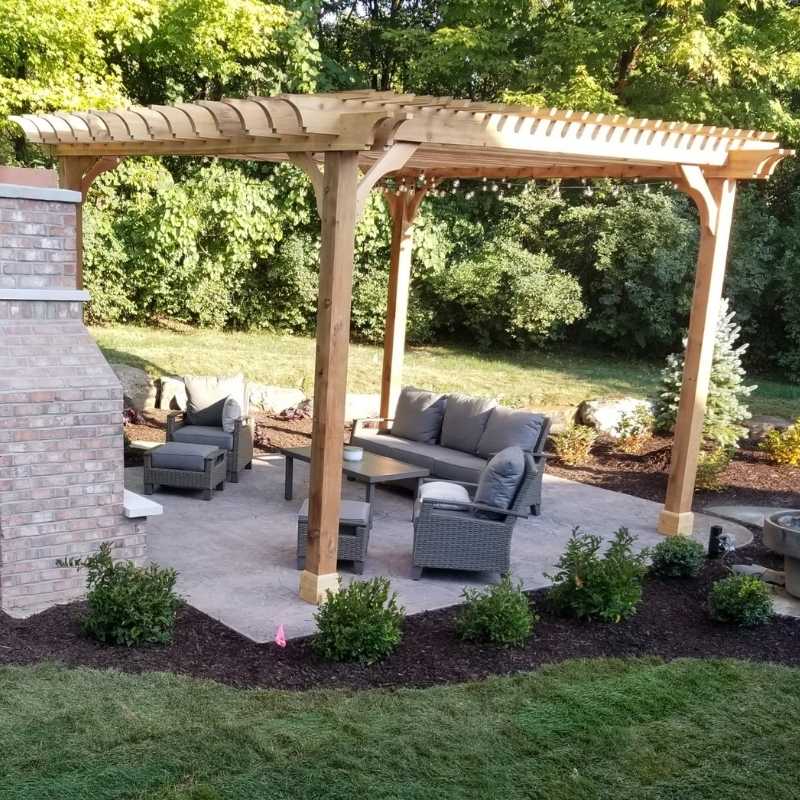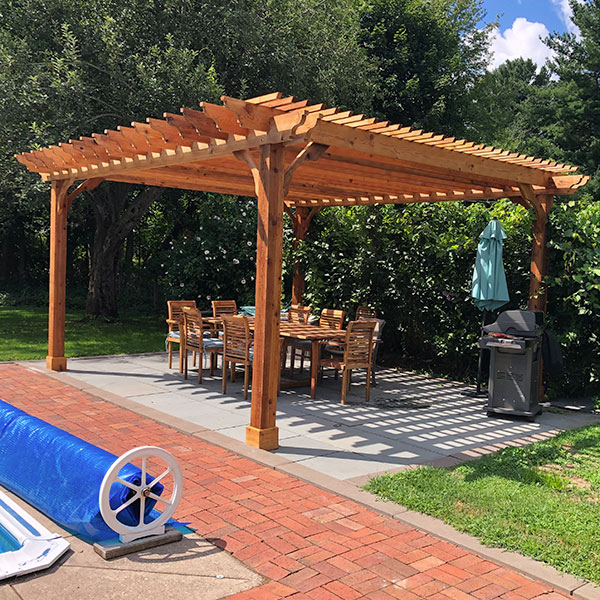 Start Your Freestanding Pergola Kits Project
Not sure how to build a pergola and wondering how you'll put it all together? When you purchase one of our freestanding pergola kits (or one of our attached pergola kits), you'll receive a pergola that arrives pre-cut and pre-drilled with easy to follow instructions. The kit also includes a tools & supplies list and the step by step instructions for how to assemble the pergola components. So, get started and easily grab some extra shade for your outdoor patio with a pergola kit. Build your own outdoor patio cover and spend more time in the fresh air, right in your own backyard! Call us today to help you get started!