The Sombrero Pergola Kit
Our Big Kahuna design, with half the rafters and top slats, built for medium sun coverage. Base price range: $1,930-6,390 for standard sizes. Freestanding and attached. Custom sizes and pricing available. More details below.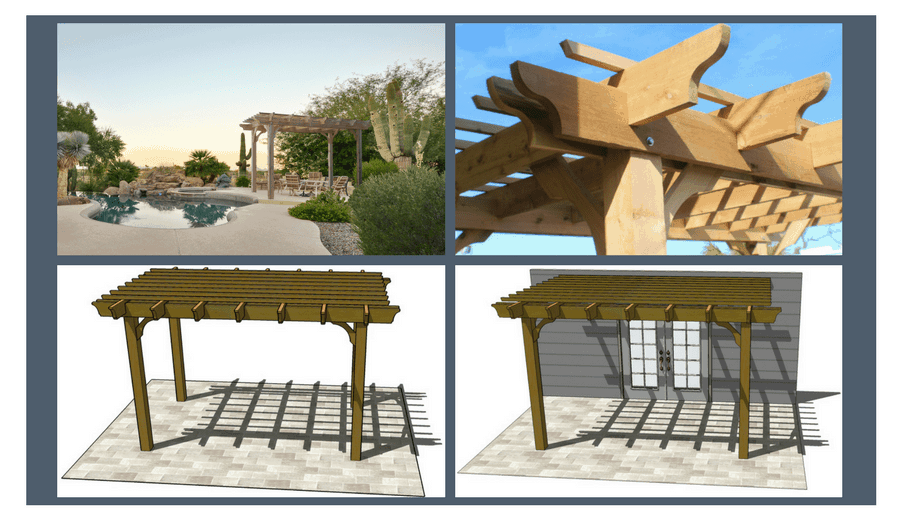 How to Choose Your Pergola
To choose your pergola, start by clicking below on the + next to the size range you're looking for. Example: If you want a pergola with 12 foot rafters, click on the 12×12 – 12×20 Sombrero section. Once you find the size, you'll then select Wood Type, Freestanding or Attached, and your other choices.
Step 1: Select Size. Rafter (Projection) x Beam (Width).
Step 2: Select Wood Type
Step 3: Select Freestanding or Attached
Step 4: Select Post Length and Post Mounting
Step 5: Select End Shape Design and Post Base Trim.
Contact us with questions: Phone: 877-563-0002. Email: info@pergoladepot.com. Contact form: Contact Form
More about the Sombrero Pergola Kit
The Sombrero shares a solid design and quality construction with our signature Big Kahuna pergola kit, with half the rafters and top slats as the Big Kahuna, making for a high quality kit that captures the open feel of the outdoors at an even more affordable price point. Like the Big Kahuna, the Sombrero is offered in both freestanding and attached versions, with 90 standard sizes ranging from 8×8 to 20×20, and comes standard with 6×6 posts, double 2×8 beams, 2×8 notched rafters, 2×2 top slats and stainless steel hardware. The rafters are placed on 24 inch centers and the top slats on 12 inch centers, creating a more exposed feel than the Big Kahuna, but with more coverage than a lot of other pergolas on the market. The Sombrero is a great choice to help you create your outdoor space.
Can't Find the Size or Style?