Every Illinois pergola kit we sell arrives at your location pre-cut, pre-drilled and ready to assemble. Our pergola kits ship free to all 102 counties and cities in The Prairie State such as Alton, Bloomington, Chester, Chicago, Galena, Rockford, Springfield, and anywhere in between. Each of our pergola kits is customizable and can be freestanding or attached. The diverse geography of the Prairie State makes any Illinois landscape the perfect backdrop for a classic designed pine or cedar pergola kit.
Illinois is home to countless historic sites, parks, and claims to fame. Beautiful landscapes, museums, botanical gardens, and historic monuments are spread across the state that is home to the world's first skyscrapers. With all that diversity in architecture, how do you choose the right outdoor structure for your unique space?
How to Choose a Pergola
Typically, you want to start with how much space do you have and how much is in your budget? City mouse or country mouse? Downtown Chicago or are you in a smaller town like Marion or Red Bud? The amount of patio coverage you need or want will be different depending on where you live.
You can do a quick browse of our different styles, how much coverage they offer, and general pricing.
If you want maximum coverage, go with

The Big Kahuna Pergola Kit

.
If you want medium coverage, go with the

Sombrero Pergola Kit

.
Lighter coverage and a little less costly,

The Fedora Pergola Kit

is the perfect fit.
We also have a trellis style kit that you can place in your garden or along your patio called

The Brim

.
Our awning style pergola kit,

The Visor

is perfect above a garage door or entryway out to your backyard patio.
Compare pergola styles to see which will work best for your space.
Top Selling Illinois Pergola Kits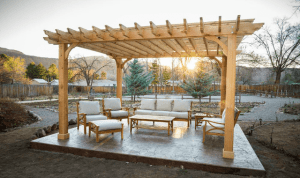 Best Outdoor Pergolas for Small Patios
Do you live in town or a city where you don't have much space? We have pergolas that will fit small spaces. Our full size pergola kits* come in sizes as small as 8×8 and can be ordered in freestanding or attached. Or maybe a 10×10 pergola will fit on your back patio perfectly. Take your time with this step. Then you'll be confident the pergola you find is going to fit your Illinois landscape perfectly. Plan your space. Find the correct measurement for your rafter length, beam length, and your overall dimensions. Cheat sheet: Guide to Choosing a Wooden Pergola.  Lastly, choose the post height that will allow enough space for your favorite lounge chair, outdoor sectional, or cooking area. *Our full size pergolas are The Big Kahuna, The Sombrero, and The Fedora styles.
Best Outdoor Pergolas for Large Patios
If you live out where you've got a bit more space, your patio design could include a large pergola that provides enough space to fit your patio furniture, your outdoor kitchen, and shady spot for your pets. Here's an example of one of our larger standard size pergolas, the 20×20 Big Kahuna Pergola Kit. We also offer custom size pergolas on request that can accommodate much larger spaces. Simply submit a custom pergola request and we'll send you a quote.
Whatever size space you're working with, take your time figuring out the best size patio cover for your space. Here's some info about measuring that can get you started: How to Measure for a Pergola.
If you get stuck, you can always contact us and we'll help you measure, choose the pergola style, or figure out which wood type would work best for your Illinois pergola kit.