Ah, Illinois!  From the electric energy of Chicago to the rolling cornfields off I55 South, the Land of Lincoln offers some of the best restaurants, theater, and farmland in the Midwest. Whether you live in a row home in Wrigleyville or a palace on the plains, our Illinois pergola kits will keep you covered during those sunny summers that we wait all winter for!
The Best Illinois Pergolas
Let's face it, Illinois has some brutal winters. Watching people dig their cars out of the snow just to get to work is not an uncommon sight. It's a state that plows through the tough times better than any other which is why everybody celebrates when all that cold finally melts away.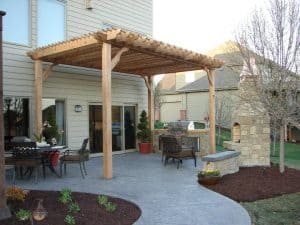 Spring and Summer here are beautiful and people are itching to spend more time outside. A pergola is the best way to ensure that you make the most of those precious months and we are certain that we have the right one for you! Let's take a look at our fabulous pergola designs. First we have The Big Kahuna. This is the granddaddy of them all, offering enough top slats to provide ample coverage from the hot summer sun.
With notched rafters and stylish end finishes, The Big Kahuna is ready to be the chief of your next backyard barbecue. In stunning red cedar or quality pressure treated pine, The Big Kahuna will transport you and your family to an outdoor living room to eat, drink, and laugh on those warm summer afternoons. Whether you want the impressive 18×18 attached pavilion or the classic 12×14 freestanding, Pergola Depot has you covered no matter what your entertainment needs may be.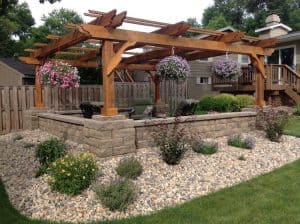 The Fedora offers the least shade but still shines as a focal point for your landscaping theme. Our most affordable pergola, The Fedora is as charming as it is practical. For those that want to soak in the rare days of sun in the Midwest, this is a wonderful choice for you. If you need a little more shade, simply order one of our retractable covers to control your comfort throughout the season.
The Sombrero is basically everything we love about The Big Kahuna only with fewer ceiling slats to allow more of the day to shine through. Featuring the same quality craftsmanship, durability, and attractive finishes, The Sombrero is perfect for anyone looking to turn their patio into the best spot for a 4th of July gathering, Labor Day celebration, or the first kickoff of the season. Underneath its soaring beams, you and your guests will make memories year after year.
Pergolas in the Chicago Area
The Windy City may have earned its nickname from its controversial politicians of the past, but the truth is…it really is windy in Chicago and the suburbs. Our pergolas kits are solid and able to stand up to nearly anything that mother nature brings their way. From gusty winds to lightning storms our pergolas are designed with elegance and durability in mind. We use the highest quality timber and whether its red cedar or pressure treated pine, our pergolas can take a beating and still look new year in and year out with a few simple wood maintenance steps. Compared to aluminum and vinyl pergolas, wood has the weight to take the weather while blending in beautifully with your back yard.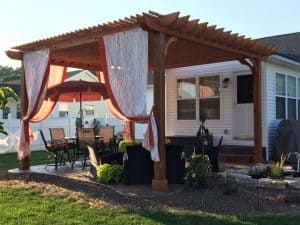 Backyards in the city are not as hard to come by as you'd think. Most of the neighborhoods in Chicago have homes, row homes, bungalows, and gray stones with yards that would make a perfect fit for our patio pergolas.
There is just something special about sitting underneath the wooden beams, sipping wine with friends and watching the lightning bugs dance around your yard. There are memories to be made in the Windy City and taking advantage of the warmer weather will make the winter worth it.
Decorations for Backyard Pergolas
There are many ways to decorate your backyard pergola. From Christmas lights to curtains, and dining tables to lounge chairs, once you have the perfect canvas nearly anything is possible.
Potted plants and perennials can add the color that is missing for so much of the year here. Trumpet vines, dutchman's pipe, and tri-color kiwi grow great here and come back year after year and can be planted in pots alongside your pergola.
Landscape with colorful plants when you assemble the pergola, and before long your backyard will have a living, private sanctuary where you can visit with friends and family while staying comfortable and cool all summer long.
We Put the 'Do' in DIY
The good folks of Illinois love to do for themselves. Seriously, after bearing the brunt of a long February, putting together a backyard pergola feels like a vacation. We try to make that even better. All of our pieces come shipped  free to your home already pre-cut, pre-drilled and ready to build. The best part? You and a pal can get it done in an afternoon. That's about the same amount of time as a Cubs game!
Our simple to follow step-by-step instructions make the whole assembly easy. If for whatever reason, you can't do it yourself, you can check our Installer Directory to see if there's someone in your area listed who may be able to assist you. Or you can enlist the help of a local landscaper or handyperson!
Come on, Chicago! Make the change to your outdoor space so you can use your yard as often as you can. Once you get a pergola it will quickly become your favorite place to hang out. Check out all of our options and turn your outdoor space into your dream yard!