The Hawkeye State is well known for its enormous, endless plains, bright vibrant cities, and college towns. The land is fertile in this wide-open state and Iowa boasts the largest corn crop in the nation. But as they say, there's more than corn here!  From Cedar Rapids to Sioux City folks all over spend their springtime and summers outside in the yard or on the patio relaxing in the sun and making the cold, windy winters a distant memory. Our Iowa pergola kits are designed to help you enjoy every day of spring and summer without burning up in mid-July.
Iowa Pergolas for Modern Yard Designs
Whether you're in a brownstone in Des Moines or a cottage on the Missouri, a pergola lets you walk out to the yard and enter an outdoor living room. Eating dinner around a table underneath the stars or reading on a hammock midday in shady comfort become instant go-to moments underneath the beautiful cedar beams. Getting outside is not just about making summer happen. It's about making summer happen more. Let's make that happen!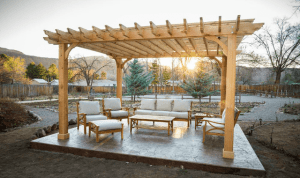 We'll start with The Big Kahuna. With notched rafters and craftsman finishes, The Big Kahuna is ready to house all of your outdoor gatherings. The Big Kahuna provides ample coverage with an array of roof slats and beams to ensure that your sunny day isn't a total burn. With customizable options you can choose when you're measuring for your pergola and sizes ranging from a charming 8×8 to a robust 20×20 as well as custom sizes, The Big Kahuna will focus your yard and will become a go-to living space outside your home.
Next up we have The Sombrero which is for everyone who loves The Big Kahuna, but wants to let more light through. The Sombrero comes in the same sizes and retains all of the beauty of The Big Kahuna. In rough sawn red cedar or pressure treated pine, The Sombrero is ready to have you covered all season long.
Then there is the Fedora! A breed apart from The Big Kahuna and The Sombrero, The Fedora sports a tighter brim allowing the most sunlight through to brighten your patio. Bask in the sun or add a colorful retractable canopy to control the shade. Canopies come in a variety of beautiful colors to accent your paver patio or outdoor kitchens. The Fedora is our most affordable, high-quality pergola and a favorite with our backyard enthusiasts!
Des Moines: Pergola Paradise!
Des Moines is a backyard wonderland. Spread out over 90 square miles and more from the suburbs like Altoona and Norwalk, these areas are home to beautiful gardens, aspens, and patios. The whole point to having a backyard is to be able to walk out and enjoy nature without leaving your property. A pergola is the best way to make the most of your outdoor space. Creating a living area in your yard or patio will ensure that you spend more time out there.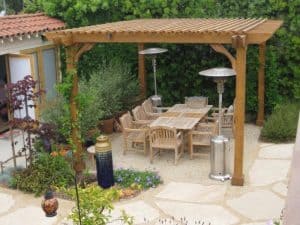 Des Moines is a friendly place. Wintertime is spent indoors, warming up by the fireplace and cooking for neighbors in the kitchen. When the frost melts and the grass is green, however, the grills fire up and city heads outside. This is the perfect time to have a party!  Decorate your patio pergola with led lights and set the table for a barbecue feast!  Des Moines is a great place to spend a long summer night in the backyard!
Vinyl is for Albums, Not Pergolas
Don't get me wrong, vinyl has many uses. But when it comes to your backyard, a vinyl pergola just doesn't cut it. While synthetic materials like vinyl and fiberglass are durable, they simply aren't beautiful. Our rough sawn cedar pergolas will last season after season while complimenting your backyard and all of its natural landscaping in a way that vinyl never could.
Our kits are designed for strength and elegance. They are sturdy and able to withstand the harsh winds and winters that Iowa is known for. Our cedar is naturally mold and rot resistant and our high-quality pressure treated pine will keep the elements at bay. Natural wood is the perfect fit for any patio.
Easy to Assemble Patio Covers
We put the 'Do' in do it yourself!  Our simple to follow step-by-step instructions make assembly and install of your pergola a snap. You and a buddy could have it up in an afternoon without any headaches. All of our kits come pre-drilled and ready to build so that you can be relaxing beneath the eaves in no time.
We custom build each order and provide free shipping within 10-12 business days. Ordering is a breeze and we take care of the rest.
Iowa, Make Summer Happen More!
There is no reason not to spend as much time outside this summer as possible. Get your yard the pergola it deserves and enjoy the rest of the season and the early fall beneath one of our gorgeous pergolas!