Pergola Plans for Your Outdoor Living Space
---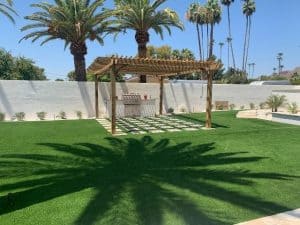 Looking for a simple way to make your pergola plans a reality without wading through dimensions and materials to purchase? Accomplish your backyard pergola dreams without getting lost in complicated drawings or wondering if you'll be able to find the right materials. Pre-cut and pre-drilled kits offer the best of both worlds! You can feel a sense of accomplishment that you get with a DIY project without the cutting & drilling! If your goal was to build your own pergola following wood pergola plans, you'll still have plenty of planning and assembling to do with a kit. We'll lay out some options and choices here, and you might just find that your outdoor living space plans can more quickly become a reality!
Step 1, as you review your patio pergola plans, jot down some measurements for the area you want to be covered with the pergola. Think about how much filtered light you'd like to adorn your patio, the style and finishes you'd like, then compare that with the features of our wood pergola kits. Consider how much shade you'd like, or how much natural coverage you'd like from the pergola itself. What's your overall vision and how do your pergola plans fit in?
Pergola Building Plans with Shade
Imagine the perfect picture for enjoying your new outdoor living space with friends and family. What comes to mind when you think of adding some shade and structure in that picture? Is a sturdy, more permanent structure appealing? If so, a pergola with a retractable canopy or shade sail is a great way to expand the use of your living space. Read on, and these common questions can help you with your plans to include a pergola in your new patio. There are a couple ways to build out your outdoor room that has plenty of shade.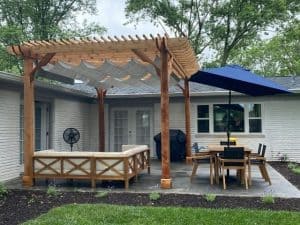 The pergola style you choose depends on how much light you'd like filtering through your pergola to your patio. There is a range of patio coverage with each pergola style. Our styles offer a range of shade coverage due to the number of rafters and top slats used in the pergola designs. Our Big Kahuna pergola kit offers the most patio coverage and are our maximum shade pergolas. Standard sizes can also be ordered with a retractable canopy for extra pergola shade cover. Take advantage of the natural light, the design of your house and the adjoining patio when you incorporate a pergola. If yours can accommodate an attached pergola with room for a ledger board, this might be the best choice for maximum shade.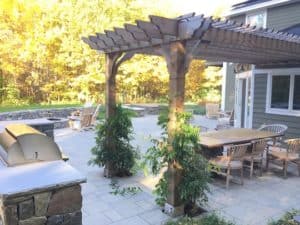 Attached pergola kits can create a room that extends right out your back door. Freestanding pergola kits also offer that feature,  but can also be built in a location further away from your home. An attached pergola system is one that you can get creative with as far as location and surrounding landscape. Our attached styles can be ordered in styles with varying amounts of shade, ranging from light coverage to full coverage.
Another factor to consider is size and space underneath the pergola cover. How much space do you need for your patio furniture? Will you have an outdoor kitchen area that you'd like under cover? If you're planning to entertain large groups or would just like to have enough space to comfortably move around under your patio cover, you can opt for a larger pergola ranging between 17x17 up to 20x20. If you prefer a small or medium size, there are sizes ranging from 8x8 up to 20x20, as well as custom pergolas that can be built to fit in any space.
Even if your outdoor kitchen plans consist of simply rolling your Weber Grill out for cookouts, you'll want to take measurements to factor that in to your pergola measurements. If you're not sure how to measure for a pergola, a good rule of thumb is to start with the measurement of your patio (existing or to be built), and then determine how much space is required for the furniture or BBQ area.
There are other factors to consider, but these will get you pointed in the right direction. Our Guide to Choosing a Pergola is a helpful resource, as well as How to Measure for a Pergola as you develop your patio design.
Next we'll talk about the highlights of each of our pergola styles and some typical uses for each pergola to see how that fits with your covered pergola plans.
Patio Plans with Pergolas
Everyone has their own idea of the perfect outdoor living space. If your plan includes a pergola, picture yourself lounging on a comfy sofa under a beautiful patio cover to transform your space into a relaxing retreat. Build in a pergola and you'll find that your design is both functional and enchanting. A garden feature that dates back to Ancient Greeks and Romans, the pergola is an outdoor structure that makes your patio an inviting haven.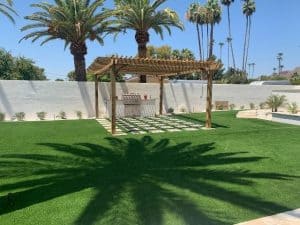 We build 5 styles of pergola kits that can be incorporated into your patio plans. With over 90 standard sizes and custom sizes, you'll be able to match your dimensions with a kit size to complete your design.
Three of the pergola styles are full-size pergolas that can be built in freestanding or attached.Our full-size pergola kits (Big Kahuna, Sombrero, and Fedora) are typically chosen for patio covers, outdoor kitchens, carports, or poolside shade. They're offered in standard sizes ranging from 8'x8' all the way up to our large 20x20 pergolas. Any custom size can be built, and we're available to assist you in measuring for a custom pergola. Our Visor accent pergola and Brim pergola styles are used for accents along a patio, above a slider or garage door, or to provide a garden border.
Big Kahuna Pergola Kit
The Big Kahuna pergola kit is a classically designed pergola built for creating a shaded area over your outdoor patio. The pergola is a gorgeous wood structure that adds appeal to any backyard. Once assembled, you can add accessories such as hanging plants, string lights, or curtains. Since the Big Kahuna is built to stand up to hurricane force winds, it's an excellent and sturdy choice to complete your patio design.
A retractable canopy or shade sail can be ordered along with any standard size Big Kahuna and is offered as a canopy for freestanding pergolas or canopy for attached pergolas. You can also opt to make this style pergola solar ready. We'll configure it so that it's ready to attach solar panels (solar panels not included). Top uses for the Big Kahuna pergola include:
Patio cover next to your pool;
Covered parking area or carport;
Outdoor kitchen;
Outdoor living room coverage;
Solar patio cover configured to be used to mount solar panels for various solar projects. 
Sombrero Pergola Kit
The Sombrero Pergola Kit is very similar to our Big Kahuna design. The difference is that the Sombrero has half the # of rafters and half the # of top slats. This equates to an equally beautiful pergola to the Big Kahuna, but built to filter in more light. The pergola top view with fewer top slats is an easy way to allow more airflow in the heat of the summer sun. The uses range from outdoor BBQ station cover to backyard retreat.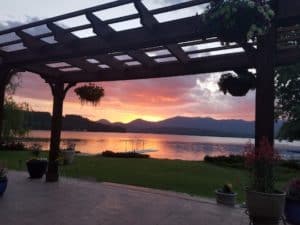 Grab some extra shade by adding a shade sail or canopy, and enjoy a cool breeze on warm summer days. If your pergola plans include a patio cover that provides medium sun coverage, the Sombrero is the one. You can even add a hammock to relax while you watch the sunset from your patio pergola! 
Fedora Pergola Kit
The Fedora Pergola Kit follows our high standard of quality and style. For pergola plans that require a more open design, the Fedora is a match! Built to last, our stylish Fedora pergola has a taller, un-notched roofing system that completes your patio design for many uses.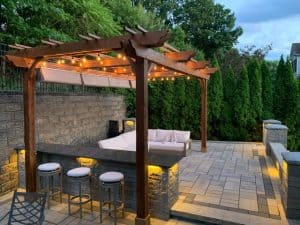 This pergola works as a cover over any outdoor seating area next to your pool or any size yard. Add hanging plants, curtains, or lights to make your pergola sparkle – or leave it as is to admire the beautiful wood grain of our western red cedar or southern yellow pine.
Do your plans include attaching the pergola to the house? You can order the Fedora as an attached pergola kit or freestanding. If you decide you'd like to have an open design pergola but would like shade on a sunny day, add a canopy or shade sail to the Fedora for added style and function.
How to Incorporate a Pergola into Your Outdoor Living Space Plans
If you don't know how to build a pergola, one of the best ways to incorporate this classic patio cover into your design is to purchase a pergola kit. Maybe you had your heart set on building a pergola from scratch using pergola plans, but you can save time getting your backyard dreamscape complete with a kit. Ours are built so that you can assemble it yourself with a couple helpers in a weekend. Or you can hire your favorite contractor to give you a hand with the installation. Either way, you'll be able to turn your dream pergola plans into a reality with a quality pergola kit from Pergola Depot!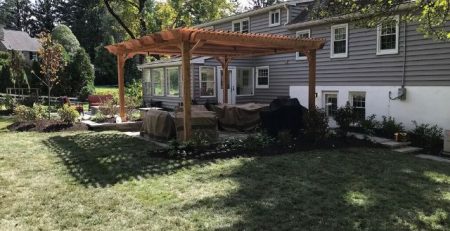 Outdoor Living Space Ideas
Are you looking for ways to spend more time outdoors? Many of us want to create outdoor living spaces right...
Articles Related to Pergola Kits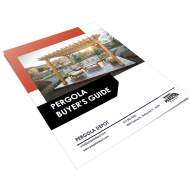 A quick PDF guide for buying and customizing wooden pergola kits from Pergola Depot.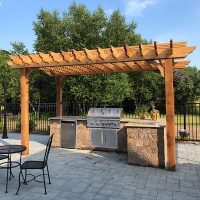 Learn how to measure the height and rafter spacing for your pergola kit.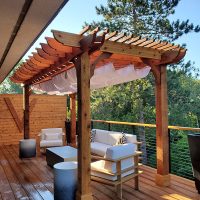 Find out the most common pergola sizes and styles that our customers use.