Get the most out of your backyard by adding a patio cover to your outdoor space. Whether you have a simple backyard patio, outdoor garden area, or poolside retreat, the best way to use your property year-round is to create an outdoor space that includes a covered area.
Permanent Patio Covers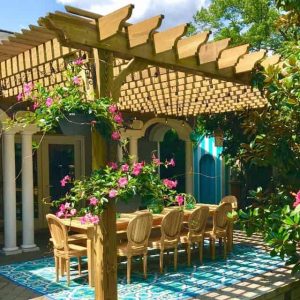 The patio cover you choose can be more than just a structure that creates shade. It can transform your space into a charming and comfortable backyard retreat that can be used year-round. You'll be more comfortable and protected from the elements. If you're creating a space to dine out or entertain that would benefit from a permanent structure, a wood pergola is an ideal choice that partially encloses an area.
Need More Shade?
Do you need a bit more shade than that patio umbrella can offer? There's a variety of choices out there ranging from simply adding patio umbrellas, to adjustable sail shades or awnings, to elaborate roof extensions. If you're looking for a more permanent structure, an affordable mid-range option that provides protection from the elements and creates an attractive cover for virtually any landscape in any size, is a wood pergola.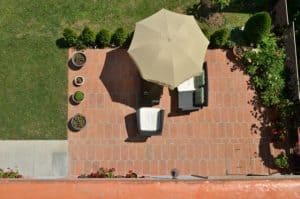 Looking for a Patio Cover that Won't Obstruct Your View?
Pergolas are traditional patio covers that provide shade over a seating area next to your pool, a cover for your outdoor kitchen, or that define a portion of your lawn reserved as the relaxation zone. Pergolas also work in urban settings as a permanent structure that can expand your options for an open-air dining room, an outdoor workspace, or a peaceful place to unwind. Image how nice this space would be with a wood pergola that provides a little shelter while preserving that beautiful unobstructed view?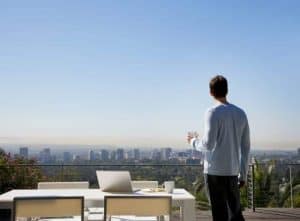 Using a pergola as your patio cover offers an alternative to shelter you from sun in a stylish way. They're customizable to provide the exact amount of shade you want from your patio cover. For more shade, order more top slats or add a retractable canopy. For less shade, order a more open designed pergola. Select the type of wood that will work best in your climate. Choose an attached pergola that connects to your house so you can walk right out the slider to your outdoor living room. Or maybe you choose freestanding to create a completely separate outdoor room off in a quiet corner of your property.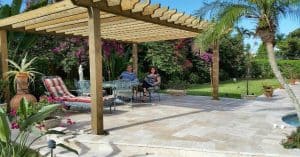 Our DIY pergolas provide a cover that won't obstruct your view, can fit into any space, and can be assembled in a weekend. Our pre-designed patio covers come standard in various styles, in over 90 sizes and can be ordered in custom sizes that fit your space. A pergola is truly an investment in the value of your property. And it's very rewarding to see the results at the end of the weekend you spent assembling your pergola.
If you're ready to start creating your new outdoor retreat, here are a few photos to give you some ideas! If you'd like an overview of different pergola styles, see this snapshot of pergola choices.