A pergola adds an inviting touch to a variety of outdoor patio designs, as well as serving a functional purpose to create shade. Since a pergola can define an outdoor space, this landscape feature typically ends up being the focal point of backyard patios that serve a purpose both structurally and aesthetically.
Pergola Uses for Today's Outdoor Living
One primary use of pergolas is to create shade. Along with providing extra shade, pergolas can expand the use of a backyard patio and extend the amount of time during the year that space can be used. Landscape designers will incorporate a pergola in your design to frame an outdoor living room as an extension for your indoor living space. Many outdoor kitchens incorporate some type of patio cover to frame in the outdoor kitchen area. Pergolas can provide some shelter that protects you from the sun and heat, but that also allows some natural light and breeze to filter through one of your favorite outdoor spaces. Natural covers like wisteria, or a canopy provide additional protection from the sun and light rain.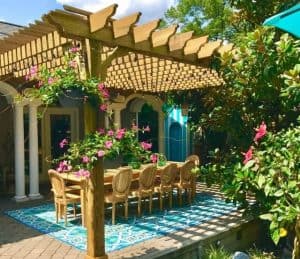 Landscape Design Element
Apartment complex and retirement community garden areas use pergolas as a landscape design element to enhance their community setting and create an inviting place for people to gather. Other gathering spaces such as outdoor coffee shops and eateries, playgrounds or pool areas, and office complex outdoor break rooms, incorporate patio covers in to their design to create a dedicated space used for events and celebrations. Vacation home owners looking to add a special feature that entices renters searching for the perfect spot for their outdoor retreat will add a patio pergola as a cover over a hot tub or over a sitting area adjoining natural landscape or groomed gardens to enhance their backyard design.
There are many things to consider when choosing a pergola. Wood type, size, style, post heights, and end cuts. This overview will help guide you through the steps to choosing the patio cover that fits in your landscape design plan.
Things to Consider When Choosing a Pergola
Top things you consider when adding a pergola to your outdoor retreat are: dimensions, styles, wood type, post height, and other customizations.
Pergola Sizes and Styles
Are you looking to add a patio cover that fits your tiny urban yard? Or are you creating a large outdoor oasis and need a shady spot to lounge next to your pool? Maybe you're creating a picnic area outside your office space or apartment complex?  Even if you're limited with amount of space, you can measure for the size and style that will work nicely to complete your outdoor retreat.
Pergola Depot wood pergolas come in 5 different styles, including The Big Kahuna, The Sombrero, The Fedora, The Visor, and The Brim. There are over 90 standard sizes ranging from 8×8 to 20×20, as well as custom sizes.
Pergola Wood Types
A classic pergola that blends naturally with most patio designs is constructed out of wood. Pergola Depot pergolas are made from two of the sturdiest and most attractive types of wood for outdoor wood structures – western red cedar and pressure treated southern yellow pine. Both are aesthetically pleasing, and both are time-tested for a long lasting patio cover. Both Western Red Cedar and Southern Yellow Pine are highly sustainable materials grown and harvested in North America.
Typically, we suggest answering the following questions when choosing your wood type:
Q: Do you prefer a rustic look or a classic look?
If you prefer a more rustic look, our rough sawn cedar is an excellent choice. If you prefer a more classic finished appearance, pressure treated pine will provide that look. But keep in mind, since you can finish your pergola any way you choose with stain or paint, either wood type can be customized to blend with your patio design.
Q: Do you live in a dry climate, a humid climate or in between?
Typically rough sawn cedar is more suitable to drier climates, and pressure treated pine is more suitable to humid climates. If you're in a moderate climate, or you plan to add a coat of weather sealant to either wood type (recommended), both wood types will produce a solid wood pergola that will look beautiful. What's your climate? Humid and subtropical? Dry semi-arid? Do you experience multiple Nor-easters throughout the year? Or do you live in the land of the extremes in the Southwest? Either a cedar or pine pergola is a lasting choice to keep you under cover.
Q: Do you want to add stain or paint right away?
If you're itching to get out the brushes to add your coat of stain or sealant to your pergola, plan accordingly depending on which wood type you've chosen. If you're adding a cedar pergola to your landscape, you can apply stain or paint as soon as you receive it. If you're adding a pine pergola to your landscape, you'll have to wait for the wood to dry before adding that coat of finish. Depending upon your climate, you may need to wait a few months after the pergola is installed to stain or paint the lumber so that the pressure treatment is completely dry. We recommend you stain or paint it once the first year and every couple of years thereafter.
A pergola is a garden feature dating back hundreds if not thousands of years. Pergolas were commonly used as an extended roof attachment or as a freestanding structure in garden areas or to cover walkways. Today's backyard patios and gardens similarly incorporate pergolas to create a gathering area for friends and families to enjoy for modern outdoor living. Pergolas are a classic feature, instantly transforming an outdoor space.
If you're considering this timeless garden feature and want help planning for your own pergola, take a look at this quick snapshot. It includes the origin of the pergola, how pergolas are incorporated into today's outdoor living, and decisions you'll make when choosing your own backyard pergola such as wood type, style, and size. Often a centerpiece of landscape design, pergolas enhance outdoor living by creating shade and a more inviting place to spend time outdoors.
The History of Pergolas

For history buffs out there, the Latin translation of the word pergola is "projecting eave", or an extended roof or arbor. Similar outdoor structures to the pergola have been used since prehistoric times, including arbors, ramadas, pagodas, gazebos, or trellises. History points to sometime around 1640 (late medieval times), when craftsman built pathways out of wood posts and formed an archway with vines or other plants. Pergolas were known to be in ancient Egypt as well as early Renaissance gardens throughout Europe such as Italy, Greece, and France. In Far Eastern Asia, they created structures using curved beams that resembled what they called a pagoda. Today, pergolas are found all around the globe in use as a wood cover for walkways, to extend a building, or to cover a backyard patio or garden area. Modern day backyard design has evolved to incorporate wooden patio structures into outdoor spaces that range anywhere from a small sitting area to a complete living room or kitchen.