Welcome to the Valley of the Sun! From the trails of Camelback Mountain to art scene Roosevelt Row, this city truly has it all. With a whopping 299 days of sun every year the only thing missing from your back patio is one of our Phoenix pergola kits to keep you cool and refreshed in this desert paradise.
Pergola Phoenix Style that Residents Love
Living in the '602' has all the perks you'd expect from a cosmopolitan city in the desert. Gorgeous, year round weather, beautiful adobe architecture, and endless opportunities for entertaining guests on your patio beneath the shade of your stunning pine or cedar pergola. We have the best designs, prices, and quality that you will find anywhere throughout the state. When it comes to your backyard parties, we have you and your guests covered!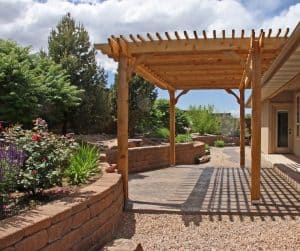 The Big Kahuna, our most popular design, is made with shade in mind. Soaring ceiling beams, an abundance of roof slats, and craftsman finished end pieces make the Big Kahuna the king of the patio. As with all of our pergolas, we have a size and customization to fit most outdoor spaces. From 8×8 attached pergolas all the way up to our massive 20×20 freestanding ramadas, we are certain you will find the perfect fit for your landscaped retreat.
The Big Kahuna PLUS is our covered pergola that can finish off your Arizona patio with plenty of shade! This pergola design is rated for up to 175 mph wind gusts and snow loads that will accommodate most U.S. locations. It's the perfect fit if you're looking for a pergola to cover an outdoor seating area, kitchen, hot tub, or a carport. Optional MasterRib metal roofing is offered in a variety of popular colors.
The Sombrero is based on our classic Big Kahuna design, but yearns to let a bit more of that southwestern sunlight through. With a slightly more open roof concept, the Sombrero walks a tighter line between sun and shade. Looking for options? We have 'em. Retractable canopies, cedar planter boxes and more can be beautiful finishes to your patio living room.
Finally, we have the Fedora! Our most affordable of the full-size pergola designs allows for more open coverage to soak in the rays of the sun. The quality and design are still paramount here, making your yard or patio stand out from the rest with an elegant, natural wood centerpiece to tie into your landscaping theme.
Phoenix Arizona is Perfect for Pergolas
The unique geographical and architectural landscape of Phoenix and its surrounding areas harken back to a simpler time. Warm, red rock cliffs and outcroppings dot the horizon are separated only by vast tracts of flat, beige earth that stretch to the foothills of the Phoenix Mountain Reserve. It's sheer vastness can be both tranquil and intimidating.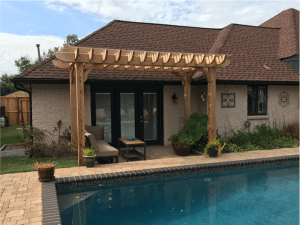 At night, the stars curve around to the horizon and the sensation of space can be intoxicating. This is a wonderful place to spend time outdoors. Dinner on the patio beneath your wood pergola will make for unforgettable memories with family and friends. By expanding the living space of your home to your yard, it can quickly become the best 'room' you relax in.
Our rough sawn cedar and high quality pressure treated pine pergolas compliment the natural landscape of this desert perfectly. A vinyl pergola, aluminum, or alumawood pergola just doesn't cut it in this kind of sunshine.
They become too hot and they stick out against the sunset colors that surround us here. Our timber is responsibly sourced and cut to suit your exact spatial needs. There is something remarkably comforting about our Western red cedar against the ruddy backdrop of the open spaces near the city and suburbs that you call home in Arizona.
How to Spruce Up your Pergola the Phoenix Way
While our pergolas are stunning on their own, there are a number of things you can do to blend them in to your southwestern style. Knowing how you intend to use the space is the best place to start. Where some people plan on dining beneath the eaves every day on a ceramic tiled table others hang swinging chairs, benches or chaise lounges to generate the resort vibe that the desert lends itself to with its quiet breezes and gentle air.
Our retractable patio covers come in many colors and styles to fit the décor of your home and yard. They also come in handy when you want to enjoy a glass of white wine from one of the local vineyards on a Saturday afternoon with friends. Add some outdoor art from Roosevelt Row or from the Scottsdale Museum of the West and your patio truly will become an extension of your family room.
Easy to Assemble Phoenix Pergolas
The best thing about our kits is that they come pre-cut, pre-drilled and ready to build the moment they arrive at your door. With simple-to-follow instructions it shouldn't take more than an afternoon for a standard size kit to turn your patio into the social hot spot (or should we say shade spot) that you dreamed of.
Our instructions are more akin to a helpful friend who knows what they are doing assisting you as you go along. These are not the gibberish most companies create that leave all of us frustrated and confused. By the end of your brief assembly, your pergola will be solid, durable and built to last season after season.
So Let's Find Some Shade in Phoenix!
There you have it!  An affordable, elegant, high quality pergola awaits your backyard sanctuary!  Ordering is simple, options are plenty, and we look forward to helping you make your desert oasis in Phoenix a place you can truly unwind in the shade with friends and family.