20' x 20' Pergola Kits
Enjoy the outdoors relaxing under your distinctive 20′ x 20′ pergola from Pergola Depot.
Want the most spacious pergola, the one your friends won't be able to stop talking about? Check out our 20′ x 20′ pergolas in easy-to-assemble kits. Maybe you'd like to host events or family gatherings, and the other pergolas are too small. But a 20′ x 20′ pergola is just what you need. With decay-resistant woods like Southern Pine — that's sustainably resourced — and rough-sawn Cedar, every pergola is designed to last for years and maintain its beauty. Choose the right 20′ x 20′ pergola from Pergola Depot today.
Choose from Three Styles of 20′ x 20′ Pergolas
---
Our standard wood pergola kits come in three gorgeous designs, and any of them would make a great choice for your 20′ x 20′ pergola. Here are the three kits to choose from:
---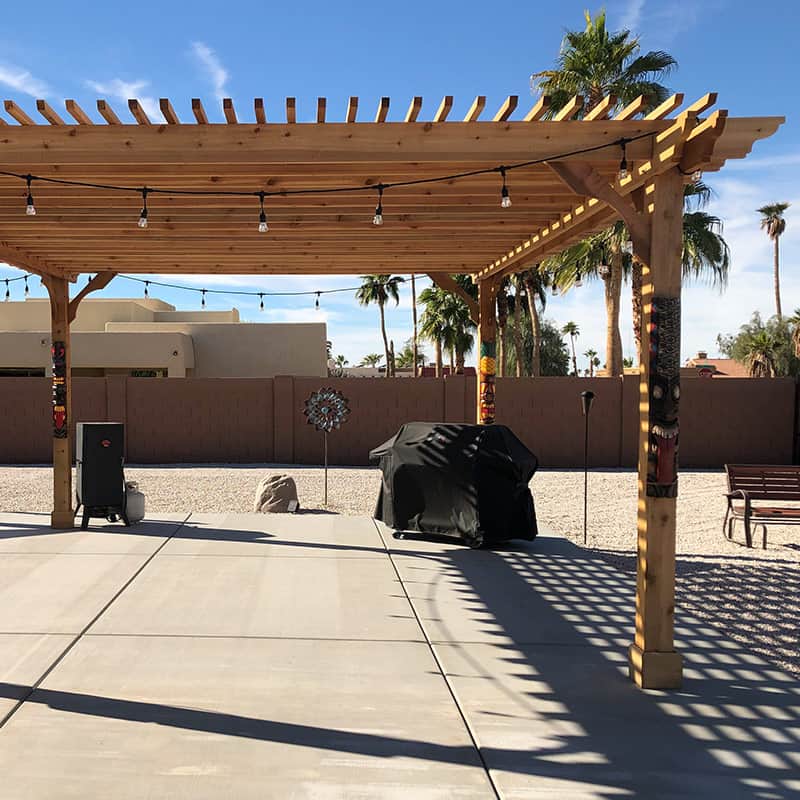 Frequently Asked Questions about 20′ x 20′ Pergolas
---
We receive many questions about our pergolas and designs, and the spacious 20′ x 20′ pergolas are no different.
---
Do You Have a Page to Compare the Different 20'x20' Pergola Kit  Styles?
This pergola styles comparison page will give you all the information you need on your way toward owning an amazing 20′ x 20′ pergola.
Can Someone Local Help Me Build My 20′ x 20′ Pergola Kit?
Although our pergolas are easy-to-build, we understand that not everyone can physically handle them. That's why we put together this installer directory for our customers. Your local landscaper or handyman/woman can also be a great resource for that extra hand you need to assemble your new pergola. Whether you're tackling a 20′ x 20′ pergola or a much smaller one, we want to take all of the stress out of the pergola buying experience.
---
Shop Pergola Depot for 20′ X 20′ Pergolas
---
When shopping for 20′ x 20′ pergolas, no one beats Pergola Depot for top-quality wood and building materials, easy-to-understand instructions, and superior customer care. With kits that include everything you need to set up that 20′ x 20′ pergola and tips on how to maintain its beauty for years to come, Pergola Depot has thought of nearly everything. You get to think of how best to enjoy it! And if you ever need a hand, please reach out to us. We'd love to hear from you!