Pool Shade Structure Ideas That Stand Out
Last Updated On March 11th, 2023 at 11:23 am
Want to make a splash with your neighborhood pool party? Maybe this is the year to look at pool shade structures to finish off your patio. Pool shade structures can be anything from a portable umbrella over a sturdy picnic table to a cedar or pine pergola with stylish seating. If you have an expansive area to fill, a larger 6 post pergola could provide the extra coverage you're looking for. Creating more shade around your pool deck with a pergola kit can range from something simple like a 10×10 attached pine pergola to a 20×20 freestanding cedar pergola. If you're opting for a covered pergola kit to complete your space and you're looking for a DIY pergola, read on! The following comparison shows options for the best pool patio coverage to create shade for your poolside retreat.
Best Pool Shade Structures
More often than not, pool party goers end up seeking out more shade than the sun. Sometimes the best pool shade structures are open enough for a little breeze to float through, and some offer more coverage. Our full size pergola kits offer 3 different coverage options: light, medium, and maximum. Your selection depends on how much patio you have to cover, and how many people you plan on entertaining!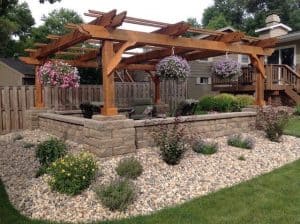 For a more open feel, choose our Melbourne Pergola Kit or our Fedora Pergola Kit. You can order these style pergolas in standard sizes ranging from 8×8 to 10×10 up through our largest standard pergola – the 20×20.
Our Melbourne is a great choice if you're interested in star gazing at night through the open roof of your pergola but want a structure designed to withstand severe weather. It's also a great way to frame in a patio and create a space for adding some decorative flower pots to enhance your pool or patio.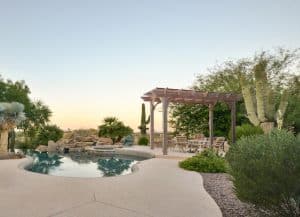 If you'd like a mid-range amount of shade cover, our Sombrero Pergola Kit would be a good choice to shield the harmful rays from guests at a BBQ or family visiting to cool off in the pool. Sombrero can be configured in nearly 100 sizes that come standard in free standing or attached. It's also engineered to stand up to 175 mph wind gusts, so if you're in a hurricane zone, consider our Sombrero or Big Kahuna pergola kits. A great feature about the Sombrero is that you can add one of our pergola shade sails to many of the sizes. Pool shade covers like our shade sail are easy to install and easy to remove at the end of pool season.
Similar to the Sombrero but with more rafters and top slats, our Big Kahuna Pergola Kit provides the maximum coverage and shade without adding a retractable canopy.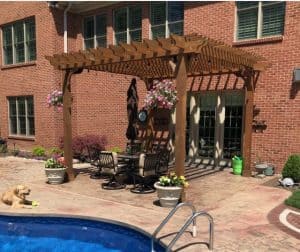 You can choose any standard size 8×8 up to 20×20 in attached or freestanding, and request a custom size if your patio isn't a standard configuration.
The pergola top of any size Big Kahuna provides optimal shade because of the number of rafters and top slats used in this design. This design can also accommodate a sail shade to add an extra layer of UV protection during the sunniest times of year.
Check out our pergola overview that provides a comparison of pergola styles. Still not sure? Compare your options for coverage, and then think about how much space you want to have covered before you begin taking measurements. Then if you'd like to add the extra protection and an extra design element, consider adding a shade sail or canopy to your pergola. There are so many choices for pool shade structures that it's hard to know how to find the right fit for your space.
How to Measure for Swimming Pool Shade Structures
The best way to know if you're selecting the best size for your space is to test out standing where the pergola will be in installed! Take a minute and stand or sit out on the patio next to your pool. Take into account the surrounding landscaping, and where you can imagine yourself relaxing with friends and family. Then you can begin to measure the spot you've chosen and compare it with the various pergola kits we offer. Imagine yourself sitting under a backyard poolside structure that can add dimension to your garden.
Residential pools are a staple of modern family life that provide many hours of enjoyment to families across the country. While your climate may limit your ability to enjoy it year-round, you can still build the beautiful resort like space to spend hours with friends, neighbors and family. Adding a permanent shade for pool entertaining areas can be a very easy way to enjoy relaxing outdoors. Make a list of your backyard priorities, plan your budget, and then start building your new outdoor retreat!