Atlantic coast towns and inland historic cities alike welcome the shade that South Carolina pergola kits can create. From Greenville to Columbia to the famous Grand Strand along the coast, residents often look for patio structures that can withstand the summer heat as well as severe hurricane season weather. A sturdy wood pergola that can handle 160 mph winds can also create an attractive way to frame in an outdoor room. We sell South Carolina pergola kits in all 46 counties and cities in South Carolina such as Columbia, Charleston, Florence, Greenville, Hilton Head, Myrtle Beach, and Rock Hill – and anywhere in between.
Top Choices for South Carolina Pergolas
The Palmetto State boasts beautiful beaches, mild winters, and subtropical summers. These conditions make South Carolina a wonderful place to spend time outdoors in your backyard or on your patio most of the year. Our DIY pergolas are a welcome addition to your spring, summer, and fall.
We offer an amazing selection of styles, sizes and accessories to fit your patio space perfectly!  Our full-size pergolas come in three design themes:  The Big Kahuna, The Sombrero, and The Fedora. Let's take a look at each of them!
The Big Kahuna is our most popular design boasting excellent coverage with wooden slats across the ceiling beams and comes in standard sizes from as small as an attached 8×8 to as large as a freestanding 20×20!  10×16 is the most popular amongst these sizes as it offers ample living space beneath and can fit a variety of patio layouts.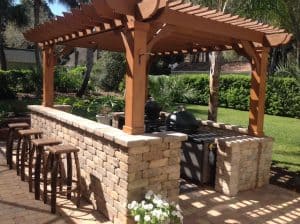 The Sombrero is a slimmed down version of the Big Kahuna with more moderate overhead coverage to allow more light in. Named after the famous hat, this pergola is a fiesta waiting for your backyard cookout next to your outdoor kitchen!
The Fedora shares all the eloquence of our other pergolas while catering to those who want a little more sun in their space.
Since each of our kits are made to order, you can find a pergola and canopy that matches your patio perfectly. Our pergola shade structures and canopies can help turn that sunny June day into a blessing and not a burn.
Pergola Designs for South Carolina Backyards
As you know, the wind can get pretty rough out here in South Carolina. Your pergola will be designed to withstand whatever mother nature can throw at it.
You can rest assured that the quality and durability of the materials we use from our treated wood beams to our retractable canopies are built to last and outlast South Carolina's wilder seasons.
From Charleston to Spartanburg, we've got you covered…literally. With so many beautiful days each year there is no excuse not to spend some quality time outdoors.
Hilton Head and Myrtle Beach = Wood Pergola Paradise!
There are few places as breathtaking as Hilton Head Island and Myrtle Beach. Renowned for epic shorelines and world class golf, both of these gems usher even the most adamant homebodies to enjoy the sun, sand, and surf.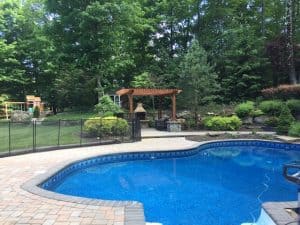 When the weather permits, spending time outside is a perfect way to pass the summer, spring and fall in these iconic treasures. Imagine sipping your morning coffee beneath your outdoor pergola by the pool while the sun rises over the sea and a breeze ruffles the white curtains that hang from the tall, cedar beams. If that's not paradise, than nothing is!
Choosing the Right Material for a South Carolina Pergola
The raw material for a pergola dictates the look and feel of the space to such a degree that it would be appropriate to say that this is the most important 'design' aspect. While there are a range of materials, from aluminum pergolas, plastic, trex pergola material, and timber wood we feel that a classic cedar or pressure treated pine is the only way to go.
There is something about using natural materials in outdoor building that is always in style. It's timeless and durable and ages beautifully in the elements compared to processed metals or brittle plastics.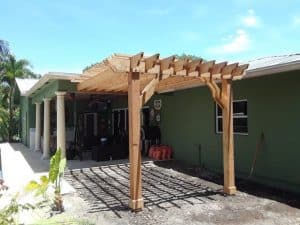 Our wood is the highest cut and quality with your choice of rich, rough sawn cedar or sturdy pressure treated pine. Adding a few accessories such as our retractable canopies or your own light-weight all-weather drapes will add a backyard roof with an intimate feel to turn your patio into your favorite place to play and relax!
Where Can I Buy a Pergola in SC?
There are many options out there for pergola retailers in your SC zip code, and ours is an option for many popular pergola designs. All of our kits come with simple instructions and pre-cut, pre-drilled pieces to help make assembling your backyard addition simple and fast. In fact, our kits can be completed over the weekend! On top of our affordable prices, this means that you can spend all the time you would have spent at a store picking out the wood, designs, bits and pieces on actually enjoying your patio sooner. Leave it to us and we'll have you in the swing of the season before you know it.
So let's get outside and enjoy the palmettos! You've been thinking about it for a while now. It's time to get to business!  Check out our ordering page and all the options available to make your backyard the sanctuary it was meant to be. See you underneath the eaves!