Atlantic coast towns and inland historic cities alike welcome the shade that South Carolina pergola kits can create. From Greenville to Columbia to the famous Grand Strand along the coast, residents often look for patio structures that can withstand the summer heat as well as severe hurricane season weather. A sturdy wood pergola that can handle 160 mph winds can also create an attractive way to frame in an outdoor room. We sell South Carolina pergola kits in all 46 counties and cities in South Carolina such as Columbia, Charleston, Florence, Greenville, Hilton Head, Myrtle Beach, and Rock Hill – and anywhere in between.
Top-Selling South Carolina Pergola Kits
Most often our best-selling patio covers for the Palmetto State are the Big Kahuna attached and the Big Kahuna freestanding pergola kits. These provide the most coverage of all of our pergolas, and can be ordered in the size you need to fit your outdoor space.
Three of the most popular pergola kits are: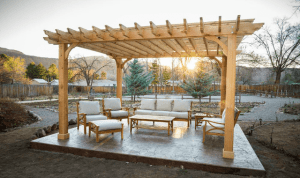 Our Big Kahuna combines strength, style and maximum coverage. The standard sizes include 6×6 posts, double 2×8 beams, 2×8 rafters every 12″ and 2×2 top slats every 6″. Another popular style for South Carolina pergola kits is our Sombrero. The Sombrero is the same solid design as the Big Kahuna, with half the top slats and half the rafters. This high quality kit captures the open feel of the outdoors at an even more affordable price point. The Sombrero is offered in both freestanding and attached and comes standard with 6×6 posts, double 2×8 beams, 2×8 notched rafters, and 2×2 top slats. The rafters are placed on 24″ centers and the top slats on 12″ centers, creating a more open feel than the Big Kahuna, but more coverage than many other South Carolina pergolas. 
If you live in South Carolina and are looking to build a cover over your backyard patio, take a look at some of the options we have for South Carolina pergola kits. Read our pergola overview that describes the amount of coverage of each style of pergola kit, price ranges, and options you can choose to customize your pergola. We have many different styles, and over 90 different sizes to choose from. Each of our pergola kits is customizable with options that are specific to your liking.
View all of our pergola kits that are available to be shipped free of charge to any city in South Carolina, and start building your backyard retreat with a new pergola!