12' x 14' Pergolas and Kits
Enjoy the outdoors relaxing under your distinctive 12′ x 14′ pergola from Pergola Depot.
Our 12×14 pergola kits establish a slightly rectangular space that works well for both freestanding and attached versions. Adding style and shade to outdoor lounging and dining spaces, our 12×14 pergolas can help you create a stunning and refreshing extension of your home. Built to withstand nearly everything Mother Nature can throw its way, you are sure to enjoy your 12×14 pergola for years to come.
12×14 Pergolas for Every Need
---
Our Big Kahuna, Sombrero, Melbourne, and Fedora styles all come in 12×14 pergola kits, so you have plenty of choices. Once you select the style that works with your outdoor space, you can choose your customizations, including wood type, freestanding or attached, post length, end shape and even the base trim. That's a lot of selections to make, so if you're stuck on something in particular, you may want to consult our buying guide for help.
---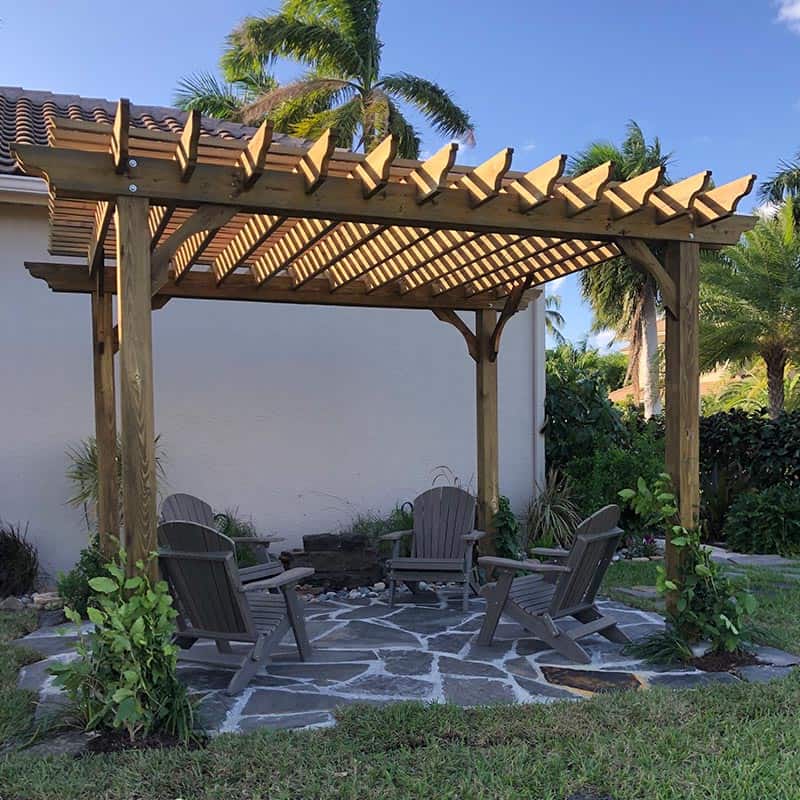 FAQs About 12×14 Pergola Kits
---
We've been in the pergola business since 2008, so we've heard every question you could imagine. Like the old saying goes, there are no stupid questions, so we compiled a few of the most common ones to help you arrive at the best decision for your space. Of course, if you have more questions, check out our full FAQ page or feel free to contact us, and we'll be happy to answer them!
Which 12×14 Pergola Style Provides the Most Shade?
---
The Big Kahuna provides maximum sun protection. If you want more sunlight, the Sombrero offers medium protection, though you can upgrade your coverage with shade sails or a retractable canopy. The Melbourne and the Fedora provide the least sun coverage, but it is compatible with the shades and canopies.
No matter which 12×14 pergola style you choose, you can create an arrangement that meets your shading needs, so it's often best to select the version that best fits your desired aesthetic.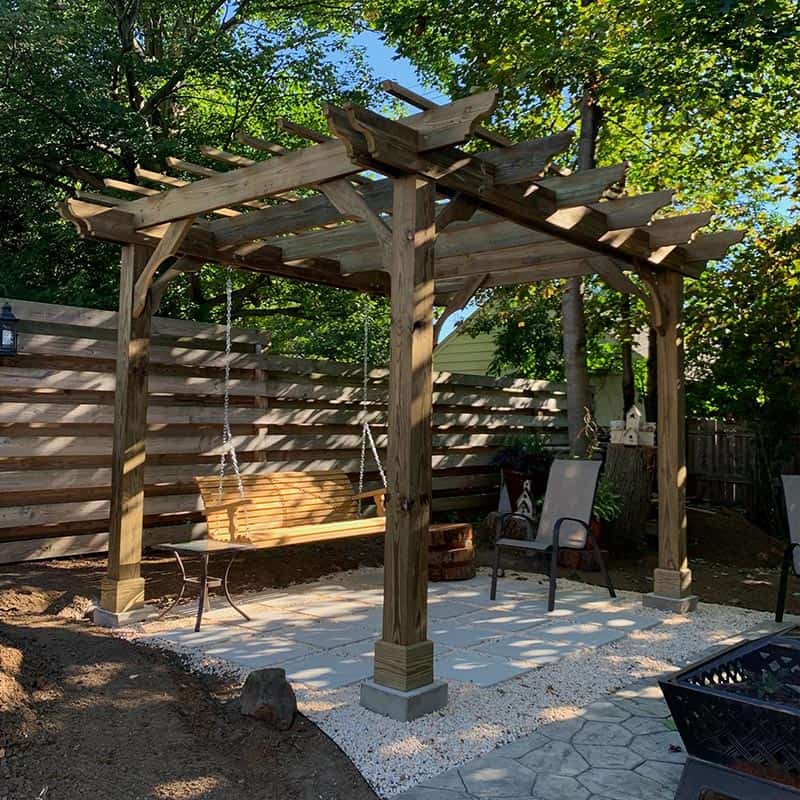 What's the Difference Between a Freestanding and Attached 12×14 Pergola Kit?
---
Freestanding pergola kits have four weight-bearing posts that support the beams to create a separate outdoor room. Choosing a freestanding pergola provides separation from the main building, meaning it could serve multiple purposes, including creating a secluded space on your property.
On the other hand, attached pergola kits feature outside posts on one side and a ledger board and hardware to connect to a wall on the opposite side. The 12×14 attached pergola kits have two outside posts. To determine the proper size for an attached pergola, you would measure the distance from your wall to where you want the outside posts to determine the length of rafters you require.
Both freestanding and attached 12×14 pergola kits have the same customizations, including wood type and end cut. The only differences between the two designs are the arrangement and weight-bearing features.
Do You Have Solar Options for the 12×14 Pergola Kits?
---
Yes and no. If you are looking for solar options for your space, we offer the Big Kahuna Solar Ready Pergola Kit in 12×14 sizing. You get the necessary materials for a solar-ready pergola, but it doesn't include solar panels, racks or solar-related equipment. We do not sell solar equipment, so we recommend that you find a local solar provider and installer to enhance your setup safely.
The solar-ready Big Kahuna features many of the same customization options as the standard Big Kahuna, so prepare to make some of the same decisions. Since the solar-ready version is sufficient for mounting solar panels, you don't have to install everything all at once. You can install your 12×14 pergola and then upgrade it with solar features down the line.