15' x 15' Pergola Kits
Enjoy the outdoors relaxing under your distinctive 15′ x 15′ pergola from Pergola Depot.
Enjoy the outdoors relaxing under your distinctive 15′ x 15′ pergola from Pergola Depot. Large enough for friends and family, you'll love hosting outdoor events under any of our unique designs. Featuring high-quality woods and materials, our 15′ x 15′ pergolas help you create the oasis you've always wanted. With easy-to-follow instructions and friendly expert advice, there's no better time to transform your outdoor space with a spacious 15′ x 15′ pergola.
Pergola Depot has the Perfect 15′ x 15′ Pergola for You
---
Whether you want maximum sun protection or only a little, we know you'll love the designs we carry because we make all our kits using only the finest materials. That way, no matter which style you pick, your 15′ x 15′ pergola will stay beautiful for years to come. We take you through the entire buying process and are here to answer any questions you may have.
---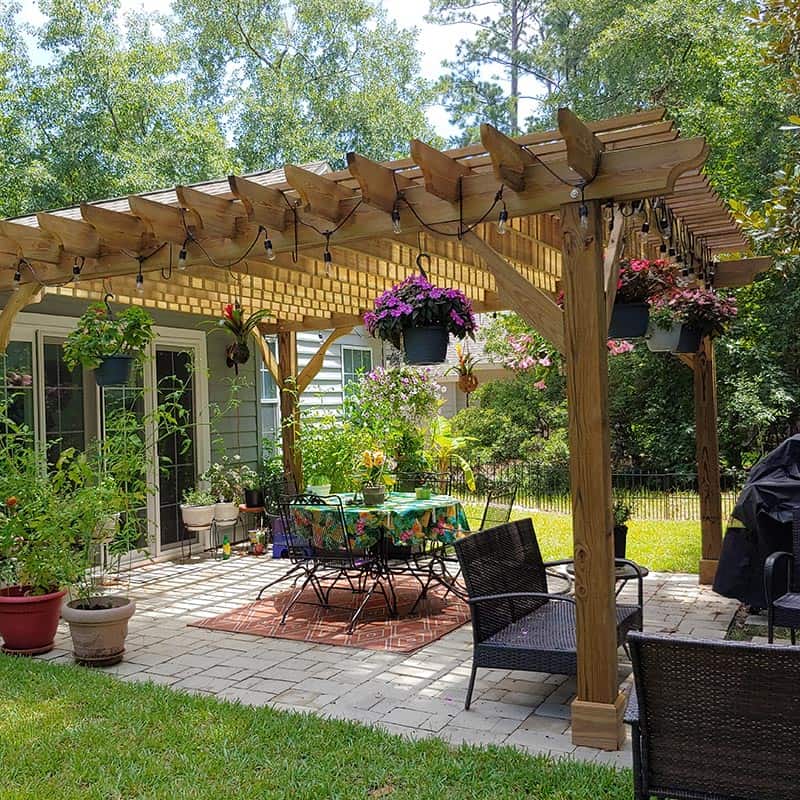 What Different Styles Do You Carry in 15′ x 15′ Pergolas?
---
We carry freestanding and attached designs for our 15′ x 15′ pergolas, and these are available in each of our three standard kits. Plus, with each kit, you get to choose the type of wood, end shape, and posts that suits you. These standard kits are:
The Big Kahuna

: Our signature kit which offers maximum sun coverage plus the strength to stand against extreme weather conditions.

The Sombrero

: Provides medium sun coverage and creates a more open ambiance.

The Fedora

: Features a taller, un-notched roof system that is more open than the Big Kahuna or the Sombrero and is an excellent choice for framing an outdoor patio or garden space.
Will My 15′ x 15′ Pergola be Big Enough?
---
The first step is to choose the location for your pergola. This sounds easy, and some do know precisely where they want theirs. However, you may want to take some time to walk outside and look at the available space. See whether there are any obstacles in the way. Once you've done that, you'll need to answer these questions to know if your 15′ x 15′ pergola will:
Be Freestanding or Attached to a Wall?
Provide Adequate Usable Space Between the Posts or Wall and Posts?
Have Enough Length and Depth for Your Desired Location?
Be Tall Enough to Meet Your Needs?
If you've determined a 15'x15' Pergola is too small or large for your outdoor space, you can browse our other sizes.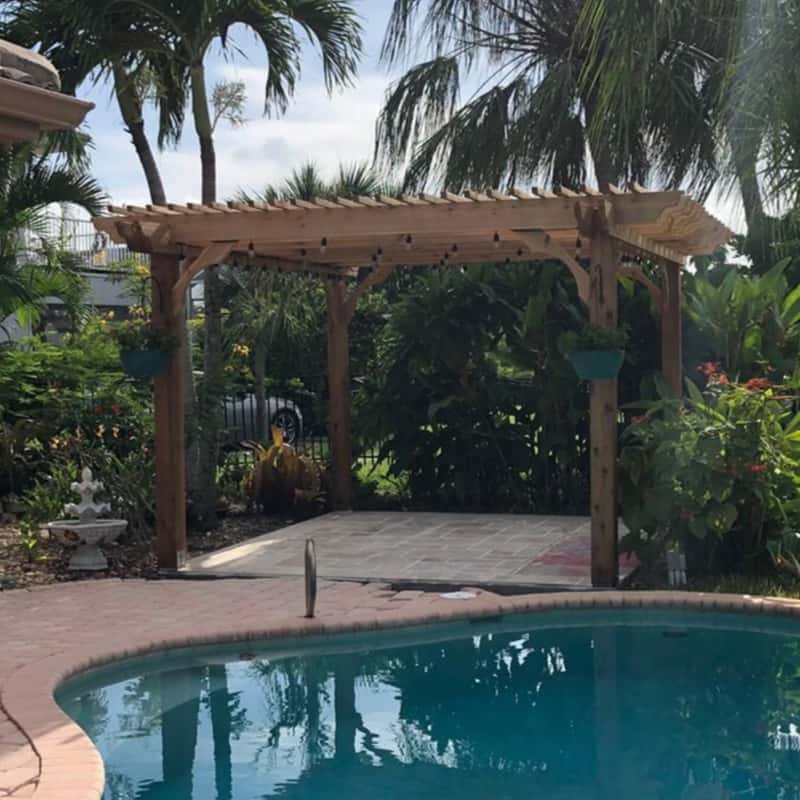 Get Your 15′ x 15′ Pergola Kit from Pergola Depot
---
There are many reasons to buy your 15′ x 15′ pergola from Pergola Depot, such as quality of materials, craftsmanship, price, and excellent customer service. These are crucial things to consider when making a purchase you plan to enjoy for years. With everything you need available in one place, Pergola Depot makes shopping for your 15′ x 15′ pergola fun and easy. And if you have further questions or concerns, you can always reach out to us. We're here to help you.