15' x 20' Pergola Kits
Enjoy the outdoors relaxing under your distinctive 15′ x 20′ pergola from Pergola Depot.
When shopping for stylish 15′ x 20′ pergola kits, look no further than Pergola Depot. We have many styles to choose from, each made with the highest quality materials. With multiple awards from Best of Houzz Service, we've welcomed many new customers for 15′ x 20′ pergolas and more. They've taken advantage of our excellent products, low prices and top-notch service. And we know you'll be thrilled when you're relaxing under your 15′ x 20′ pergola.
Choose the Best 15′ x 20′ Pergolas from Pergola Depot
---
We offer designs to fit every budget and taste, and your 15′ x 20′ pergola is just a few clicks away. Which style will you choose? The classic strength of the Big Kahuna, the charm of the Sombrero or the open-sky feel of the Melbourne or Fedora? You can't go wrong buying 15′ x 20′ pergolas in any of these handsome styles. Each one gives you a wood choice: Pressure-treated #1 Southern Pine or Western Red-Rough Sawn-Tight Knot Cedar. Each of these is decay-resistant and able to withstand severe weather conditions.
---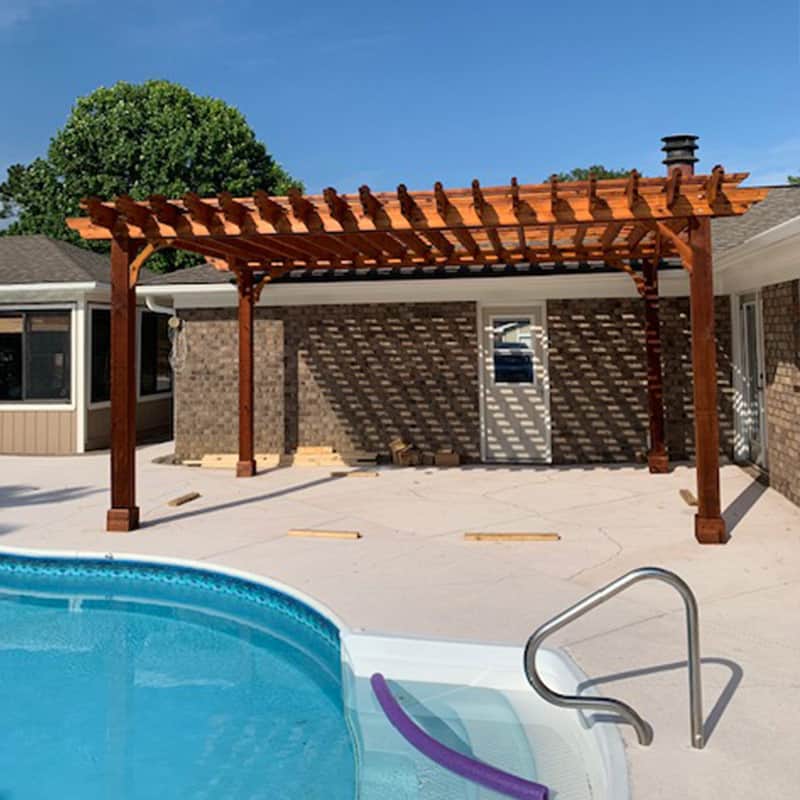 Tips for Your 15′ x 20′ Pergola
---

There are many factors to consider when choosing to put a beautiful pergola on your property. And whether you choose a 15′ x 20′ pergola or a different configuration, we have the tips to help. Some of the expert resources include:
Pergola Depot has the 15′ x 20′ Pergola You Want
---
With the best designs, materials and customer service, buying that 15′ x 20′ pergola you want couldn't be easier. With clear, easy-to-follow instructions and a wealth of knowledge available at your fingertips, you'll be enjoying your new 15′ x 20′ pergola in no time. And remember, we're here to help you through the whole buying process, and you can always contact us with any questions or concerns.