When's the Best Season to Complete Your Patio Design?
Last Updated On December 5th, 2019 at 01:08 pm
The best patio design months depend a little on your location. In the winter months, you might be covered in snow and the last thing you're thinking about is sitting outside on your patio. No matter what season you're in or your climate, patio designing has perks in each of the 4 seasons. Cold rain or snow doesn't conjure up thoughts of patio designing? It's not as far off as you think!
Design the Best Patio for Your Yard in any Season
But, let me ask you something. If you close your eyes right now, can you imagine that it's spring time? It's the weekend. The grass is as green as it gets. You can hear the birds chirping, and the sound of kids playing in the backyard. You've already put away all your winter clothes for the year, and are wearing your favorite pair of shorts. You traded your thick socks and boots for a pair of flip flops. The sun feels warm on your skin. The smell of burgers and hot dogs on the grill is now overpowering the smell of fresh cut grass from this morning's lawn maintenance, and has everyone's mouth watering. You are completely relaxed under your brand new pergola that brought the whole outdoor space together.
Since that last freeze date is right around the corner, it's a good time to finish up your plan. If you're using a contractor to help make your vision a reality, now's a good time to contact them to get on their spring schedule. The early bird gets the worm! If you're envisioning a cedar pergola attached to your house, you can try one of these in your patio design. Shown here is a 13×18 Big Kahuna attached cedar pergola.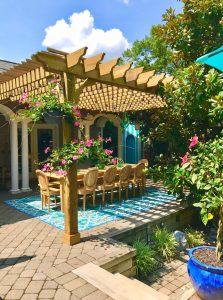 Or, you might live where you rarely see temps dip much below 50 degrees, and you're remembering those hazy hot summer days when you just couldn't imagine finishing off your patio project! If that's you, now's a great time to beat the heat and get that shade structure up. Building your dream yard in the cooler winter months can be a lot easier, and your local contractors may have a little more free time to lend a hand with the paver patio, deck, or fence you were thinking of adding. Looking to combine the indoors with the outdoors? If you've already started on the framework, but wanted to add a garden structure like a pergola to finish it off, take some time now and find that perfect piece. That'll make your patio a preferred hangout year-round. Perhaps something like this poolside 12×16 freestanding Big Kahuna?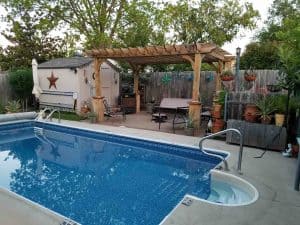 How to Find the Best Patio Design
Our high-quality, affordable pergolas are a great way to expand a living space, add a shady area to a pool deck, make an outdoor kitchen area, or create a new space to relax by a backyard fireplace. All you have to do is click here, choose which style pergola you'd like, then choose your size, wood type, customize it by selecting your options, and add it to your cart. Before you know it spring will come around, so whether it's hot or cold, dust off those patio design plans and beat the spring rush and the summer heat!