How to Get Started with Your Outdoor Patio Design
Last Updated On May 27th, 2023 at 02:46 pm
If you're just getting started with a new outdoor patio design, try one of the many sample outdoor patio drawings out there. Or start from scratch by creating your own rough sketch of your yard and some of the basic features you'd like to add. Your local landscaper could help you out or do your own quick drawing with pencil and paper first.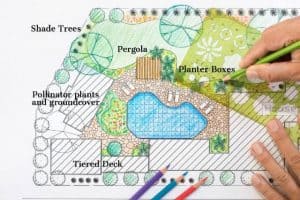 This can help you figure out your space, think about the elements you'd like to incorporate, and decide possible placement that'll create the landscape that best meets your needs.
Maybe you're trying to create more shade, add more privacy, or make an entirely new outdoor room. Choosing plants, trees, outdoor structures, accessories, and patio or deck materials are some of the elements you'll be able to customize to really make it your own. If budget is a concern, make a list of options you can eliminate if needed.
If you're adding a pergola, read through this Guide to Choosing a Pergola to get started. Measure your available space for a pergola so you'll know what size and style will be a good fit. Maybe an attached pergola kit will maximize your usable space. Or a freestanding style pergola that can be placed in an area next to your pool or outdoor garden. For all garden patio designs, here are some common landscape elements and suggestions to think about while you're planning:
7 Tips for Outdoor Patio Design
Create contrast
Combine stone, gravel, and grass to build a natural looking walkway or patio with varied textures and colors. Build pathways that wind through your yard out of concrete pavers or cut stone with gravel or river rock incorporated in between. This is a landscape feature that is timeless and provides a beautiful design element to any space.
Add shade trees
Early spring or late winter are both great times to plant trees (depending on your planting zone). Trees can be used as a natural border to create privacy, and over time can offer another shady spot. Find the species that is suited to your climate and region – your local nursery can help. Common varieties are oak, maple, tulip tree, white pine, and arborvitae. There are also ornamental trees that can provide some shade along with showy blossoms such as dogwood, flowering crabapple, crape myrtle, or redbud. If it's not planting season when you're making your plan, leave space for the trees you've selected and plant them during optimal planting weather for your location.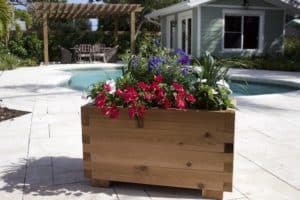 Design with dimension
A variety of features can add layers to your yard that create dimension and depth. Try planting climbing roses or clematis along a trellis, or add a pine or cedar pergola as a backdrop for additional height. Outdoor structures can turn out to be the most dominant feature of your yard, so plan your space with the size structure in mind. Measuring for a pergola or outdoor structure can be a good starting point for creating depth and dimension. Tall shrubs and grasses can also add extra texture as well as privacy.
Re-invent
Update your outdoor living room for entertaining and make it an inviting space for you and your guests. Dining or lounging furniture, wood benches with throw pillows, and rope hammocks work well in different size spaces. Or create a little privacy nook to use as a quiet escape. Adding a seating area with a swing can be a beautiful corner to relax and unwind.
Reserve some open space
Include an open space for yard games, pet play area, and a place where you can view and tend to the garden beds you've created. Open space is always welcome for pets and people alike!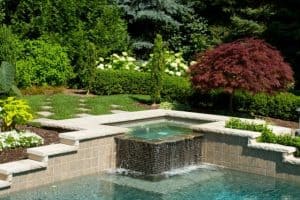 Incorporate special features
Add elements such as sculptures, birdbath, fire pit, waterfall, or a bubbling fountain. Water features range from simple to grand and offer a soothing sound and visual to any size yard.
Customize with accessories
Accent your new outdoor room with your favorite colors using a variety of accessories. Pull your outdoor room together with an outdoor rug that ties your garden in to the patio area, or plant colorful flowers in planter boxes that line the edge of your patio.
Cedar planters blend in well with natural earth tones and can be filled with your favorite annuals, vegetables, or herbs.
After you draw your rough sketch, walk around your yard once more before you put your plan into action. Then choose your top 3 priorities for your landscape plan and that'll be your starting point. Enjoy the journey of re-inventing your outdoor space!
Related topics: Planter Box Kits, Pergola Kits, How to Transform Your Patio with a Wall Mounted Pergola, How to Measure for a Pergola