Delaware is a small but mighty place. Summer brings trips to the Atlantic, overflowing gardens, and smiles everywhere you look. There's a palpable history here that dates back to the founding of the nation and continues today in industry and agriculture. With rough winters and early autumn, spring and summer are a time to relax outside and enjoy some peace of mind with the ones you love. Our Delaware pergola kits are the perfect answer to these warm happy days allowing you to enjoy your yard and patio in style and comfort.
The Best Pergolas in Delaware
We offer an amazing selection of styles, sizes, and accessories to fit any space that you can imagine. These aren't cheap vinyl pergolas either! Our full-size wooden pergolas come in three design themes: The Big Kahuna, The Sombrero, and The Fedora.
Our most popular design is aptly named The Big Kahuna. Offering the most shade cover from an array of ceiling slats and soaring beams, The Big Kahuna in attached or freestanding is ready to take command of all of your outdoor entertaining! With a clever notched roof design and classic craftsman finishes, The Big Kahuna is our most popular pergola in Delaware.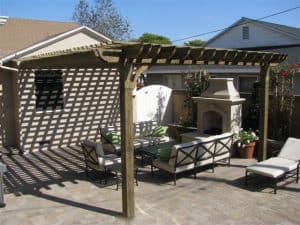 The Sombrero is a beautiful design that marries the structure of The Big Kahuna while allowing a bit more light to come through. Just like its more robust siblings, The Sombrero utilizes a notched roof system and comes in all sizes ranging from a modest 8×8 to a grand 20×20 to keep you and your party covered all season long.
The Fedora departs from its siblings with a stack roof system and fewer slats in the ceiling. While it is our most affordable pergola, it doesn't sacrifice the thoughtful style and curved cut flourishes that make our pergolas the best you'll find anywhere. The Fedora is ready to transform your yard into the respite from the summer sun that you've been wanting for so long.
Available as an attached patio cover or freestanding, all of our full size pergola kits are an excellent way to help you design the outdoor room you've been dreaming of for your backyard. Our kits ship for free and are made to order with your custom options all within 10-12 business days. You'll be chilling in our new yard before the summer ends!
Delaware Pergolas that Compliment any Landscaping Theme
Delaware is stunning. The lush forests, warm summer nights, colorful gardens, rivers and so much more. While vinyl pergolas or those made of fiberglass or aluminum are inexpensive and quick to assemble, we feel that the best way to compliment a place with this much natural beauty is to go with an all wood pergola in either quality pressure treated pine or western red rough sawn cedar.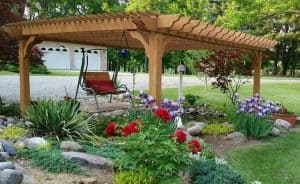 We promise that your outside pavilion will last you a lifetime without the unnatural look of synthetic materials.
While trex decking blends well with the trees in your yard, when it comes to a free standing structure that you are going to sit beneath while enjoying supper or brunch with your family, the red cedar beams adorned with lights and laughter will be the perfect companion to your outdoor memories. These aren't the kind of pergolas you'll find at box stores with next to impossible assembly and flimsy posts. Our materials are high quality and are built to last.
Whether you are on the coast or in the suburbs, we want you to love your backyard again, spend more time outside, and take full advantage of the warm weather or cool evenings. Our pergolas satisfy all of those needs while giving you a second living room for three seasons of the year.
Spruce it up: How to Dress your Pergola
There are so many ways to make your pergola your own. From hanging lights and sconces to hammocks and dining tables, the options to turn your pergola into the best place to hang out are nearly endless. We've seen stunning climbing vines that create a canopy across the ceiling slats and hanging potted plants that help make the space within more intimate and charming. String a hammock across the stout wooden posts and enjoy a book or a nap in the fresh air.
Lounge chairs and outdoor sofas and benches give your guests a special place to sit and enjoy the stars at night or to simply watch the clouds roll by in the afternoon. The important thing to consider is how you plan to use your new outdoor space. Folding furniture can give you the option to quickly rearrange the space to suit your needs. We also offer retractable canopies to give you total control of the patio shade and maximize the cool on those sunny summer days. However you use your yard, your pergola will make sure that it is the go-to option when the snow melts and smiles come out.
All right Delaware, you've Waited Long Enough!
You've been staring out the window at your yard for long enough. A pergola is exactly what's been missing. So fire up the grill, set the table, and eat outside for a change. You'll quickly find you have more 'neighbors' than you realized. Assembly only takes an afternoon and you'll be relaxing before you know it.