If you live in Delaware and want to add a pergola to your backyard, look no further than Pergola Depot. We sell pergola kits in all 3 counties and cities in Delaware such as Ardentown, Camden, Dewey Beach, Georgetown, Milton, Selbyville, and Wilmington. We have many different styles, and over 90 different sizes to choose from. Each of our pergola kits is customizable with many choices of options, including wood type, pergola post length, and end cut. You can order our standard size pergola kits as free standing or attached. We build our pergola kits using the top wood choices that are sturdy and withstand severe weather. All kits are made using either western red rough sawn tight knot cedar or pressure treated #1 southern yellow pine lumber. Your pergola will arrive at your Delaware location ready to install; pre-cut, pre-drilled with stainless steel hardware and step by step instructions.
Base prices range from $595 up to $7,990 for standard size kits. Whether you choose The Big Kahuna, The Sombrero, The Fedora, The Visor, or The Brim, you can order quickly on our website, or call us to help place your order! 
We ship FREE anywhere in the contiguous United States. Pergola kits ship within 10 business days.
Designs for Delaware Pergola Kits
For the best Delaware patio covers, we recommend our signature pergola kit The Big Kahuna or our Sombrero Pergola Kit.
If you're looking for maximum coverage, our Big Kahuna is the the recommended pergola style. With 6×6 posts, double 2×8 beams, 2×8 rafters (every 12 inches) and 2×2 top slats (every 6 inches), the Big Kahuna provides you with a lot of coverage in a solid design. This example is a free standing pergola kit in cedar, size 14×16. There are many other sizes to choose from.
Take your measurements and then choose the style pergola you'd like. Then make your selections and add to cart! Your pergola will ship within 10 business days from receiving your payment. Before you know it, you'll be relaxing in the shade of your Delaware pergola kit! If you're looking for a bit lower price point and don't need as much patio coverage, consider our Sombrero pergola kits. The Sombrero is the same design as the Big Kahuna, but has half the rafters and top slats. This pergola captures the open feel of the outdoors at an even more affordable price point.
Delaware Pergola Product Information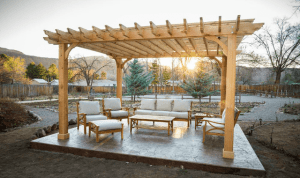 Read Customer Reviews
Read our reviews on our website and Houzz, and check out customer pergola photos on our Facebook and Instagram pages.
Take a minute to view all of our pergola kit styles here. Remember, any pergola you choose is available to be shipped free to any city in Delaware or any of the Delaware beaches, and start building your backyard retreat with a new pergola!
---