Pergola Cover Ideas for Shade
Last Updated On September 14th, 2023 at 12:29 pm
The best pergola covers for shade usually have 3 specific qualities. They're sturdy, they're stylish, and they blend well with the outdoors. Wood pergolas come in many shapes and sizes, but if you browse through popular magazines and Pinterest pergola photos, you'll find these same qualities that homeowners tag as some of the best pergola shade covers. Other qualities include do-it-yourself, hand-made, and made in the USA. Which of these qualities is important to you as you design your new outdoor living space? 
Qualities of the Most Popular Pergola Covers
Most homeowners are looking for durable pergola covers that will enhance their outdoor space. Quality materials, design elements such as notched wood, and density of rafters and top slats are features that make our pergolas popular. Our easy to install pergola covers or shade sails, offer an additional amount of shade and a touch of color. Our pergolas with roofing also offer shade and rain coverage in a variety of roofing colors. The durability of our products paired with appealing design features are top qualities that ensure you'll have a sturdy yet appealing cover for your patio.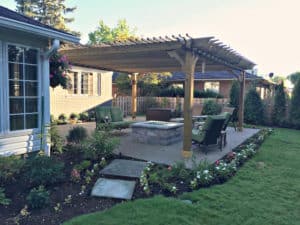 Sturdy
A quality pergola that can last through hurricane force winds, means you've chosen a quality patio cover that will stand up to the harshest weather conditions. Even if you don't live in a hurricane zone, you'll be happy to know you've chosen a solid structure that'll last for years of enjoyment. We thoughtfully designed our pergola styles to withstand severe weather conditions. Founded on hurricane-prone Florida's Atlantic coast, our company's flagship pergola kits were designed with durability and beauty in mind. Our best-selling pergola styles are engineered to withstand hurricane force 175 mph winds and are built using stainless steel hardware and durable wood types. 
Stylish
For pergola covers, adding your own unique touch can be done simply by choosing a special end cut for rafters and beams. Once you've assembled your pergola, make your patio style shine by adding your own touches such as tie-back curtains, lighting, or brightly colored furniture. Choosing a more traditional pergola style blend well with many landscape and home designs. When it comes to style, the sky is the limit! For a stand-out structure that commands attention in any backyard setting, The Big Kahuna Pergola Kit is a crowd-pleaser!
Blend With Outdoors
I think that a pergola works best if it looks as though it's always been part of the landscape. Wood pergolas can achieve that more easily than other types of pergolas.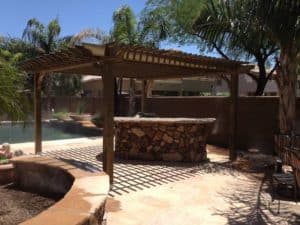 Since pergola kits are natural patio covers that create an outdoor room, they're a cost-effective way to add on to your home without going through significant home renovations. Pergolas provide a lot of shade all on their own or you can add a canopy or a pergola sail to create the ultimate shady retreat.
Transform any of our full size pergola kits into one of the best shade covers to provide some protection from even the sunniest of days. Our Big Kahuna 15×15 pergola offers the most coverage in a standard size. Add a retractable canopy to it if you choose to add another layer and add extra shade. Or for an extra level of shade, consider a Big Kahuna PLUS Covered Pergola Kit with optional metal pergola roofing.
Other ways to create shade with a combination of structure and fabric are shade sail pergola covers made from waterproof or sunproof fabric. A pergola sail shade can be added to existing structures with the right hardware and attachments.
Pergola Covers that Provide Extra Shade
If you're not a sun seeker in the least and need the top level of shade protection, you can choose from different add-on covers for your pergola, or one of our metal roof pergola kits. Shades pergola owners really love are those that protect their friends, family, and pets from undesirable weather that can pop up without warning.
A privacy pergola is a structure that not only can give you the sun protection you're seeking, but also your own semi-private retreat! It may not be quite the same as a solid cover like a pergola with tin roof, but you'll get just as much enjoyment and beauty out of it, and still have some air flowing down that you wouldn't get with a wood or tin roof pergola. If you're more interested in the solid cover roof for your pergola, you can opt for our covered pergola kit with metal roof.
Permanent Shade Covers for Your Pergola
Pergola shade sails, retractable canopies, and shade curtains all provide extra shade for your patio. Pergola shade sails are an accessory that can be added to protect you from overhead sunlight.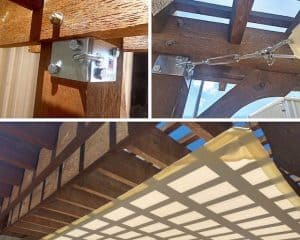 Our shade sails come in Polytex UV-blocking water resistant fabric in one of 6 popular color choices. They are sized to fit our freestanding Big Kahuna and Sombrero pergolas that range in size from 10 feet x 10 feet up to 20 feet x 20 feet. They're easy to attach and easy to remove during stormy weather or to store during the off season.
A retractable canopy can provide even more shade if you'd like extra protection, as well as adding a little color to your canopy.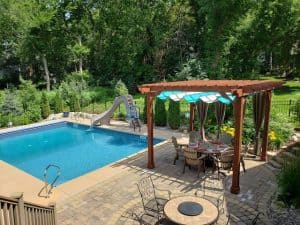 Canopies can be added to any attached pergola sized 8×8 up to 20×20 or any freestanding pergola sized 8×8 to 20×20. There are also other shade covers that can be added to your pergola that are not as permanent as a retractable canopy.
Semi-Permanent Shade Covers for Your Pergola
Another route you could go is to attach a screen to the sunny wall of your patio seating area. This allows you to quickly raise or lower the screen if you prefer to let the sun shine through. You can purchase side shades, shade panels for the sides of your pergola, or sun screens at many home improvement stores.
An attachable screen can also offer a little extra privacy if your yard is located in a more populated suburban neighborhood setting.
Shades for pergola owners seeking to create a protected area can be purchased in many sizes and styles. A pergola side shade is one that can be rolled up when you want to let sun shine in, and rolled down to create privacy and a place to cool off.
Whatever amount of shade you're looking for, a pergola perched atop your patio makes the perfect escape from the sun's rays, and is one of the best covers you can find that adds beauty to your backyard! Whether you're adding a pergola to your patio or building a pergola on a deck, the desire for shade remains the same. Take your backyard to the next level and add a wood structure that is your new go-to spot for gatherings with family and friends!