Unique Pergola Designs for Outdoor Living
Last Updated On July 6th, 2020 at 12:08 pm
If you're looking for something unique to improve your outdoor living space, consider these prefab pergola designs to make your space usable year-round. Pergolas add a design element that can expand your existing backyard area by virtually creating an extra room. Some of the newest pergola designs can be used to create an outdoor kitchen, expand your entertaining area, or make a simple secluded spot to relax. Whether you're an old pro at planning and designing or a newbie on the DIY scene, we recommend starting with these 3 questions to get the ball rolling.
How Will Your Outdoor Living Space Be Used?
Are you trying to expand your usable backyard space by building an outdoor living room? Or simply just looking for a patio cover? One of our standard pergola designs can create that outdoor retreat you've envisioned. Add a retractable canopy and you'll have the option for more shade on sunny days.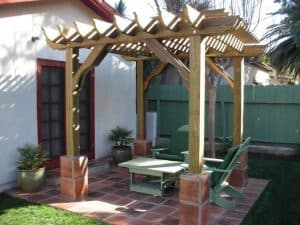 How Much Space Do You Have to Accommodate a Unique Pergola Design?
Before you get too far down the road of planning for a unique pergola design, take some measurements. Our guide to measuring pergolas can assist you with this. Do you have a small or medium size backyard that you'd like to use more? Create your own sitting area designed around your natural landscaping. Pergola designs can be enhanced by adding post pavers to accent your décor.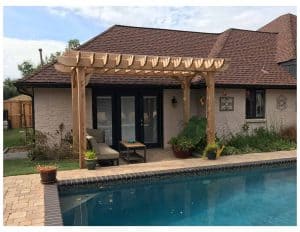 What's Most Important to You When It Comes to Outdoor Living?
More outdoor living space, more shade? Are you expanding a poolside patio to include a wood patio cover? Need a bit more shade? Pergolas create a protected place to entertain or relax after a long day's work. If you're using the pergola for shade, you can opt for one of our maximum coverage designs such as The Big Kahuna pergola kit which offers the most coverage. Other designs offer a little less shade cover but also allow for more breeze.
Remember when you're planning how you'll be using your outdoor living space to start with the end in mind. If you have a vision that includes one of these pergola designs, step one is to measure your usable space. Then you can jump in and look at the different styles of pergola kits we offer. Our pergolas are designed for outdoor living in many different landscapes. Have fun planning and contact us with any questions along the way!