Looking for shade in the Bayou State? Home to sunny, humid summers and refreshing winter breezes, Louisiana is a lush paradise that boasts some of the best cooking in the country. With all the warm weather, outdoor bbq's are a staple here and what better way to party on the back patio than underneath your own shady pergola!
Whether you're off the I-10 corridor or up in Shreveport, our Louisiana pergola kits are the best way to enjoy your decks and yard all year long without the sun getting in the way of your good time. So get your spices and rubs ready because your patio is about to become the prime real estate for your friends and family this season!
Louisiana Pergola Kits for Backyard Living
Louisiana has it all. Abundant biodiversity and soft, wet soil that makes growing everything from berries, sweet potatoes, and soybeans, to just about any garden variety flower and plant you can name. Needless to say, Louisiana has some of the more eclectic gardens and landscaping in the country!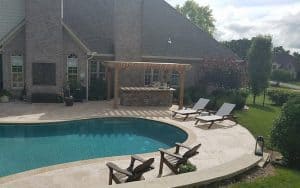 With our DIY pergolas made of high quality timber, your backyard will be the envy of the block and the hub for all of your outdoor gatherings. Less intrusive than a pavilion or other gable roof style structure, and more natural than an aluminum pergola or a vinyl pergola, wood pergolas create a natural looking landscape that never goes out of style!
No matter what your current patio configuration may be, we have a pergola that's ready to be built to suit your southern style. Nothing makes a statement better than a cedar pergola New Orleans style! When it comes to full-size pergolas we offer three gorgeous designs in every imaginable size from attached 8×8 to freestanding 20×20 + custom sizes.
Our Big Kahuna is for those of you who want maximum coverage from the sizzle of summer with soaring beams and top slats that will welcome you into their shade. Of course, for more coverage, one of our awesome retractable roof canopies might be a match made in heaven.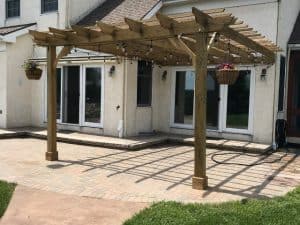 The Sombrero starts with our classic design and lets a little more light shine in. Notched rafters create a sturdy structure just awaiting some potted twining English Ivy or hyacinth bean vines placed nearby to add even more beauty to the patio. Hang a potted plant or string lights from your pergola to add a little patio decoration.
Pergolas New Orleans and Baton Rouge residents typically love are those that add extra flair to an outdoor dining area! If you're space-constrained, often an attached pergola kit can provide the coverage you need without taking up all of your extra patio area.
If you're searching for a style that lets a little more light shine through, check out our Fedora – these are patio covers Baton Rouge and beyond will love! The Fedora is for all you southern sun lovers providing the most open coverage while still distinguishing your Southern patio design from the rest of your landscaping. You can also add a retractable canopy for those days that you'd like to sit in a shady spot.
Patio Covers New Orleans, Louisiana Style
Anyone who's been down here knows that the weather can get wet and windy. It's the price we pay for living in such a beautiful state. When choosing a New Orleans pergola, you want to make sure that it can handle the climate. That's why we prefer rot-resistant cedar or pressure-treated pine lumber for our pergolas.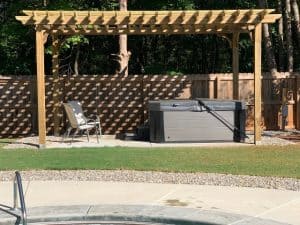 The construction is designed to withstand strong winds and rain and will be good as new once the sun comes back again. They are truly built to last and provide endless seasons of fun for you and your family.
For DIY pergolas, our pre-cut, pre-drilled pieces are made from the highest quality materials available and are certain to be a mainstay in your yard for years to come with proper pergola maintenance. Whether it's whipping up from the Gulf or coming down through the Florida Parishes, we have you and your patio covered. Not sure where to start? Find your patio measurements and match that up to our pergola measurements. Be sure to leave enough space underneath your New Orleans pergola for an outdoor bar & grill, comfy couches, or hot tub.
Pergolas New Orleans Homeowners Will Love
Just because you live in the big city doesn't mean there's no room for a pergola party in your backyard. If a freestanding pergola is too large for your patio cover, try an attached pergola that extends near your soffit to invite your guests through the french doors and out onto the deck.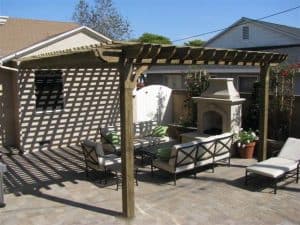 You will love the intimate space that you can create out there with the right accessories. Add some all-weather drapes or a retractable canopy cover and all of a sudden your living room will get jealous of your yard!  Whether it's a fish fry on Friday night or a bloody mary at Sunday brunch, you will appreciate your time outdoors more if you make it feel like home. There's one thing for sure, Louisiana pergolas can be made to fit any size or style backyard.
Patio Covers Baton Rouge Homeowners Can DIY 
When you order from us, we cut and drill all the pieces you'll need for your wood pergola made to order. After our free delivery, we promise that you won't be sitting there in your backyard wondering what you've gotten yourself into. On the contrary, our easy to follow instructions make assembling your backyard patio cover a snap, and it can be done in an afternoon.
All of our pieces are pre-cut, drilled, and ready to build. Minimal tools are needed and you won't have to invite half the parish over to help you either. Additionally, our intuitive designs are solid and will stay solid season after season.
Face it, your yard would be better with a pergola in it. It's that simple. What used to be a hot day now has an island of shade in it for you and friends to enjoy. Fire up the grill, put some cushy chairs down, grab some fresh shrimp, and do the season and the seasonings the right way. Just be careful with that hot sauce!