Our pergolas are made for the Pelican State! We sell Louisiana pergola kits in all 64 parishes and cities in Louisiana such as Alexandria, Baton Rouge, Breaux Bridge, Houma, Kenner, New Orleans, Shreveport, and Winnsboro. And anywhere in between! You can add a pergola to a postage-stamp sized patio all the way up to an extended outdoor poolside retreat with outdoor kitchen. Tell us what size Louisiana pergola kits might work in your space, we'll build it per order, and ship it direct to you within 10 business days of your paid order! First step is to choose your style pergola.
How to Choose a Louisiana Pergola Kit
First you want to think about your weather conditions. Although coastal Louisiana and inland Louisiana have different weather considerations, one fact remains. The summer heat creates a near constant need for more shade. And the windy conditions that are prevalent during fall and other points during the year dictate how sturdy an outdoor structure needs to be. For the best patio covers for the Pelican State, we recommend our strong and sturdy Big Kahuna, Sombrero, or Fedora pergola kits.
Our Big Kahuna combines strength, style and maximum coverage and boasts 6×6 posts, double 2×8 beams, 2×8 rafters (every 12 inches) and 2×2 top slats (every 6 inches). One of the most popular sizes of Louisiana pergola kits is the 14×14 Big Kahuna pergola kit. Another best-selling pre-cut pergola kit on the top 5 list in Louisiana is the 12×15 Sombrero pergola kit. The Sombrero shares a solid design with the Big Kahuna, with half the rafters and top slats and a more affordable base price. Both are high quality kits that are offered in both freestanding and attached. Both styles come standard with 6×6 pergola posts, double 2×8 beams, 2×8 notched rafters, and 2×2 top slats. The placement of rafters and top slats make the difference in how much coverage each pergola offers.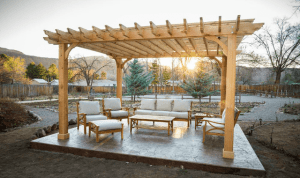 Wood Types for Louisiana Pergola Kits
A word about wood. Wood type is one of the selections you'll need to make to customize your pergola for your location. If you like a wood pergola kit built out of beautiful western red cedar, then you can select our cedar option.  The cedar lumber we use is a beautiful light amber color with a wonderfully appealing fragrance. It's also highly resistant to decay, and it withstands severe elements. These reasons make this wood type ideal for outdoor use, and it is used in situations where exposure to the elements is continually severe.
If you prefer pressure treated pine, you can select our pine option. The pine lumber we use is the most affordable pergola wood option and is also very rot and insect resistant and able to withstand severe elements. Pressure treated pine has chemicals added to give it those properties. As it dries it will turn to a golden brown, then gray if it is not water sealed or stained. You will need to wait a few months before staining or painting the pine lumber since it will be saturated with the pressure treatment when you get it. Both wood types are sustainably harvested.
Where to Buy a Pergola Kit in Louisiana
If you live in Louisiana and would like to build a pergola, look no further than Pergola Depot. You can shop our online store offering 90 different styles and sizes. We also have any custom size available. Just jot down your required measurements and drop us a line or fill out our custom quote request form and we'll get back to you with pricing. After you choose the style and size, you can customize the pergola how you'd like it. Attached, freestanding, post lengths, and end cuts are choices you'll get to make. Then we build your kit in our shop in Melbourne, Florida. Within 10 business days of your paid order, we ship your kit direct to you. You'll receive a pre-drilled, pre-cut, quality pergola kit that's easy to assemble.
All of our pergola kits are available to be shipped free of charge to any city in Louisiana, so shop now and start building your backyard retreat with a new pergola!