Natural-looking outdoor structures that blend with any type of landscaping are trending in backyard design. While aluminum pergola kits offer excellent qualities, the timeless look of a wood pergola is unmatched. Pergolas that can blend your outdoor design with a quality-built structure are highly sought-after. Finding the perfect fit for your landscape might require a little research and comparisons. What are the main differences between aluminum and wood pergola kits?
Differences Between Wood and Aluminum Pergola Kits
Traditional wood pergolas look natural with most types of landscaping designs. The style of pergola you choose will depend on your personal preference, budget, and style of home. For example, an aluminum pergola kit might work in a backyard alongside a contemporary style house or building. But did you know, not only can our wood pergolas be customized to have a similar sleek look with clean end cuts, but they can also withstand very high winds? And, if you decide you want to add a coat of paint or stain to your pergola, you have that choice with a wood pergola. Much like aluminum pergola kits, you can also customize style and color with wood pergolas, but with additional features of sturdiness and natural beauty only achieved with natural wood.
Pergola Style and Design
Since you can add paint or stain to a wood pergola, you have the flexibility to design your pergola around your space by choosing a color that matches your home and patio. Customers who get a pergola for a deck usually stain or paint them to match the deck. This grey painted pergola offers the same clean look as aluminum, but with the high quality of wood.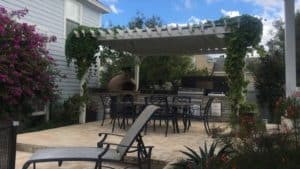 Our Big Kahuna freestanding cedar pergola kit shows a very sleek and contemporary look, with the natural beauty of cedar. Some paints can create the same look as an aluminum pergola kit, with the sturdy qualities of wood.
Cost Comparison for Aluminum Pergolas and Wood Pergolas
How much have you budgeted for your pergola project? When it comes to pricing of aluminum pergola kits, there are multiple comparisons to make for pergola kits made from these materials. It's tricky to do a side-by-side comparison.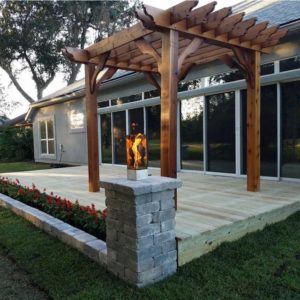 Pergola kits from big box stores may have pergola specifications that are unique to that company or design. And the quality of their materials and workmanship will be different. Not really an apples to apples comparison. So a 10 x 12 pergola at a large online retailer may not be a direct comparison to a 10 x 12 pergola kit that a smaller manufacturer would cut and drill per order (like we do at Pergola Depot). The prices don't compare since the quality and workmanship doesn't compare. The same holds true trying to compare aluminum pergola pricing to wood pergola pricing. Apples to plums.
Depending on the manufacturer, aluminum pergola kits may run a little more or less expensive than a standard wood pergola kit. The natural beauty of wood and its durability adds a high level of value no matter what the price difference is.
Maintenance Requirements
While the maintenance of aluminum pergolas might initially be less than wood, as time passes some aluminum materials would require regular maintenance to maintain their top condition. If aluminum pergola kits sustain damage, repairs can be challenging.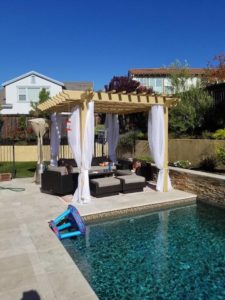 The quality of the structure overall just doesn't compare to a solid wood pergola. With cedar, you can apply paint or stain right away and continue maintenance every other year. With pine, you can stain, water seal, or paint the wood a couple of months after it's installed, and then stain or seal every other year after that to maintain its beauty. The aesthetically pleasing features of these pergola wood types far outweighs the minimal maintenance required. Their ability to withstand high winds and other extreme weather makes up for that maintenance requirement. These lasting qualities make them a very attractive alternative to aluminum pergola kits.
Alternative Materials to Aluminum Pergola Kits
When I think of aluminum pergola kits, I think of rigid, contemporary style structures. If you're looking for a similar look but one that more easily blends with the outdoors, consider wood as an attractive alternative to aluminum pergola kits. Pressure treated pine and cedar pergola kits offer qualities that blend with any outdoor project. Both types of wood take stain or paint which also gives you more flexibility with color choices than aluminum.
Qualities of Western Red Cedar Wood for Pergolas and Outdoor Structures
Why cedar? Western red cedar has a beautiful light amber color and an appealing fragrance. Highly resistant to decay and bugs, Western red cedar is used for outdoor structure projects where exposure to the elements is continually severe. This type of wood takes paints and stains very well, is durable, and compliments any outdoor patio design.
Qualities of Pressure Treated Pine Wood for Pergolas and Outdoor Structures
Pressure treated pine is durable, beautiful, and very strong. Pressure treated pine can withstand severe weather elements season after season and repels insects and rot very well. This sturdy wood can be stained, water sealed or painted after the pressure treatment dries (typically a few months). A cost-effective material for outdoor structures, pressure treated pine is a sturdy pergola building material that has a natural beauty with or without paint or stain.
Since wood and aluminum pergola kits both offer valuable qualities, it comes down to your style. Only you can determine the most important features that fit your outdoor landscape project. If you're looking for durability and a classic design that stands the test of time, you'll get all that and more with wood pergola kits!