Pergolas that appear as though they've always been part of the landscape are one of the top trending landscape design features. While vinyl pergola kits offer excellent qualities, wood pergolas achieve the natural look more easily than any other type of pergola. They seamlessly blend your outdoor design with a functional structure that will last for many years. What makes wood and vinyl pergola kits different?
Differences Between Wood and Vinyl Pergola Kits
Traditional wood pergolas blend easily with many types of surroundings. The style of your pergola depends on your style of home or current landscape design. For example, a white vinyl pergola kit often works well with a more contemporary home. But did you know, wood pergolas can be customized with end cuts and top slats to offer that same look? If you decide you want to paint or stain your pergola, you have that choice with a wood pergola. So if customizing your pergola style with stain or color is important, you'll be limited with vinyl since they are typically white or ivory.
Pergola Design and Style
Since you can paint the wood, you have flexibility to design your pergola around your space by choosing your color. This painted grey pergola provides the same clean look as vinyl, but with the quality of wood.
This Big Kahuna cedar pergola shows a very contemporary look, with the natural beauty of cedar.
Some paints or stains achieve the same look as a vinyl pergola kit, with the sturdy long-lasting quality of wood.
Cost Comparison for Vinyl Pergolas and Wood Pergolas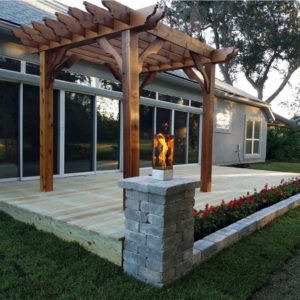 How does cost compare and what's in your budget for your pergola kit project? Since there are many comparisons to make for pergola kits made from different materials and made by different manufacturers, there's not an easy side-by-side comparison chart I can give you.
Some designs, whether they're Home Depot pergola kits, Costco pergola kits, or pergola kits manufactured by smaller family owned USA-based businesses (like Pergola Depot) have pergola specifications that are unique to that company or design. And the quality of their materials and workmanship will be different. Not really an apples to apples comparison. So a 12×12 pergola at a big box online store may not be a direct comparison to a 12×12 pergola kit that a smaller manufacturer would cut and drill per order (like we do at Pergola Depot). The prices don't compare since the quality and workmanship don't compare. The same holds true trying to compare vinyl pergola pricing to wood pergola pricing. Apples to oranges.
Generally speaking, the vinyl pergola kits out there tend to be a little more expensive than wood pergola kits. A standard white vinyl pergola kit as shown at vinyl-pergola-kits.com or structureworksfab.com could cost around 20% more on average than a standard pergola kit made out of #1 grade southern yellow pine or western rough sawn red cedar with only slightly more maintenance required.
Maintenance Requirements
While the maintenance of vinyl pergolas might be less than wood, the visible quality of the structure just doesn't compare to a solid wood pergola. With pine, you can stain, water seal, or paint the wood a couple months after it's installed, and then stain or seal every other year after that to maintain its beauty. With cedar, you can apply paint or stain right away and continue maintenance every other year. The aesthetically pleasing features of these pergola wood types far outweighs the minimal maintenance required. Their lasting qualities make them a very attractive alternative to vinyl pergola kits.
Alternative Materials to Vinyl Pergola Kits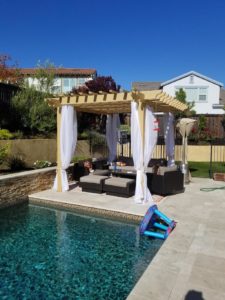 When I think of vinyl pergola kits, I think of bright white, typically contemporary-style outdoor structures. If you're looking for that iconic clean look but one that more easily blends with the outdoors, consider wood as the perfect alternative to vinyl pergola kits. Cedar and pressure treated pine pergola kits offer qualities that are attractive for your outdoor project. Both wood types take stain or paint which also gives you more flexibility with color choices than vinyl.
Qualities of Western Red Cedar for Pergolas and Outdoor Structures
Western red cedar has an appealing fragrance and a beautiful light amber color. Highly resistant to decay and bugs, Western red cedar is used for outdoor structure projects where exposure to the elements is continually severe. This type of wood takes paints and stains very well, is durable, and compliments any outdoor design.
Qualities of Pressure Treated Pine for Pergolas and Outdoor Structures
Pressure treated pine is beautiful, durable, and very strong. Pressure treated pine can withstand severe weather elements and repels insects and rot very well. This sturdy wood can be stained, water sealed or painted after the pressure treatment dries (typically a few months). A cost-effective material for outdoor structures, pressure treated pine is a sturdy pergola building material that has a natural beauty with or without paint or stain.
Since wood pergola kits and vinyl pergola kits both offer valuable qualities, it comes down to your preference. Only you can determine the most important features that fit your outdoor project. Keep in mind while you're comparing – our wood pergolas offer durability, beauty, and flexibility that never goes out of style!