Pergola Kit 16x16
Expand your outdoor living space with a classic 16′ x 16′ pergola from Pergola Depot.
Transform your outdoor space into an amazingly beautiful oasis with a 16×16 pergola. The16x16 from Pergola Depot is designed and constructed to preserve the classic appearance of traditional outdoor structures. This pergola provides plenty of shade and space for entertaining, furniture, and fire pits. It's high-quality and strong to give you many years of enjoyment. Other than covering your patio and deck, you may place the pergola in your backyard over your hot tub or put it next to your outdoor pool. Or maybe you just want to host birthdays, family gatherings, and other important events. Purchase your 16×16 pergola kit from Pergola Depot today.
Unique Styles of 16×16 Pergolas
---
To meet the different needs of our clients, we manufacture a variety of 16×16 pergola kits. We make both freestanding and attached designs for our 16×16 pergolas. All these designs are available on each of our four standard kits. You'll choose the type of wood and end shape that suits you. You can also choose the posts' height that impresses you the most in 8', 10', or 12'.
There are several style options to select, including the Big Kahuna, Sombrero, Melbourne, and Fedora. You can even customize multiple features, including wood type, end shape and base trim. Additionally, if you want to add a splash of color and more shade, you can add a water-resistant shade sail with one of our custom 16×16 pergola kits.
With so many choices, it may seem overwhelming to create the best 16×16 pergola for your space, but it doesn't have to be stressful! Check out our buying guide for tips to help you narrow down your choices.
Looking for a way to add more shade to your deck? Add a Big Kahuna pergola kit to your garden. Featuring a classic pergola look, the Big Kahuna is a perfect addition to any outdoor space and provides ample shade for your family and visitors. What's more is that you can customize your pergola by choosing, among other options, the rafter end shape, and wood type.
Featuring rugged construction, the Sombrero is everything a Big Kahuna is, except that it has half the rafters and slats as the latter. It's more open and might be the best for basking in the sun to capture some rays.
If you're looking to frame your outdoor deck with style and create an open feel to allow some sunlight and breeze to float through, then the Fedora pergola kit should be your choice.
---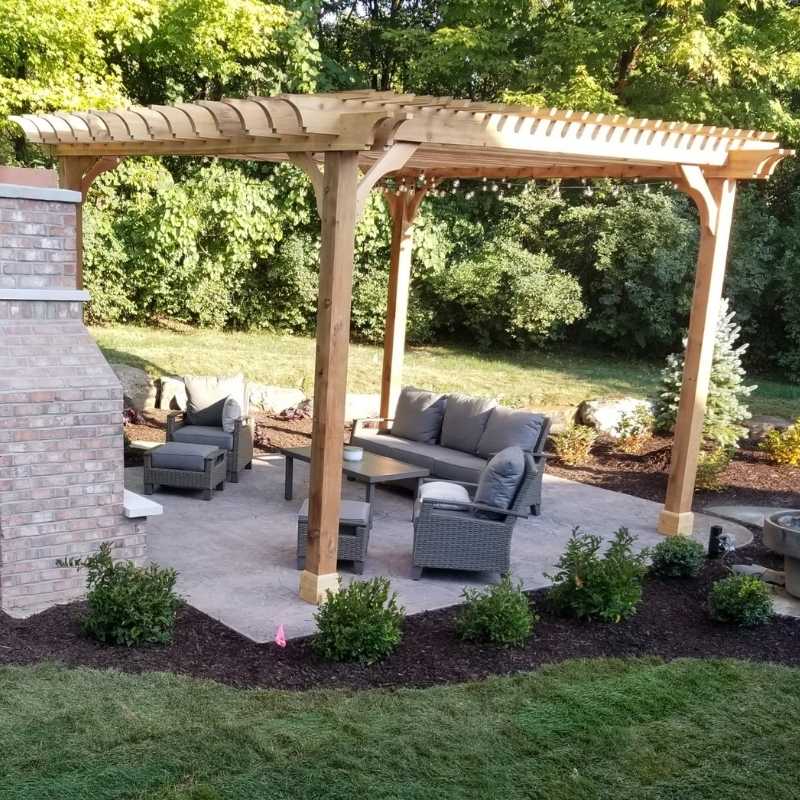 Which Pergola Design Should I Choose?
---
As mentioned, the 16×16 pergola comes in three major designs, namely the Big Kahuna, the Sombrero, and the Fedora. To know which design you should go with, first assess the size of your patio or the space in your garden or backyard. Secondly, ask yourself what's the purpose of the pergola. Do you want the pergola to make a shade by the pool? Do you want to get the most out of the sun's natural light? Or maybe you just want to use the pergola for dining with friends and family or do you want to host a small party? If you're not sure of what exactly you should bring to your home, be sure to consult with your pergola and outdoor designers. Our pergolas are weather-resistant, insect resistant, and decay resistant. As such, the 16×16 pergola is sure to give many years of service. The wood we use to build our pergolas will add beauty to your patio or backyard for many years to come.
Who Will Help me Assemble and Install the 16'x16′ Pergolas?
---
Assembling the 16×16 pergola can be done with 2-3 friends, and you don't necessarily need professional guidance to set up your pergola. If you're not a natural DIYer, you may want to read the installation guide that comes with the pergola kit 16×16, watch the installation videos, and possibly even enlist the help of a local contractor or handyman.The instructions are easy to understand, so with some construction knowledge you may find it won't take you long to learn the craft. You will want to ask a few family members or friends to help you lift and install the pergola. Be sure to get in touch with our customer team if you need more clarification about installing the pergola.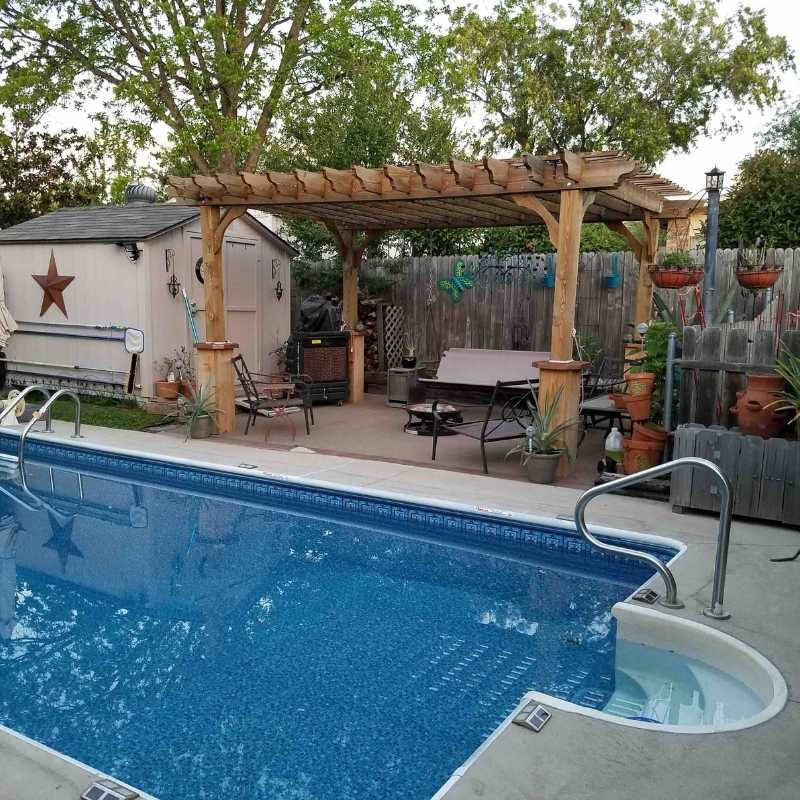 Shop Pergola Depot for 16×16 Pergolas
---
If you need top-quality pergolas that are durable enough to give you long-term service and save you money and time compared to other patio shades, then consider buying your 16×16 pergola from Pergola Depot. Our 16×16 pergola kit adds decor to your outdoor space, considering that it has a stunningly stylish look that will impress both your family and guests. You can use the pergola to host events such as family gatherings, outdoor dining events, and as a year-round outdoor entertainment spot.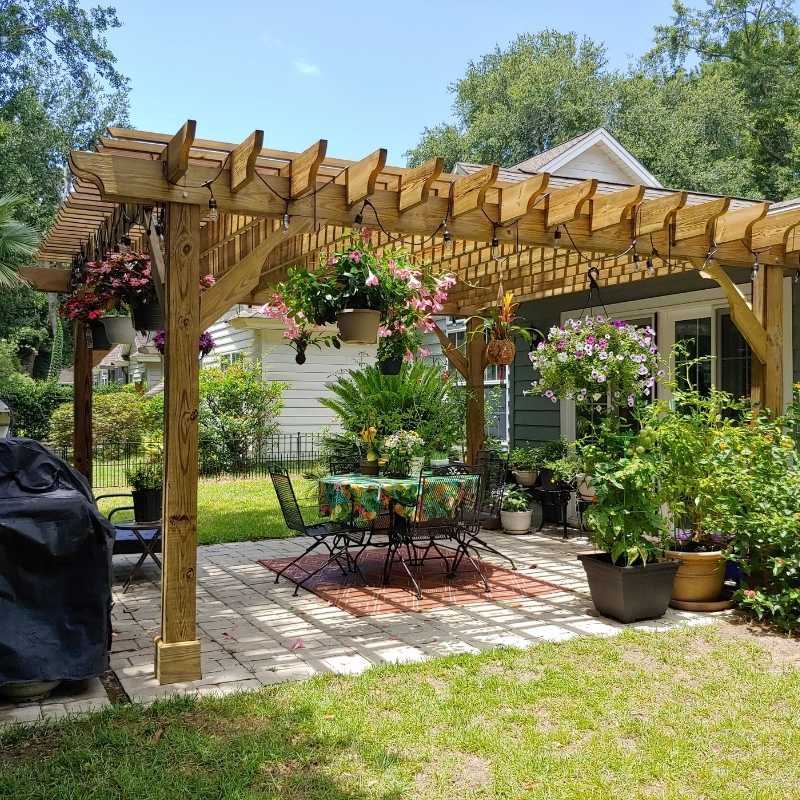 Are There Shade Options for a 16'x16′ Pergola?
---
Our 16×16 Big Kahuna, Sombrero, Melbourne, or Fedora pergolas can also accommodate custom-made retractable canopies and sails. You can choose from a variety of fabrics and colors to create a unique look that matches your outdoor design. Make sure you choose the canopy or shade sail that will match your 16×16 pergola style.