7 DIY Outdoor Patio Cover Ideas For Various Space & Shade Needs
Last Updated On November 18th, 2023 at 11:46 am
Transform your patio into a protected area where you can unwind and enjoy quality time with your loved ones. With our all-season DIY patio covers, you can easily add shade to your deck or backyard. Our pergolas come in various sizes and can even be equipped with a retractable canopy for ultimate flexibility. We even have a roofed pergola that is offered with optional metal roofing for maximum shade and beauty in your backyard! Whether freestanding or attached, our quality-built structures will enhance your outdoor space and provide year-round enjoyment!
Achieve Maximum Shade with our DIY Patio Cover Kits
Say goodbye to sweltering summer days and hello to cool comfort with our Big Kahuna pergola kit. Designed to provide ample shade, this is the perfect solution for protecting yourself and your loved ones. With three of our 7 ideas showcasing full coverage pergola designs you can make the most of your backyard, whether your pergola is attached to your home or standing alone.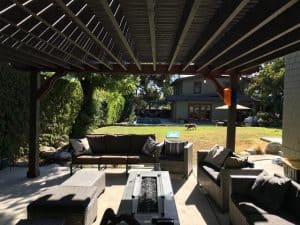 Building a freestanding pergola as a cover for an outdoor living room seating area and relaxing zone. An easy and cheap way to add-on to our house, pergola kits offer a more cost-effective way to build that extra room you've been thinking about.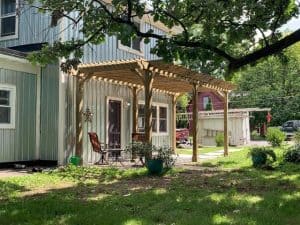 Another concept is building your structure so that it sits just outside your backslider to create the perfect cover for walking right out your door without concern of the elements.
Since there are small, medium and large sizes, you can measure your space and find the perfect size and fit. It may turn out that your patio measurements equate to a custom pergola size.
Idea #3 for maximum shade is to purchase a pergola along with a retractable canopy setup. Canopies come in many styles, colors, and sizes. We offer a canopy that will fit on many of our popular pergola sizes, to create a little more shade than our full-coverage pergola top slats. You can find many other options on Pinterest and design magazines to find the perfect fit for your space.
Space Saving Patio Cover Ideas
Coming in at Idea #4 is a recommendation for the smaller sized patios out there. If you have a limitation on space in your back yard, one of the most popular and suitable size pergolas you can purchase are our 10-foot pergolas.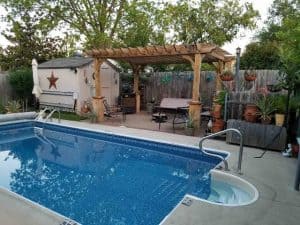 Our standard 10-foot full-size pergolas are configured with rafter length (projection) of ten feet and width (beam length) of between 10 feet and 20 feet. Also important to note are the inside post to post measurements and post height options. If you're working around an existing outdoor dining patio set you can ensure the pergola fits nicely with room to spare around the seating area.
For example, for a 10×14 pergola, the tip to tip measurements are 10'x14′. The inside post to post measurement is 6'x10′ and outside post to post is 7'x11′. Post height can be either 8′, 10′ or 12′ and you make that selection based on how you'll be mounting your pergola posts. If you need help taking measurements of your patio and choosing a size, follow along in our pergola guide for choosing or contact us any time with your questions.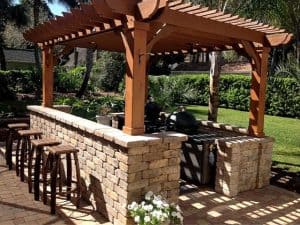 The fifth idea to craft your own patio design is to create a space that encompasses patio, grill station and bar all-in-one! If your space is tight, go with a smaller overall size. And if space isn't an issue, expand the number of guests you can entertain under patio cover with a larger pergola!
Freestanding pergolas work very well to provide a framing of an outdoor kitchen space complete with a shade cover.
If you lack open lawn space in your backyard but still want to build the best escape from the real world, consider a pergola that attaches to your house.
Wall-Mounted DIY Patio Covers
Attached pergola kits are one of the best all-season patio covers you can add to your home. Ideas #6 & 7 incorporate patio covers that attach to a structure to extend the usable space. This wall-mounted Big Kahuna pergola kit not only doubles the entertainment area but becomes the focal point of this beautiful retreat.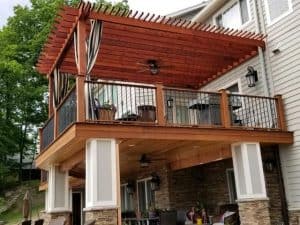 We don't want to leave out the city-dwellers! Attached pergolas can be installed in a diverse range of environments. This custom pergola sits outside a New York City rooftop townhome.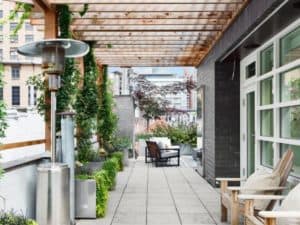 What's your vision for the perfect patio cover you can build yourself?
No matter the size or location of your patio, constructing an outdoor structure from a kit allows you to embark on an exciting DIY project. Revel in the satisfaction of creating your own shady spot and spend more quality time relaxing with your family and friends. Transform your outdoor space and make your patio the envy of the neighborhood. Call us with your pergola questions, or start shopping today for the pergola to complete your backyard!