5 Best Pergola Kits
Last Updated On September 12th, 2023 at 11:22 am
Are you looking for ways to spend more time outdoors? Many of us want to create outdoor living spaces right in our own backyard to make better use of the outdoors and make the space easier to enjoy.
Do you want more privacy? More shade? Some rain protection? You may have plenty of room to hang out, but it needs a little TLC. If your space is hindered by one of these problems, and you're unsure how to tackle it, one of our pergola kits could be your solution!
Finding a way to make your favorite place easy to enjoy without blowing your backyard budget can be a challenge. Finding quality DIY pergola kits might also seem daunting. But with our pergolas, it's quite simple. We build high-quality pergola kits at an affordable price, shipped to your location, that can be assembled on the weekend. Our kits, including our wood pergola kits, cedar pergola kits, and peak timber pergola kits, are among the best-rated pergola kits, which are built in Florida. We hand-cut each kit per order, pre-drill holes, and provide detailed instructions of how to put it together to build your dreamscape!
Make it a family project, a quest you tackle with some friends, or hire a contractor to assemble it. Either way, you'll end up with a place where you can spend more time outdoors for years to come.
When reviewing your options for a pergola to create your outdoor retreat, consider these. We chose the 5 best pergola kits in a range of sizes and styles that bring family and friends together, create an inviting space, and protect our loved ones (pets included!) from the elements. Read on to find the one for you!
Best-rated Pergola Kits for Shade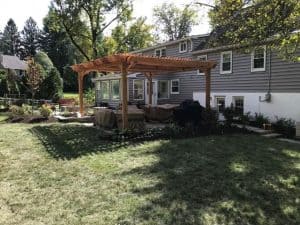 The Big Kahuna pergola and Sombrero pergola are our top-selling full-size pergola kits that provide shade from the top slats (purlins) running crosswise over the rafters. With our Big Kahuna pergolas, the combination of strong timber notched rafters on 12-inch centers, and top slats on 6-inch centers provide ample shade no matter what size pergola you choose. The Big Kahuna and Sombrero are also rated for wind gusts up to 175 mph, and the Big Kahuna is offered in a covered pergola roof style: the Big Kahuna PLUS Covered Pergola Kit. This style includes optional metal roofing for maximum shade and rain protection.
With sizes as small as 8′ x 8′ in the Big Kahuna and Sombrero up to our largest standard size of 20′ x 20′, you're sure to the find the size you need. For the best backyard living pergola style, the 19×20 Big Kahuna ranks as one of our 5 Best Pergola Kits.
This is a popular pergola because the interior post to post provides the perfect amount of space to arrange ample seating for your outdoor events. The same size pergola purchased in the Sombrero style will provide the same area underneath, but has half the rafters and top slats for a slightly more open air design.
Best Pergola for Creating a Relaxing Space
When used as a complete solution, a wood pergola can extend the duration of your outdoor patio season, and create a zone to relax and rejuvenate.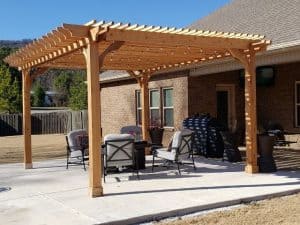 A convenient and simple way to expand your patio without building an enclosed sunroom or screened porch, a pergola is the perfect alternative that's easier on the budget and something you can put together yourself with a few friends.
The most popular pergola that fits the bill is our 15×19 Big Kahuna. This size offers a footprint of overall tip to tip 15' x 19', outside post to post measurements of 12' x 16', and inside post to post of 11' x 15'.
As you can see, placing this cedar pergola adjacent to the home and cooking area joins the two areas nicely. It's a perfect setup for a relaxing area to enjoy family gatherings or for backyard BBQ with friends and neighbors.
Best Solar Pergola for Capturing Sun
Why not offset your electric bill at the same time you're creating a beautiful patio cover? Our solar ready pergolas earn a spot on the 5 Best List for multiple reasons. First, the Big Kahuna is a solid, well-built pergola designed to withstand severe elements.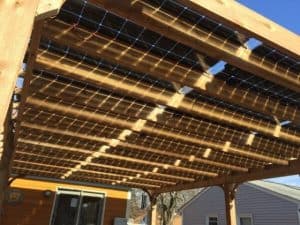 Pair that with the capability of having solar panels installed and you've got an eco-friendly and stylish structure that's a winner for your outdoor entertaining.
Our Big Kahuna Solar Ready Pergola is a solar pergola configured to accept solar panels. Purchasers need to have the capability (and materials) to install the solar panels themselves, or connect with a solar contractor who can help.
The solar pergola shown here is a custom size cedar Big Kahuna with solar installation by Southern Light Solar in Massachusetts.
Best Pergolas to Define a Border
Pergolas don't have to be all about covering a patio or outdoor kitchen. One of the most popular uses is simply to add definition and depth to a landscape design.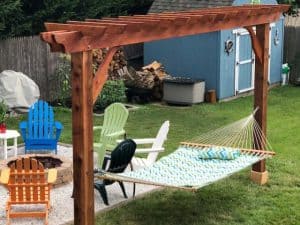 Our newly improved Brim pergola kits can do the job, and can be incorporated in many different ways.
As shown here, their beefy sturdy posts allow for a hammock installation. Make a spot right next to your outdoor firepit to relax the day away! You can add a pergola hammock to any of our Brim pergolas that are 17′, 18′, or 19′.
This type of pergola is often purchased along with one of our full-size patio cover pergolas to create an extra border. Brim (or garden trellis pergolas), are also a great way to display blooming plants and show off your favorite flowers!
Best Pergolas for Outdoor Kitchens
Cooking outdoors is one of the most satisfying and relaxing ways to prepare a feast or simple meal for family and friends. That's why this pergola ranks as a leader for favorite pergolas.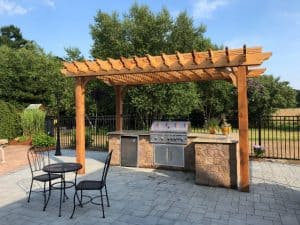 The 10×16 Big Kahuna is an easy way to create that outdoor space for making delicious meals while enjoying the sunshine or gazing at stars.
Not only does it neatly enclose the grill & fridge, but it also provides a generous countertop area to complete this outdoor grill station. And it's surrounded by beautiful landscaping. Now that's a kitchen that I'd like to cook in!
Whether you're looking to create more shade, create an outdoor room, capture the sun's rays, or define a border, a pergola is both beautiful and functional in any garden, backyard, or patio. Start today and create your own outdoor retreat!