One of America's favorite pastimes is having a cookout with family and friends. As an outdoor extension of our house, the deck is often where we gather to celebrate those special events or just have a simple dinner. One of America's favorite pastimes is having a cookout with family and friends. As an outdoor extension of our house, the deck is often where we gather to celebrate those special events or just have a simple dinner. Deck pergola kits take your backyard gatherings up a notch with protection from the elements that a deck alone can't provide. Keep reading to learn how to build a pergola on a deck today! Keep reading to learn how to build a pergola on a deck today!
Discover the Many Benefits of Having a Deck with a Pergola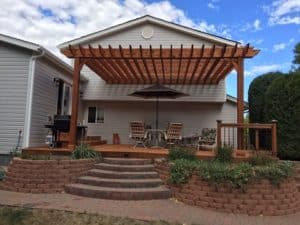 Once you install a pergola deck kit, you won't have to worry about weather dampening your backyard BBQ. If sun or rain are limiting the use of your outdoor deck, creating a deck with a pergola is one option for reliable outdoor protection. A pergola kit for a deck – attached to your house or standing alone – can provide much-needed shade and cover.
With our pergolas, you can combine your options and include a retractable canopy or pergola cover and offer a bit of relief from the elements while you relax on your deck. In addition to pergola kits for decks, other ways to create protection from the weather on your otherwise open deck include awnings and shade sails.
There are many sizes of pergola kits for decks that you can install. We'll start by reviewing the sizes and types of pergolas we offer and how they might work with a deck design.
Types of
Pergola Over Deck Options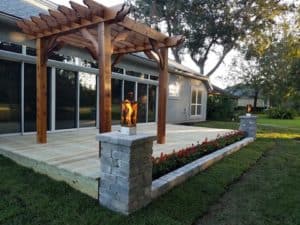 There are two configurations for deck pergola kits – attached and freestanding. Attached deck pergola kits can be bolted to an existing wall to create a covered area that extends your usable outdoor area. Pergolas can also be built so they stand alone on the deck in any corner or section where you'd like to create a sitting area.
Allow enough space to create a dining area and a place to prepare the gourmet meal you're serving. Expand the use of your deck with an attached pergola that provides protection and beauty.
Freestanding deck pergola kits also create extra space on the exterior of your home. Add a touch of class to your backyard with one of our cedar pergolas and make your deck or patio the talk of the neighborhood.
As one of the most popular outdoor structures, wood pergolas add a unique design feature to any backyard deck. Our wooden pergola kits for decks are constructed using the highest quality lumber and hardware to create a beautiful gathering place in your backyard that's also functional.
The Best Pergola Kits for Decks and Patios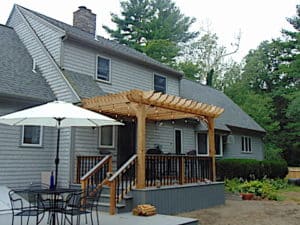 The best pergolas for your deck are those that don't take up the entire deck area. The attached pergola deck kit works well because it only has two posts and leaves plenty of room for a table and chairs.
Measure your deck and find the amount of space you'll need to allow for installing some planter box kits and setting up your favorite dining table. Leave room enough for your backyard party guests to mingle.
If you live in a cooler climate, the best deck pergola kits to reinvent your outdoors are those that extend out the back door onto your deck or patio. Adding a pergola on the deck can stretch the length of time you'll be able to spend outside on your deck. In warmer weather, a pergola offers welcome relief from the hot sun by creating shade on your deck.
Add your own decorative touch with pergola deck accessories such as string lights, curtains or vining pergola plants.
Pergola Kit for Deck Shade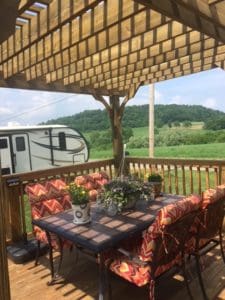 What type of deck cover allows some light to filter through while offering respite from the hot sun? The solution is pergolas with top slats.
By using rafters and top slats, you can create enough coverage to shield the direct sun, while letting a little sunshine peek through for a magical effect. Our Big Kahuna Pergola Kits have the most lumber of all of our pergola designs, followed by our Sombrero Pergola Kits, then Fedora.
Choose the one that offers the highest number of top slats, as that will create the most shade on your deck. Add a retractable canopy for even more shade.
To create a cover for your deck, measure your deck area and determine what size cover you'll need. Then decide how much shelter you're looking for.
If you've decided on a pergola for your deck, choose your style pergola according to how many rafters and top slats you'll need to create your ideal outdoor retreat. Our pergola kits for decks can be installed for instant cover.
Installing a Pergola on a Raised Deck
You can install a pergola on a raised deck that's low elevated, provided your wood deck has stable supports. The best supports for a raised deck pergola are your deck's banisters. They should be set in concrete after sinking them two to three feet into the ground. If you dwell in a cold climate, it's better to go a little deeper (three to four feet) to provide additional support when building a pergola on a raised deck.
Another option for building a raised deck with a pergola is to install supports on the wooden deck and attach them to the deck's joists. The important thing is to ensure the supports can handle your pergola's weight.
Remember that wind can be an issue with a pergola on a raised deck, so ensure the supports for your wood pergola are attached securely to your deck's joists.
Choosing Your Pergola Kit for Deck Installation
At Pergola Depot, we have three very popular pergola kits for decks that are available in various sizes to complement your space beautifully:
Big Kahuna Pergola Kits: Our best-selling pergola kit provides a classic pergola experience partnered with maximum shade. Plus, the Big Kahuna is specially designed to withstand hazardous weather conditions.
Sombrero Pergola Kits: Solid and durable like the Big Kahuna, , our Sombrero Pergola is also engineered to withstand extreme weather, and offers medium sun coverage.
Melbourne Pergola Kits: A more open pergola design, this petite version of the Big Kahuna and Sombrero features an open roofing system that's perfect for a canopy kit or sun shade sail.
Deck Pergola Kit Add-Ons
While you're upgrading your deck with a pergola, consider the pergola accessories that will enhance the overall comfort and aesthetic of your backyard experience:
Retractable Canopy Kit
Patio Sun Shade Sail Canopy
Cedar Planter Boxes
Frequently Asked Questions About Deck Pergola Kits
If you're considering a pergola deck kit to complete your patio set-up, you probably have a few questions. The following are answers to some of the common concerns of our customers. If we haven't addressed yours, please contact us or check out our Pergola Depot Blog for more information. Our team is here to help with any questions you may have about our pergola kits for decks.
How to Build a Pergola on a Deck
At Pergola Depot, we provide the materials and information you need to add a pergola to a deck or build a freestanding pergola. We can also provide direction on how to build a pergola on a deck attached to a house using one of our ready to assemble pergola kits. Check out the pergola installation instructions for each type of pergola we sell.
How to Install Pergola Posts on a Deck
Plan on using a minimum of four support posts to connect the pergola to your wood deck. The four pergola posts must be attached to the joist structure beneath your deck – not the deck floorboards – to ensure they can support the added weight. If you don't connect the support posts to the deck's framing properly, you risk your pergola collapsing.
How Much Does It Cost to Build a Pergola on a Deck?
The cost of building a pergola on a deck will depend on the style and size of the pergola deck kit you choose and whether you will do the work yourself or hire a contractor to install your pergola for you.
Find the Best Deck Pergola Kits to Beautify Your Backyard at Pergola Depot
Now that you've seen the pergola kits for decks that we have to offer, it's time to choose yours. Browse our selection of pergola styles and imagine yourself, your family and your guests happily sitting on your deck under your new pergola. By following a few simple steps, you'll be adding a pergola to a deck like a pro in no time!
Related Articles: Deck Pergola Kits