How to Install a Pergola and Avoid Installation Mistakes
Last Updated On March 16th, 2021 at 10:44 am
One of the most popular design elements employed today is the pergola. From television programs to magazines, pergolas are "it." If you've been thinking about building a beautiful pergola in your backyard, you may have started gathering tips on pergola installation. That's smart. Many people don't, and they end up paying for it with time, money and frustration. But what are the mistakes to avoid, and where do you turn for answers? We'll show you how to install a pergola the right way to create the oasis of your dreams.
Pergola Installation Mistake No. 1: What's a Pergola?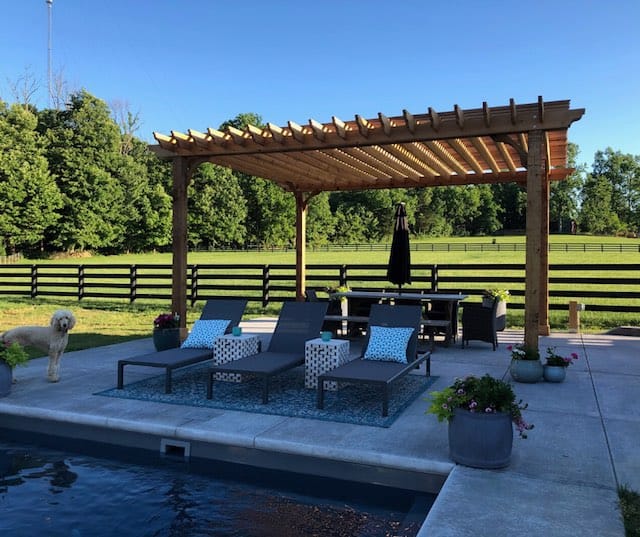 It sounds elementary, but remember, the only stupid question is the one not asked. One of our top pergola installation tips is to know the definition: A pergola is an outdoor garden structure with columns and cross beams forming an open roof. The roof can be covered or left open between the beams, and it can be either freestanding or attached to a larger permanent structure (house).
What about shade? It's a misconception that a pergola offers shade — it only does if you've placed a roof element on top of the cross beams. If you've left them open, there won't be shade. Many people use pergolas to grow flowering vines and hanging gardens, in which case the plants provide some shade — especially with climbing vines like the Perennial Sweet Pea or the Virginia Creeper. Not to worry, our designs will tell you the type of shade each pergola provides, and there are pergola covers and shade sails you can add that'll make your pergola everything you want.
Pergola Installation Mistake No. 2: Picking the Right Design
Many homeowners thinking of pergola installation sift through a few online sites and choose the pergolas they find most aesthetically pleasing. Neglecting several important factors, they push on with buying materials and click on a couple of sites that explain how to install a pergola. But critical questions need to be answered first regarding:
Your Outdoor Space: What are the dimensions of your yard? Is it smaller or larger than the yards with pergolas you viewed online? Are there any uneven, always wet or otherwise unstable spots in your yard? Do you have overhanging trees or other natural obstacles? You're going to want multiple size options to maximize the space you have. Our Big Kahuna Pergola is always a perfect choice, offered in sizes ranging from eight to twenty feet.
Your Local Weather: Do you get heavy sunshine, or is your home in a rainier location? Is it warm there year-round, or do you live in a less temperate climate? Are snow and ice frequent winter visitors? Is it windy seasonally, year-round or never? Maybe you're in a hot, dry area where our Sombrero Pergola would be an excellent choice! Are you near a coastline with trade winds or salt spray? What's the best season to build where you're located? Considering these factors is an important part of the pergola installation process.
The Best Materials: What materials will be used? What type of wood? Is your chosen wood able to withstand the elements? Will you be fastening the pergola to the house, or will it be freestanding? How will that affect the materials used? What about the hardware and tools needed? Does the design come with the plans and materials or just the plans?
All of these questions can be answered before making your purchase. Our pergola installation plans are available for each kit we offer to download, save and print. The kits we sell come with easy-to-read, detailed plans. Each one includes all the wooden planks and beams with pre-drilled holes and hardware for your convenience. We offer online help to answer any questions you have, as well. Rest assured, you've come to the right place.
Pergola Installation Mistake No. 3: Are You Up to It?
Our pergola kits are easy to install, with plans that are carefully written. But for some, researching how to install a pergola isn't the same as actually installing a pergola. All of these pergola installation tips and instructions won't help if you or someone working with you isn't ready for the physical challenge of assembling it.
Not to worry! We're here to help you with that dream pergola so you can enjoy the best installation possible. If you don't feel that you're up to installing it yourself, or staining the wood once it's up, we have resources to help you, including a list of pergola builders near you.
Pergola Installation Mistake No. 4: Choosing the Wrong Vendor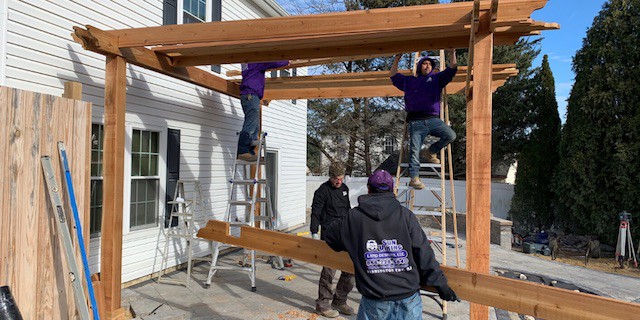 Nothing is more frustrating than realizing too late you've made a mistake by buying from a particular vendor. Pergola installation shouldn't be a nightmare; our pergolas have been featured on Military Makeover, DIY Network and HGTV. We were awarded "Best Houzz for Customer Service" for four consecutive years. We've sold thousands of pergolas since 2008 — all proudly built in the USA. With our high-quality products and top-shelf customer service, you'll be enjoying your beautiful new pergola in no time!
Pergola Installation Made Easy with Pergola Depot
You don't want to be left with a terrible pergola installation that results in the wrong size or configuration. And you don't want to miss out on the fun and enjoyment a pergola brings. That's why, at Pergola Depot, we've considered all these common mistakes and thoughtfully provided you with everything you could need at a great price. From detailed plans to a full line of accessories and award-winning service, we know you'll be completely satisfied.
Once you learn how to install a pergola, your family and friends will be enjoying it for years to come! Contact us if you need any additional pergola installation tips to get the ball rolling. We look forward to providing you with the pergola you've always wanted!