5 Best Wall Pergola Kits
Last Updated On September 12th, 2023 at 11:25 am
A pergola can change the dynamic of any yard or patio by giving purpose to an empty space. While free-standing, four-post pergolas can create a room out of nothing, an attached, wall pergola kit has some distinct features that make it a wonderful addition to the outside of your home. This article will review features of our wall-mounted pergola kits that you can use as a guide to transform your backyard. If you're looking to create an outdoor living room, or open air dining space, an attached wall pergola that extends out from your home can help make your dream a reality.
Here is a list of the 5 best wall pergola kits that can make your backyard the best new space for all-season outdoor living!
Extend the Season with a Wall Mount Pergola
Cool temps, balmy breezes, or anywhere in between, wall pergola kits work in any kind of weather!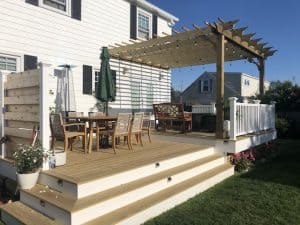 Pictured here is our 14ft by 16ft attached Sombrero pergola kit. You can see how it redefines the deck by adding an intimate gathering space protected from the hot sun. This deck now has an open-air dining room and cozy 224 square foot living room.
Our wall mounted pergola kits come in every size imaginable and we also can accommodate custom sizes to outfit your patio to perfection.
The wall pergola kits can be ordered in high-quality pine or gorgeous rough-hewn red cedar in a wide range of sizes and coverage. Covered pergola kits attached to a wall will protect both you and your furniture from the blustery winds of winter, or the hot months of summer – all while adding depth and architectural refinement to your outdoor living room!
Attached to the Good Life
Here we have a custom 13-foot 9-inch by 15-foot 6-inch attached Big Kahuna style pergola. The beautiful stonework enveloping a grass and slate patio area required precise measurements, which we used when cutting the pieces to fit this customer's outdoor room design.
In this instance, the additional overhead slats of our Big Kahuna style provide ample shade for the living room window of the home.
The sturdy 6-inch by 6-inch 8-foot tall posts raise the pergola just above the window where the ceiling rafters attach to a framing ledger board plank.
Without the wall pergola kit, the scene is flat and the stonework goes almost unnoticed. One of the many advantages of having a pergola in a space like this one is that it not only complements the existing work you've done, but actually accentuates the existing beauty of the patio.
The Ultimate Outdoor Kitchen
Creating an outdoor kitchen and eating area will vastly improve your get-togethers while encouraging you and your family to spend more time outdoors. How you use your patio will determine how often you use it. Above is a beautiful work in progress. Attached wall pergolas are excellent for wide patios that have cooking stations, fire pits, and tables.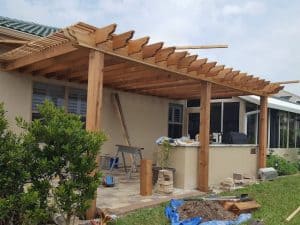 Featured here is a 22 foot wide Big Kahuna style in rough-hewn cedar.
The owners of this home in Florida decided to make the most of their outside wall and create a grilling and cooking station alongside their screened-in lanai. With plenty of extra space to put a table and chairs, this extra eating area will be well protected from the warm Florida sun.
Note the extra cedar slats that criss-cross the wooden beams of the Big Kahuna creating a shady sanctuary for a summer cookout.
When dealing with wide spaces over 20 feet, you'll notice that the wall-mounted pergola kit saves so much space when compared to a freestanding version. In this case, we use 3 posts to secure the pergola to the ground. By eliminating the need for 3 additional posts, you can make use of the outer wall for further protection from the elements.
Your Perfect Getaway is Just Outside Your Window
This 13-foot by 13-foot Big Kahuna attached pergola kit made use of the additional slats to support a light roof. The string lightbulbs add ambiance and serenity to an evening outside in front of the wrought-iron firepit.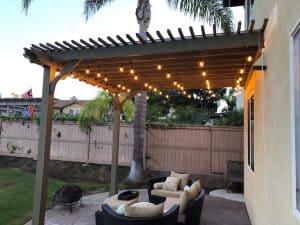 You will notice here that the roof of the pergola creates a cozy feel to the comfy seating area underneath.
An attached wall pergola is a frame in which you can place your decorative ideas.  Hanging plants, crawling vines, sconce and hanging lights can really transform an outside wall of your home into a private resort that you escape to time and time again.
We build our pergolas with your dreams in mind. Here you can see the craftsman curved angle brace connecting the corner post to the ceiling end-beam. Details like these are part of our design DNA. It's the little touches, when taken all together, that make your patio a piece of paradise.
You're Not Leaving Your House, You're Entering Your Patio
When done right, wall pergola kits can completely change how you view your patio. It becomes a space that you enter in the same way as a living or dining room. Take a look at this majestic slate patio with our popular Big Kahuna attached pergola!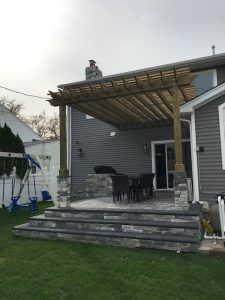 When the owners of this home leave their living room, they are entering another living space, filled with memories of dinners with family on those perfect August evenings, playing cards with friends on a Friday in late spring, sipping their coffee and reading a book on an early fall or winter morning.
Your outdoor patio can become just as special as an indoor space in your home. By making proper use of your exterior walls, an attached cover like this New York pergola kit can instantly add value and purpose to your yard, deck or patio.
Add a swingset nearby, and you'll have the perfect spot to relax outside while your kids enjoy some fresh air. It's a win-win for the whole family!
Don't wait until spring or summer to transform your patio. We have a pergola for any space, and are ready to build your DIY pergola kit that will turn your outdoor space into the favorite 'room' in your home!