7 Benefits of a Pergola
Last Updated On June 22nd, 2023 at 03:16 pm
Wondering how to make your backyard better for outdoor celebrations and relaxation? One of the most time-tested and simplest ways to make your backyard look beautiful is to add hardscaping such as a pergola. Besides being aesthetically pleasing, there are many other benefits of installing a pergola on your property. And not all pergolas are the same. This blog will share some of the top advantages of building your new backyard and adding a Pergola Depot pergola to your outside space.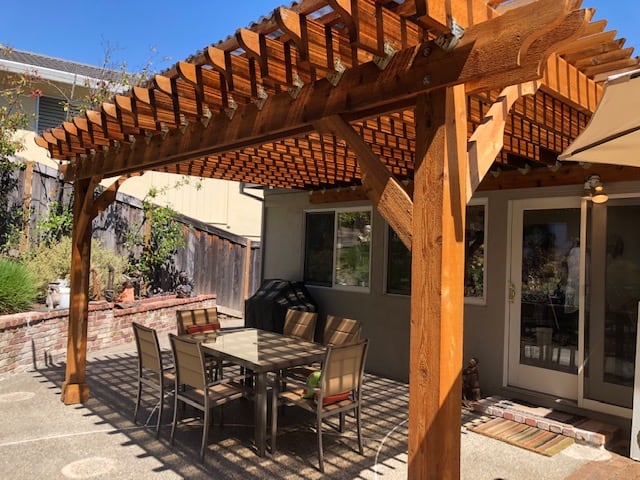 What Is a Pergola?
Before we get into the benefits of a pergola, it's important to know what one is. A pergola is a large structure usually made of wood that is located in a garden or backyard. This outdoor feature includes vertical posts or pillars supporting cross-beams that form a sturdy open lattice, which creates a shaded passageway, walkway or sitting area. Some pergola kits offer roofing from their top slats, metal roofing, or from a removable cover like a shade sail or canopy.
What Is The Purpose of a Pergola?
The purpose of a pergola is to create or define separate outdoor spaces and provide an area to sit. If the ceiling is covered, a pergola can provide shade and some protection from the rain or snow as well. They can become a focal point in your landscape design and add beauty to your yard — the posts and ceiling can be used for hanging lights, decorations or baskets of flowers. Grapevines and climbing roses are popular decorative plant additions to a pergola.
Pergola Options
Pergolas can be made-to-measure, so they can be added to virtually any outdoor space. The number of rafters, posts, and top slats will vary depending on the overall pergola footprint you need to cover your space. Here are some ways that you can tailor a pergola to fit your needs with a custom kit:
Height – is customizable and can reach up to approximately 12 feet (depending on how you install the posts).
Open or closed roof – provides varying degrees of shade and weather protection. Metal roofing is optional with our Big Kahuna PLUS pergolas.
Installation – can be freestanding or attached to a home or other building structure.
Plants – can be hung from baskets or vines can be intertwined with the framing to create a natural cover.
Landscape lighting – accentuates the structure for dramatic nighttime appeal. String lights can be added to your structure for year-round lighting.
Accessories – allow you to further customize the wooden pergola by adding shade or a planter box. Rope hammock kits can be added to pergola or nearby hammock stand.
Pergola Benefits
Why have a pergola? The list of pergola benefits is long! Here are some of the top ways installing a pergola can enhance your home.
1. Extends Your Living Space
If your yard is just a treeless patch of grass, it isn't very inviting and can get really hot when the sun beats down on you. A pergola is an enticing backyard destination for reading, relaxing and socializing. It adds some design and character to an empty backyard space.
2. Installing a Pergola Adds Value to Your Home
Hardscaping is an excellent investment because buyers find a stylish backyard irresistible. Adding a pergola to a deck, patio or garden is a great way to have your home stand out from others on the market. A pergola by the pool adds an extra touch of luxury to your yard and can increase your asking price when it's time to sell.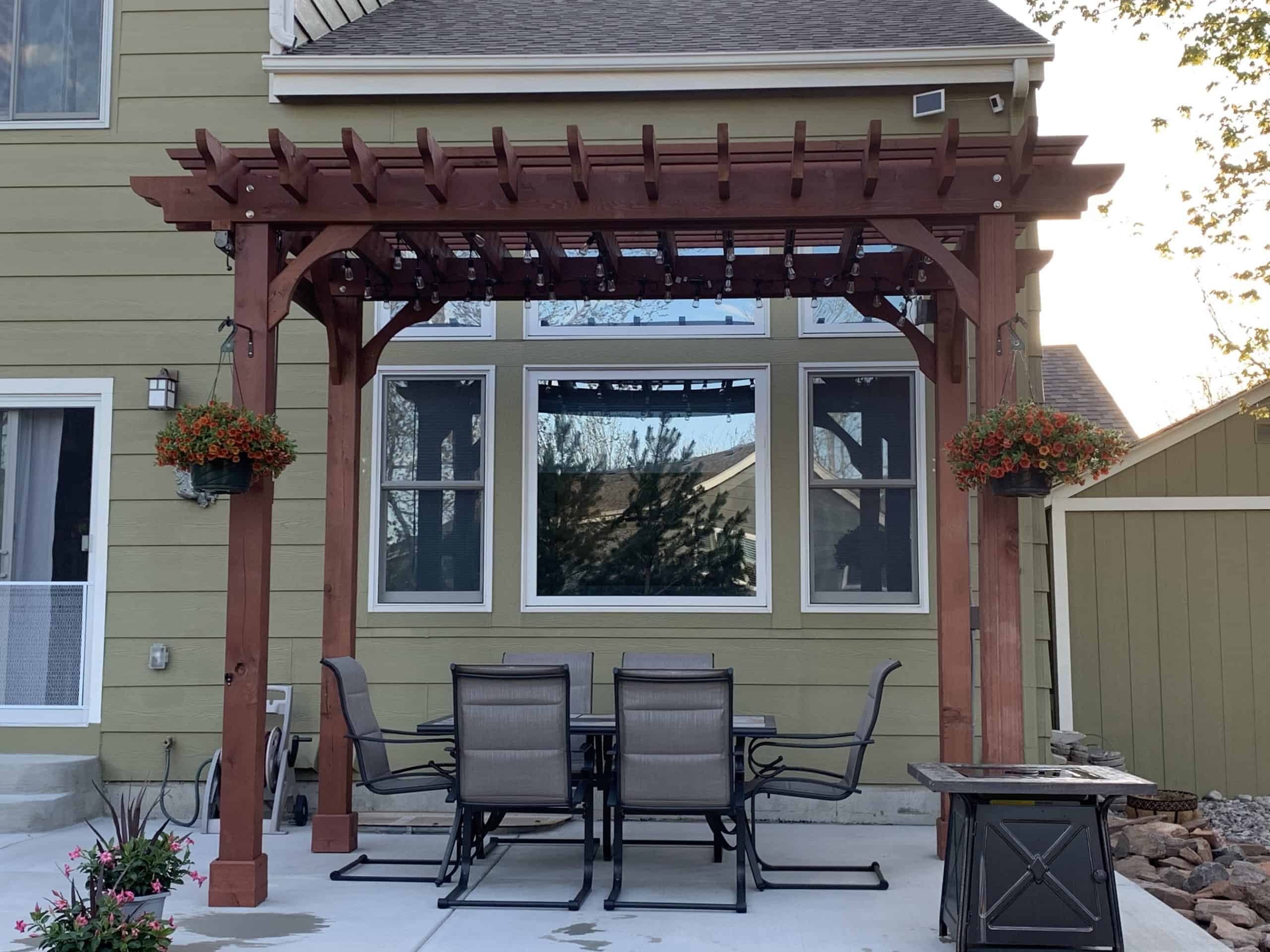 3. Makes Up for a Lack of a Patio, Porch or Deck
Every home needs some kind of outdoor entertainment space — whether you are flipping burgers, playing yard games or socializing with friends and family, people like to be outside when the weather is nice. One of the best benefits of a pergola is that even if your yard is too small for a patio or deck, you can create a desirable destination for fun. Creating an area for grilling with a pergola helps beat the heat and makes outdoor cooking less of a chore.
4. Adding a Pergola to a Deck Blocks Out Unsightly Views
It's hard to relax in your yard when you have to look at power lines, parking lots, ugly sheds, garbage cans and other distractions. Installing a pergola can help you create an oasis. Install it strategically, and those unsightly views will be a distant memory.
5. Protects Your Outdoor Living Space From the Elements
Turn your pergola into a patio cover by adding a retractable canopy or shade sail — they not only provide sun protection, but they help block light rain too. Choose a pergola style that you can add metal roofing to for extra coverage.
6. Enhances Your Garden
Do you have a green thumb? If so, a pergola benefits the garden by adding a vertical element of interest. It also provides support for climbing flowers, grapes and more. Installing a pergola in the garden also reduces the sun's intensity for your shade-loving plants.
7. Solar Energy
One of the lesser-known pergola benefits is its ability to have solar panels installed as part of the roof system. Besides creating a sheltered entertaining area, installing a pergola solar panel kit creates energy and offers tax benefits. Win, win!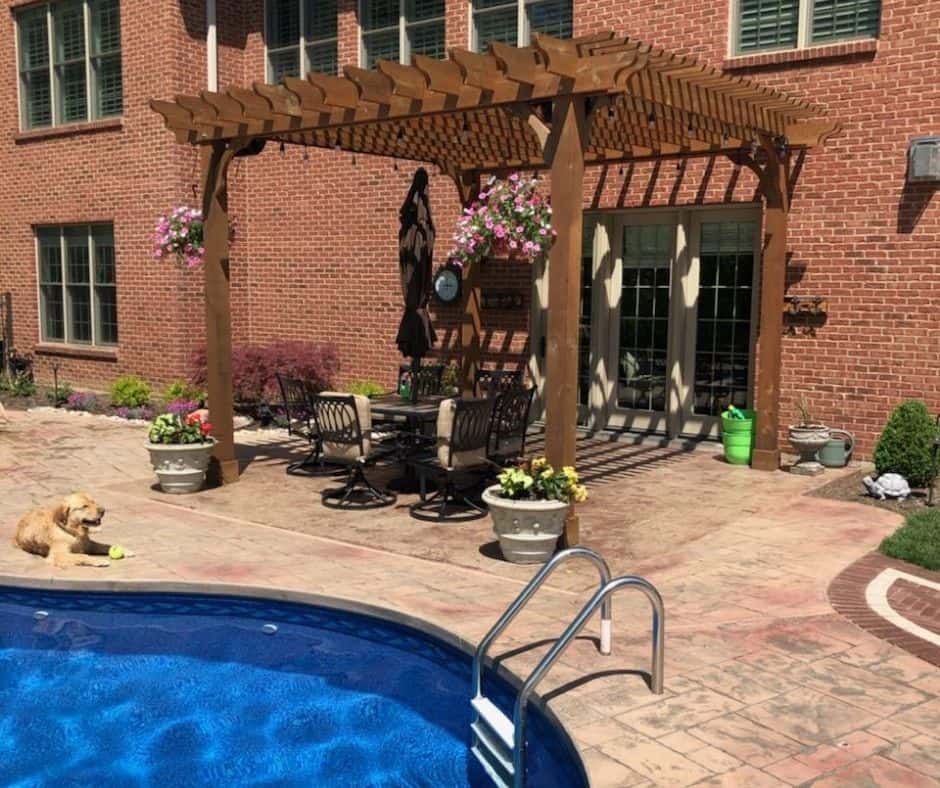 Installing a Pergola Is Easy with Pergola Depot
Now that you're aware of some of the most common pergola benefits, you can probably imagine multiple locations in your yard that could use an upgrade. One of the most desirable benefits of a pergola from Pergola Depot is its easy installation. Notched, quality wood is pre-cut and pre-drilled, so you can start enjoying your pergola right away – order your pergola kit today!