California landscaping has many different styles, including city, suburban, mountain, and oceanside. One common thread for property-owners in each type of location is a desire to create a welcoming outdoor gathering place for family and friends that offers some shade and style. Popular pergola kits for California include functionality to provide maximum coverage to block the beautiful California sun. What features are most important in your landscape plans?
Top Picks for Pergolas with California Style
Top choices for patio covers with California style are solid wood structures with stylish form as well as function. Our top selling full-size pergola products, the Big Kahuna pergola kit, and The Sombrero pergola kit, are manufactured to provide those features. Built-in freestanding or attached, both styles offer the most coverage of any of our California pergola kits with a beautiful classic look. Standard sizes start at 8-foot rafters by 8-foot beams all the way up to 20-foot rafters by 20-foot beams, which creates a sizable shade cover over any backyard patio.
What is the Most Popular Pergola San Diego Residents Choose?
The most popular pergola San Diego residents choose are our Big Kahuna pergolas. The Big Kahuna was originally designed to withstand severe weather that's typical in Florida, so this sturdiness is also effective with West Coast winds and harsh climate found in the Golden State. Other California pergola style favorites are those with enough coverage to provide some shade, but not block the breeze such as our Sombrero medium shade pergola kits.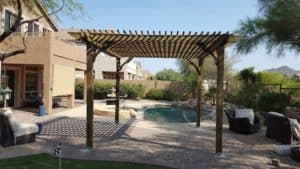 This pergola design blends very well with landscapes such as downtown patios, oceanfront, desert, or mountainous regions. Other features homeowners add to their patio design are outdoor game areas and swimming pools, which pair well with an outdoor shade cover for escaping the afternoon sunshine.
Another sought-after feature of the Big Kahuna is its classic shape and structure. Pergolas are a landscape feature that offers coverage from hot sunny days, but also a design element to enhance the look of an otherwise dull and simple patio or deck.
Landscape designers can add columns or pavers surrounding the post bases to add some extra flair, and plants that bloom throughout the year will keep any patio lively and fresh with color. A freestanding style pergola works well if you're trying to build a more shaded are over your patio. You can create an attractive seating area away from your main living space and add a retractable pergola canopy for extra coverage.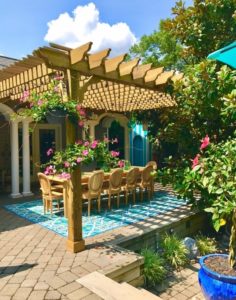 How to Find a Pergola Los Angeles Styled
Whether you're a city-dweller in downtown Los Angeles or out in the suburbs you may be wondering how and where to get started on your pergola project to find a style that blends with your Los Angeles home! If you're just getting started with your patio design, remember while you're measuring to allow space if you're planning to include a couch or daybed, some armchairs and ottoman, or a few side tables. Whatever extra items you're envisioning in your California-style patio, go ahead and plan for those while you're choosing your pergola size. Then you'll want to think about shade and style.
If you're looking for max coverage, the Big Kahuna provides the most coverage followed by the Sombrero. The Sombrero is the second most popular choice in the Golden State. When you're comparing between attached pergolas and freestanding, you'll want to account for how much wall space you have for a wall mounted pergola, and you may find that a freestanding is the best way to go. Freestanding pergolas can be ordered in any of our full size pergolas (Big Kahuna, Sombrero, Fedora) as well as the Brim garden pergola.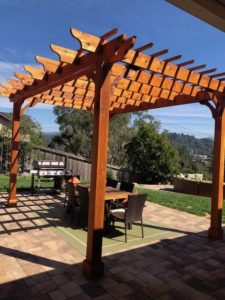 With a little less coverage than the Big Kahuna, the Sombrero style can create an outdoor pavilion California room in an instant. Simply add outdoor rug and dining set, and roll out your BBQ grill and you're set to go for outdoor dining under your deck pergola! This style can also be ordered as a structure attached to your house, so if you have a slider right off your kitchen, you can expand the space you entertain and invite more guests!
This may come as a surprise, but a top pergola Los Angeles residents tend to come back to are the Visor or the Brim accent pergolas. With some areas having limited space to build, these smaller pergolas are a great way to add some flair to an exterior wall, or create a way to add a hammock stand. And that can be accomplished without a large patio or backyard space! Miles and miles away, a favorite pergola Sacramento families choose is also the Brim. Often paired with a full-size shade cover pergola, the Brim can create a border along the edge of a poolside retreat, or along a garden area.
Can you Guess Which Pergola Sacramento DIYers Love?
Given the name Sombrero, this pergola style was designed and named after the wide brimmed hat that provides shade. Seems like the perfect match for DIYers in the Sacramento area that enjoy some shade, but like to have a bit more open view of the beautiful sky above them! Built standard with posts 6 feet x 6 feet, double 2 feet x 8 feet beams, 2 feet by 8 feet notched rafters, and 2 feet by 2 feet top slats, our Sombrero pergolas offer a little more exposure than the Big Kahuna but with plenty of coverage.
More choices sometimes means more decisions, and can take some time to make. If you follow a couple steps, this will give you good start for choosing a pergola. Whether you're trying to cool off near Death Valley, relax by the beach in San Diego, or lounge on your patio near the redwoods in Northern California, these guidelines will apply for choosing the perfect backyard pergola for your space.
How to Choose a Pergola for Northern California and Beyond
Pergolas offer many purposes for California landscapes, but the feature most often mentioned is shade. How do you find the right one for your patio? If you have a ranch-style landscape design, wood pergola kits are a classic structure to build upon and will fit with your backyard design much better than a fiberglass or vinyl pergola. In seaside or more exposed areas, a patio cover with shade canopy of maximum top coverage offer a place to escape the heat of mid-day sun. For mountainside retreats, a pergola is a sought-after landscape element that enhances a grouping of rocks or other desert-style California décor. City dwellers can also benefit from some coverage in a rooftop entertainment area or courtyard connected to a deck or patio. Regardless of your locale, the pergola material is a great place to start in building your retreat. Take a minute to compare the qualities of wood types and determine which will suit your project.
Which Wood Type is Best for California Pergolas?
Do you know what is the best type of wood to use to build a pergola for California? Since there are varying weather types throughout the state of California, the best wood type will vary based on your climate. We use either western red rough sawn tight knot cedar or pressure treated #1 southern yellow pine lumber to build our kits. Either choice you make ensures that you'll receive a quality wood pergola that'll withstand the wrath of Mother Nature. 
Cedar can withstand severe weather elements throughout the country, and is highly resistant to decay.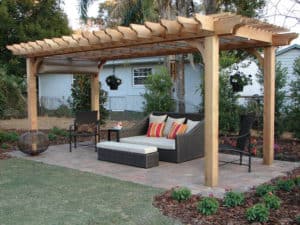 Sustainably harvested in North America, western red cedar wood has a beautiful light amber color with an appealing fragrance that adds to its list of excellent qualities. Cedar is lightweight and has close, even grain. It can be easily worked and finished smooth with little effort. Stain or paint can be applied to western red cedar as soon as you receive the pergola kit.
Pressure treated pine is the most affordable pergola wood option and is also very insect and rot resistant. Pressure treated pine can also stand up to even the worst weather. With a pine pergola kit, the wood will have a green appearance when it first arrives, due to the pressure treatment applied to the wood. Stain, sealant, or paint cannot be applied to pine until after it is assembled and allowed to dry for 2-6 months. Southern yellow pine is sustainably harvested in the southeastern United States.
Once you've chosen your wood type, you can get out your patio plans, grab the tape measure and jot down the measurements of your patio. Take a minute to consider a few things when you're measuring for the pergola.
Measuring a Patio For a Pergola
First step in measuring your patio is to decide where you'd like the pergola. The location can give you an idea of the rough amount of space you'll need and would like to use for the structure.
How much usable space do you need? Consider how much space you'd like in between the posts for freestanding or in between the wall and posts for attached (length and width); and from ground to roof (post height). You may need a specific amount of space for your inside measurement for your outdoor living room furniture, dining table, or kitchen components.
To find your preferred length and width, start by calculating rafter length. This will be different for attached pergolas kits and freestanding pergolas. For an attached pergola, the length of rafters (depth), is calculated by measuring the distance you'd like from the wall to the outside of the posts, plus the overhang.
For a freestanding pergola, the difference is that the Rafter is not attached to a wall, so there is overhang on both sides. The length of rafters (depth), is calculated by measuring the distance you'd like between the outside of the posts, plus the overhang.
Your beam length calculation equates to the width. The length of beams (width), will be calculated by measuring your desired outside post to post width plus the overhang. Using a tape measure, pull your second measurement between the points where you'd like the outside edges of each post to land. Now you've got your overall dimensions. For our pergolas, overall dimensions (or the size pergola you choose) equate to Rafter Length x Beam Length.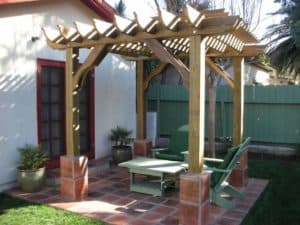 How tall should it be? Once you've decided on the size (rafter x beam), you'll choose the height of your posts. We offer posts with standard lengths of 8 feet, 10 feet and 12 feet, and can customize post lengths to fit your project. When trying to decide the best post length, there are a few things to consider.
There are a couple considerations when deciding the height of your pergola. How high do you want it to be above the ground? This measurement is the height to the bottom of the beam (the low point of the roof structure). How are you installing the posts? The method for post installation will affect the post height you'll need. Will the posts be 1) buried in a concrete footer, or 2) installed on top of a concrete footer or existing concrete slab? If #2, add the length of the post below the ground to the desired height of the posts.
It's definitely a matter of choice, but you probably don't want to make the pergola towering too high above the patio. If you're choosing the Big Kahuna or Sombrero, 8 or 10-foot posts suit most situations unless you're installing your posts more than 2′ in the ground. With the Fedora, we recommend 10′ posts on a slab or footer and 12′ posts (or longer) if going in the ground. Typically, smaller size kits generally look better with a shorter length post. But, keep in mind leaving space for pergola accessories such as ceiling fans and enough head room for tall people.
Even if you're not exactly sure what you'll do with a pergola in your backyard,  there's one thing for sure, with hundreds of sizes, there's bound to be a style and size to fit all the diverse landscapes that California offers! Our pergola kits are made from quality materials and allow for easy DIY pergola installation, so you can enjoy your new structure shortly after delivery. Whether you're coastal, mountain, high desert, or city, we have a pergola to fit your space. Customize yours by size, wood type, and end cut to make it your own and be prepared to be the envy of the neighborhood!