If you live in the Golden State, and would like to shop our California pergola kits to enhance your landscape, look no further than Pergola Depot. With over 90 different pergola sizes to choose from, there's bound to be a style and size to fit all the diverse landscapes that California offers!
Each of our pergola kits is customizable with options that are specific to your liking. Whether you're coastal, mountain, high desert, or city, we have a pergola to fit your space. We ship to all areas in California such as Los Angeles, San Diego, San Francisco, Fresno, San Jose, Sacramento, and all places in between. We ship FREE anywhere in the contiguous United States. Pergola kits ship within 10 business days.
Custom Pergola Kits for California
For the best California patio cover design, we recommend an attached or freestanding Big Kahuna pergola kit or Sombrero pergola kit. Both offer the most coverage of any of our California pergola kits, and can be ordered in cedar or pine. Standard sizes range from 8×8-20×20. Not sure what size to order or need a custom size? Request any size using our custom pergola request form.
Our Big Kahuna combines strength and style to create a sturdy pergola that withstands harsh weather and offers maximum coverage. Shown here is a freestanding Big Kahuna pergola kit in cedar. Popular standard sizes are 10×20, 12×14, and 15×15. After you measure your space you can choose size, wood type, end cuts, and other options.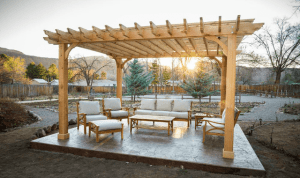 If you're looking for a little less coverage, our Sombrero pergola kits and Fedora pergola kits come in the same 90 standard sizes as the Big Kahuna. Also offered in freestanding and attached, the Sombrero and the Fedora create a more exposed feel than the Big Kahuna but with more coverage than a lot of other pergolas on the market. Popular sizes of the Sombrero are 12×15 and 20×20. Popular sizes of the Fedora are 13×13 and Fedora 11×18.

All of our pergola kits and planter box kits are available to be shipped free of charge to any city in California. So, make your first step in creating your new backyard retreat by ordering your very own California pergola kit! It's easy to create some shade with a pergola, and you can order in just a couple easy steps.