The Mile High City is hands down one of the most beautiful and captivating places in the country. Stunning views of the majestic Rocky Mountain Range grace the landscape like a natural skyline around the towering glass and steel buildings of downtown. The great plains where Denver lies are home to some of the finest beef and cattle ranches, backyard BBQs and outdoor adventures anywhere. Our DIY Denver pergola kits are perfect for the sunny weather and friendly gatherings that take place on patios throughout this great city!
Gorgeous & Modern Denver Pergolas
You may not realize it looking at all the snowy peaks of the mountains, but Denver is actually one of the sunniest spots in the country. Storm systems barreling towards the Rockies are often stopped in their tracks on their way towards town leaving blue skies and sunshine nearly 250 days out of the year!  And while we all love the sun, relaxing and entertaining in your backyard is always more comfortable beneath the graceful shade of a cedar pergola. We have some incredible designs for your personal outdoor pavilion. Let's check them out!
We'll start with The Big Kahuna. One of our most robust and popular designs, the Big Kahuna is perfect for those glaring sunny days. It offers the most shade coverage of all of our pergolas and is a gorgeous centerpiece for your yard. With a smart notched roof system and more top slats than our other offerings, the Big Kahuna is your go-to choice for shade and comfort. As with all of our designs, we have a size to fit any landscaping theme. From the majestic 20 x 20 that can house even your largest parties to the more intimate 8 x 8 and everything in between, the Big Kahuna will keep you cool and glare-free all season long. Add an extra layer of protection with our Big Kahuna™ PLUS covered pergola kits. Our Big Kahuna PLUS covered pergolas are rated for up to 175 mph wind gusts and snow loads that will accommodate most U.S. locations.
The Sombrero is very popular. Closely related to The Big Kahuna, The Sombrero features the same notched system and all the craftsman finishes of its shadier sibling while allowing more sunlight to shine through. The Sombrero is ideal for people who are looking for a little more light to brighten up their outdoor shin-digs.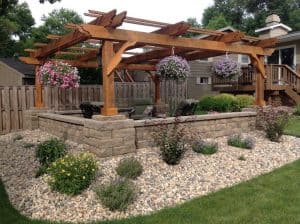 From 8 x 8 to 20 x 20 and custom sizes, The Sombrero is also able to accommodate nearly any space and is certain to transform your yard or patio into the prime spot to be all Spring, Summer, and Fall.
Finally, our most affordable offering is the charming and elegant Fedora. Like the thin brimmed hat that bears its name, the Fedora departs from the notched design in favor of a more open concept that is both easy on the eyes and the pocketbook.
Of course, it still boasts the beautiful design and workmanship of the previous two, the Fedora is ideal for those that want to make a statement without shutting out the sun. Try it in rough sawn western red cedar with a retractable canopy to complete your backyard paradise!
Modern Pergolas with Nature's Best Materials
Our pergolas manage to marry the modern, cosmopolitan feel of Denver with the classic natural beauty of its incredible surroundings. Our timber is high quality and our designs feature sturdy rafters and a choice of end cut finishes. Whether you choose our rough sawn cedar or quality pressure treated pine, our pergolas will withstand the elements and look new season after season.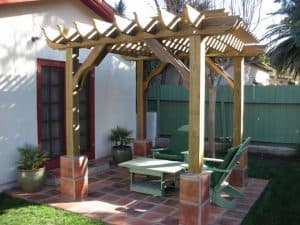 Denver is a friendly city. A place where neighbors actually get to know each other and are a part of one another's lives. It is also a place where the grand views and sense of adventure beckons everyone outdoors. Inviting your friends and family over for dinner on your patio not only builds memories, but also builds that sense of community that is often lacking in other cities. This is why we love our pergolas. They immediately turn your backyard into a second living room.
Why not Vinyl or Metal Pergolas?
While a high-grade plastic may make sense for your trex decking, on an outdoor pergola there simply are not beautiful options out there in these materials. Metal can provide a better aesthetic than vinyl or plastic, but is cumbersome and is subject to elemental deterioration over time. We prefer solid red cedar or pressure treated pine wood as they are strong enough to last year after year, yet natural in both their beauty and in the way that they complement your yard.
In addition to the fact that our timber is mold and rot resistant, our pergolas are cut and prepared when you order them with customizable height and end cuts for any taste and budget. You simply can't get that with other materials. Most importantly, your outdoor patio cover needs to reflect its environment. For this and other reasons, vinyl and metal simply do not make the cut.
DIY: The Colorado Way
In Colorado, people take pride in their independence. It's a can-do attitude that is as old as the state itself. The people who settled here infused the state with a pioneer spirit that persists to this day. Back then, "do it yourself" was a practical necessity. While our kits are DIY, we take all the guesswork out of the equation.
In fact, our pergolas can be set up with a buddy in an afternoon! That's because we precut and predrill all of the pieces for you. Our instructions were written here in America, which means that you will be able to follow them step by step without having to scratch your head as the pages blow around in the breeze. It's simple and when you are finished, you will have a beautiful respite in your yard that will last a lifetime.
So come on, Denver!  You've been wanting your yard to become your favorite hangout and now is the time!  Check out our pergola designs, our options, and we'll ship your dream for free, right to your home or business. See you outside!