Pergola Design Ideas and How to Choose
Last Updated On September 14th, 2023 at 12:50 pm
Are you sitting down this weekend to sort through all your ideas about what to do with your backyard patio to make it a year-round living space? Would you like a pergola to be part of the design? There are so many ideas out there for pergola design ideas for patios and backyard areas, it's hard to know where to start! This article can provide some inspiration, lay out some options (freestanding, attached, pergola over a hot tub or patio, long vs. square, spaced slats vs. close together) and discuss when certain choices might be better than others.
To find the perfect pergola design for your backyard, first step is to decide how you'd like to use the space. Will it be a place to have family dinners, entertain guests, or watch a favorite sporting event? Do you need a covered area connected to your home or other building so people and pets can find relief from the elements? Creating your outdoor room can take on many different forms depending on how much space you have.
Pergola Design Ideas to Create an Outdoor Room
Pergolas are a stylish way to entertain and create an enjoyable outdoor space without building a completely new room. It doesn't matter whether you've got a postage stamp space, half an acre, or an endless backyard, we've got a pergola size that will fit!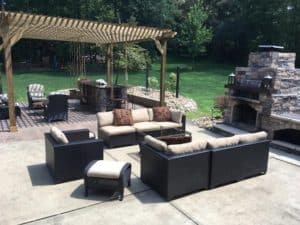 For a larger space, you could build a patio with sections including outdoor eating area, bar, and living room. A stone outdoor fireplace is a popular feature that creates a focal point for the living area section of your space.
Within the confines of the patio, there's ample space to build a bar with additional seating. To finish off the entertaining area, a wood pergola can form the roof for this well-planned outdoor retreat.
Our Big Kahuna pergolas offer maximum coverage with quality construction for a lasting patio cover that blends well in many landscapes. Our covered roof pergola design, the Big Kahuna PLUS can be configured to provide rain and snow protection on your outdoor patio.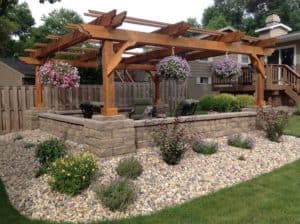 Pergola designs for patios can also be stand-alone rather than multiple areas, and look very different depending on the landscaping surrounding your patio. Post base pavers and a beautifully crafted stone wall create a lasting structure that frames an open-air room.
Built with fewer rafters and limited top slats, our Fedora Pergola Kits bring a patio together in a way that makes it instantly feel like part of the landscape. This is a superior way of blending your home, deck, and patio that makes a seamless connection with nature.
Perhaps the idea you had in mind didn't include building a completely new area that's separate from your home. Since pergolas can be built freestanding or attached, maybe your design will include an attached 2 or 3 post pergola to make that connection between your home and the outdoors.
Attached Pergola Designs for Patios
You might already have a patio created out of stamped concrete or pavers and you'd like to expand your design to include an attached patio cover. This idea is a simple way to make an existing area feel more enclosed and protected.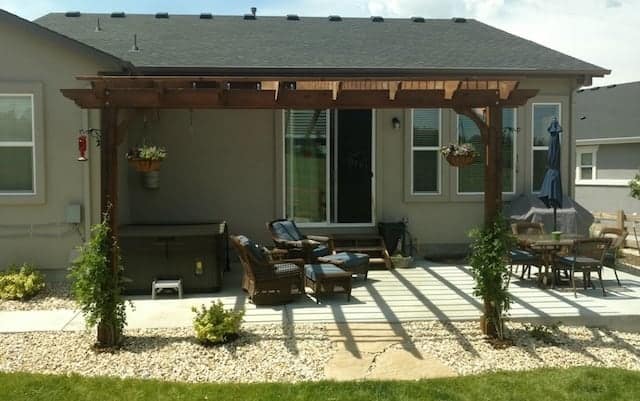 Attached pergolas extend out from your house or other structure to add coverage you otherwise didn't have.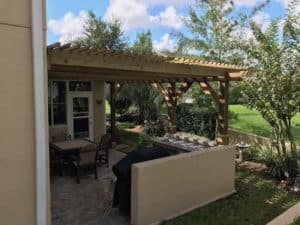 If your goals are to expand the uses for your porch and add privacy, an attached pergola can help you achieve both. Take measurements of the existing porch floor and walls to find the perfect fit.
Add a cover like this Big Kahuna custom attached pergola and you'll have an outdoor nook that is shielded from sun and wind.
If you're more a fan of 4 or 6 post pergolas, freestanding pergolas can also be installed on a patio next to your home or garage to create coverage.
Landscape Ideas with Freestanding Pergolas in the Design
A freestanding pergola can provide a lot of coverage to shield you from elements while sitting in a hot tub, or simply provide a beautiful design element. Stand-alone pergolas can be built using 4 posts, 6 posts or more depending on the area you're trying to cover.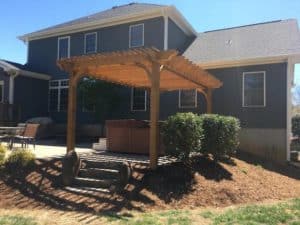 Existing landscape is easily enhanced with outdoor wood structures since they can blend naturally with the other features already in place.
Depending on which style you choose, a pergola can provide a lot of coverage, medium protection, or simply add an aesthetically pleasing feature to a patio with light cover.
Our pergola kits offer varying degrees of coverage, including full (maximum) coverage, medium coverage, and light coverage. The style pergola you choose determines this coverage, including Big Kahuna, Sombrero, and Fedora.
The number of rafters, beams, and top slats can determine what level of patio protection you'll have.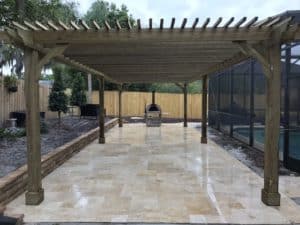 A Big Kahuna Pergola Kit provides maximum shade due to the high number of rafters and top slats. This 6 post rectangular pergola can add a shady covered patio to your design that offers an extra space to entertain.
An alternate design concept is to add a pergola as a design element with moderate coverage. Accessories can be added to the pergola including stone post bases, light sconces, or ceiling fan. You can envision sitting underneath this Sombrero pergola in a comfy chair reading a book and sipping a cool drink on a hot day.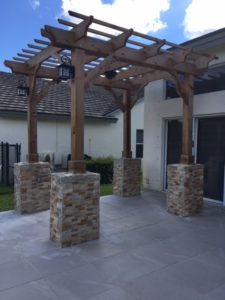 We came up with the idea for the Sombrero Pergola Kit to offer the same sturdy construction as our Big Kahuna Pergolas, with fewer top slats and rafters.
This pergola design allows a bit more light to filter through the top of the pergola, which makes a beautiful addition to any backyard patio.
Once you've chosen which is the top pergola design for your patio, then you can start measuring the actual space to find the right size pergola. Choose the style based on how much shade you're looking to create, decide if you want it attached to your house or not, and then choose the size.
Other options you can add are a special end cut, post base trim, and a canopy for additional shade. Let us help you determine the perfect pergola design for your backyard space!