From Jersey City to Camden, from the Hudson to Delaware Bay, New Jersey is a beautiful state rich with teeming forests, rolling farmland, and bustling cities. The Garden State also boasts some of the most beautiful yards in the nation. Our New Jersey pergola kits are the perfect patio companions to complement the pristine landscaping of New Jersey's backyard retreats.
The Best New Jersey Pergolas
Whether you're on a trex deck blocks from the boardwalk, or warming up in a hot tub overlooking the Delaware, your backyard is a sacred space to listen to nature and relax with family and friends. Our New Jersey pergolas offer your yard and patio more entertainment possibilities to truly turn your outdoor space into the getaway you've imagined.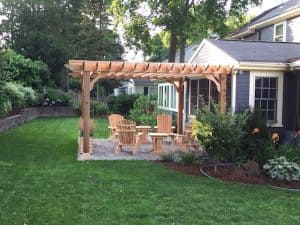 The Big Kahuna, our most popular design, is elegantly robust and offers a design that is engineered to withstand 175 mph wind gusts! With gorgeous ceiling beams, an intelligent, notched-roof system and thoughtful, craftsmen finishes, the Big Kahuna will command a special place in your yard. As with each of our pergolas, we have sizes and styles to fit any space. From our 8×8-attached pergolas to our impressive 20×20 freestanding structures, you will have no trouble finding the perfect fit for your patio.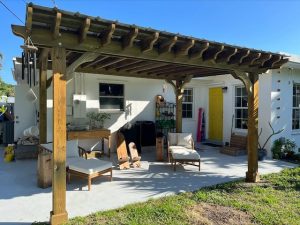 If you like the Big Kahuna style but prefer a roofed pergola, look no further than our Big Kahuna PLUS covered pergola kits with optional metal roofing. Our Big Kahuna™ PLUS pergolas are rated for up to 175 mph wind gusts and snow loads that will accommodate most U.S. locations. Cover an outdoor seating area, kitchen or grill station, hot tub, or create a carport with one of our larger wooden pergolas with a roof. Available in freestanding and attached versions, standard sizes of 10×10 to 20×20, and custom sizes. Add a colorful or natural color roof! MasterRib roofing panels can be ordered with our Big Kahuna PLUS pergolas to complete your DIY pergola project. MasterRib metal roofing is an industry leader in strength and durability. Popular and versatile, the metal roofing features a classic look with extra-wide ribs to increase strength, ease of handling, and installation.
The Sombrero is based on our beautiful Big Kahuna design, but offers less cover for those who want to let more of the light in. In rough-sawn cedar or high-quality pressure-treated pine, the Sombrero has half the roof slats of its big brother but all the finishes to stand out in the family. We also offer some great options for our pergolas. From retractable canopy systems to cedar pergola kits to cedar planter boxes our goal is to make your pergola the go-to spot in your backyard.
If you're looking for a more budget-friendly pergola that is still a high quality pergola, consider our Melbourne pergola kits. This is styled after the Big Kahuna and Sombrero, but has an open roofing system. Leave the roof open for year-round star gazing, or add a retractable canopy or shade sail to add a stylish patio cover attached to your pergola. Our Melbourne design is offered in all the popular pergola sizes, including 10 x 10 pergolas, 15 x 20 pergolas, and 12 x 16.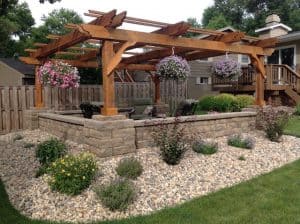 Last but certainly not least, we have the charming Fedora. The Fedora, as its name implies, is a stylish pergola that makes a statement and lets the sun shine through. Affordable and classy, this little guy is an excellent choice for those who want an artistic structure to let vines grow up and around.
Jersey City Pergolas: Enjoying the Seasons
Lit up between the New York Bay and the mighty Hudson River, Jersey City and its suburbs see their fair share of weather. While winters can be rough, fall, spring, and summer are stunning here!  Whether watching the leaves turn every hue of red and orange in Scarsdale or grilling on the patio for warm summer party on the outskirts of the city, backyard living makes the long winter worth the wait.
While the city offers amazing food, culture, and art, life in the city can be frenetic. When you come home you want to relax and take in the quieter, peaceful moments that life has to offer. Instead of watching Netflix on the couch, how about having dinner outside beneath your pergola with your family?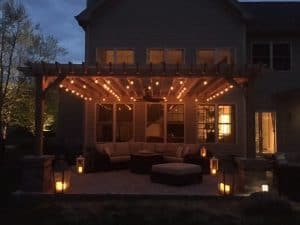 Light some candles, grill up your favorite steaks or fish and let your busy day go while laughing and listening to those you love. Being outdoors is the best remedy for office fatigue and making your backyard into an outdoor living room is the best way to spend those precious moments at home.
The Best Materials for New Jersey Weather
You've probably seen metal and vinyl pergolas in other people's yards. While durable and easy to maintain, we believe that vinyl and metal are not well suited to the aesthetic of most patios. This is why all of our pergolas are made of either rough-hewn cedar or pressure treated pine. The quality of our lumber is top of the line and will last year after year even with the temperature dips experienced in New Jersey. There is just something about wood that compliments the natural flow for an outdoor garden space in a way that synthetic materials could never replicate.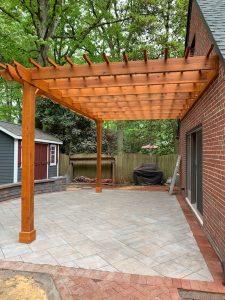 Additionally, cedar is mold and rot resistant, expands and contracts well in varying climates, and is a beautiful deep red color that will both blend in with its surroundings while adding a pallet to your landscaping that is sure to impress you every time you step outside. So when it comes to creating a more attractive outdoor living space, wooden pergolas have no equal.
Pergola Builders: DIY Made Easy
Choosing and building a pergola doesn't have to be difficult. In fact, all of our DIY pergola kits come pre-drilled and ready to build!  All of our high quality lumbers and finishings are cut to size and shipped with everything you need to assemble our patio paradise in an afternoon!
Our designs are solid, durable, and beautiful and our instructions make it simple to assemble so that your pergola will last season after season, no matter what the weather brings.
So Come on NJ! Let's Enjoy the Patio Before the Weather Changes!
Face it, you've been looking at your backyard and wanting to add a space for all your entertaining, evening glasses of wine, sunny Sunday brunches, backyard BBQ's, and Monday night football. A space for your friends and neighbors to gather and talk the night away. A space to unwind on a breezy Saturday afternoon under a traditional shade cover. It's time you ordered a quality-built pergola and put your dreams into action! Shop today or contact us with your pergola questions!