We sell New Jersey pergola kits for many different landscapes in all 21 counties and cities in New Jersey such as Newark, Jersey City, Paterson, Elizabeth, and Edison. If you're shopping for a patio cover that will work well in your New Jersey backyard, consider adding a pergola to your patio. Depending on the amount of coverage you'd like, start by comparing our 5 pergola kit styles.
New Jersey Pergola Kit Styles
For the best New Jersey patio covers, we recommend one of our full-size pergola kits. All 3 of our full-size pergola styles are built with 6×6 posts, standard double 2×8 beam assembly (four beams for freestanding and two for attached); and standard 2×8 rafters.
If you're looking for maximum coverage, our signature pergola kit The Big Kahuna offers the greatest amount of coverage.The Big Kahuna can withstand the severe weather conditions of the northeast. You can also add a retractable canopy to any Big Kahuna pergola kit sizes 12×12 up to 20×20. Shown here is a cedar freestanding 14×16 Big Kahuna pergola kit.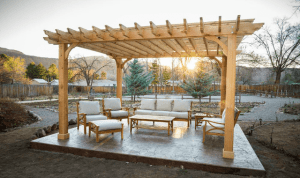 The Sombrero is same solid design as the Big Kahuna pergola, with half the rafters and top slats. So if you prefer a little less coverage but a strong pergola, choose The Sombrero in pine or cedar. If you'd like a pergola that you can attached to the house or other structure, we offer attached New Jersey pergola kits in over 90 sizes. All Big Kahuna, Sombrero, and Fedora pergola kits can be ordered in attached.

If you live in New Jersey and would like to take a look at some ideas for your backyard pergola, start here with our Pergola Styles Comparison. View all of our pergola kit styles that are available to be shipped free of charge to any city in New Jersey.