From the wooden ships of the Outer Banks to the vibrant art in downtown Asheville, North Carolina is a state filled with lush forests, active coastlines, and powerful cities. With its temperate climate, outdoor barbecues and gatherings are a welcome sight here. In the suburbs of Greenville and at the foothills of the Appalachians, people are spending quality time on their porches and patios. Our North Carolina pergola kits are the perfect addition to your outdoor living room. With free shipping and premium designs, your yard will become your go to spot to get away.
The Best North Carolina Pergolas
Our DIY wooden pergolas are made to order and shipped for free to every county in North Carolina!  Made from western red rough sawn tight knot cedar or high quality pressure treated #1 southern yellow pine, all of our pergolas have a strong timber frame capable of handling anything the weather can throw at it.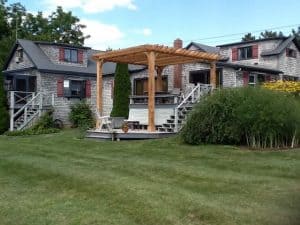 The Big Kahuna, our most popular design, boasts excellent coverage with an array of rafters in a sturdy design to maximize shade and comfort. With sizes ranging from a charming square 8×8 all the way up to an epic 20×20, the Big Kahuna is ready to make your backyard the best room of the house.
The Sombrero is for those of you who like a little more sun with their shade. An honest descendent of the Big Kahuna, the Sombrero has fewer rafters and top slats allowing more light and more room for star gazing at night. Otherwise, you can expect the same attention to detail, craftsman touches, and quality design that you get from the Big Kahuna. There are also custom add-ons such as retractable canopies that can make choosing your perfect shade that much easier.
The youngest member of the family is the Fedora. The Fedora lets the most light in while still maintaining a robust and sturdy frame. The Fedora is perfect for people who love the sun and also like to see the sky unencumbered. Star watching, bird watching, and cloud gazing is what the Fedora is all about. Check out our options and make your yard what it was meant to be.
Greenville Pergolas: Make the Most of the Dry Season
Greenville is an amazing city! With close proximity to the Crystal Coast and the Outer Banks, the vibrancy of this city attracts thousands of visitors every year. Like most of North Carolina, Greenville and its suburbs are home to fantastic summer gardens and delicious backyard barbecue not to mention the many farm-to-table restaurants!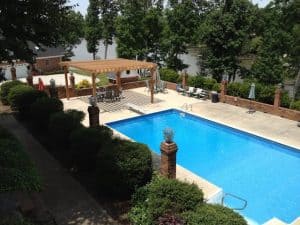 It's true that this state has an awesome backyard friendly scene when the weather isn't acting up.
We love that about North Carolina and we believe that a backyard without North Carolina style pergolas is like a house without a living room. Imagine a warm summer night, friends and neighbors sharing a meal and laughter around a table beneath the rafters and canopy of a pine or cedar pergola.
They truly transform an outdoor space into something special. At Pergola Depot, we build beautiful wood pergolas from cedar or pine and have stunning designs and customizations to make your yard and pool the place to be when it's time to grill or relax.
Outer Banks Pergolas: Stand up to the Storm
The Outer Banks are a wild place! Out in the Atlantic like a barrier between the ocean and the rest of the state, they see their fair share of weather. When the sun is shining, however, there is no place more beautiful in the rest of North Carolina! Patios in the Outer Banks need a pergola that can stand up to what Mother Nature has in mind on these islands.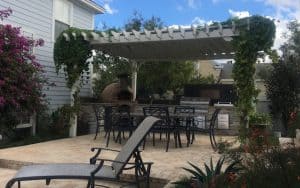 Our pergolas are sturdy, designed with longevity in mind. We use the highest quality lumber and pre-cut and pre-drill the pieces so that you don't have to. You won't find any flimsy vinyl pergolas in our shop. Just solid timber.
The end result is a structure that can withstand strong winds and rain. Our cedar won't rot or mold and you will be enjoying the best days outside for years to come.  
Pergolas Shipped and Ready to Build
Our pergolas come with everything you need to assemble them within an afternoon. Our instructions are easy to follow and all the pieces are pre-cut and drilled to make installation a breeze. With our kits, there is no standing in line at Lowes because you don't have everything you need. We also have a directory of contractors to check out if you need assistance. If there's not one listed in your area, you can try contacting a local landscaper or handyman to help with assembly if needed. Our goal is to make the process of actually putting the pergola up as simple as ordering it.
Are you Ready to Get Outside, North Carolina?
It's time you stop dreaming of your backyard retreat and start creating it. There is no better place to start than right here. Check out our kits and options and find the pergola that's best for your space. See you outside!