Top features required for North Carolina pergola kits are solid design, quality construction, and easy to assemble. The Big Kahuna pergola kit has all three! Our signature DIY pergola kit is built to withstand 160 mph winds. Any of our kits can be ordered in wood types that stand up strong in severe weather! We build pergola kits per order in Florida and ship free all throughout North Carolina to cities such as Raleigh, Davidson, Charlotte, Nags Head, Ashboro, and anywhere in between. Our Guide to Choosing a Wooden Pergola is a great place to start in your quest to find the right pergola.
Top-Selling North Carolina Pergola Kits
The Big Kahuna Pergola Kit is our top seller in North Carolina and surrounding states. It's a sturdy design that combines style with maximum coverage. This pergola offers homeowners a patio cover that will outlast relentless winds and also provide shade on those beautiful North Carolina sunny days.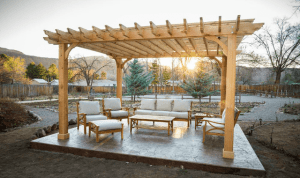 Another good choice for a North Carolina pergola kit is the Sombrero Pergola Kit. Both the Big Kahuna and the Sombrero can be ordered as a freestanding pergola kit or as an attached pergola kit. They both come in over 90 sizes, so if you're in a city or town and only need a 10×10 Sombrero for medium coverage, that's a very popular choice. If you've got a little more space to cover that's near a pool or large backyard, size up a little and choose a 19×20 Sombrero and get a little more coverage for your summer guests.

For a more open feel, a 12×14 Fedora will give you a timeless designed pergola that fits well in any North Carolina location. 

Ideas for Backyard Pergola Kits in North Carolina
If you live in the Tar Heel State and would like to take a look at some ideas for your backyard pergola, follow our Facebook page for ideas. If you've been looking for a DIY pergola kit that you can assemble yourself, any of the pergola styles shown on our website would be a good choice. All kits arrive pre-cut, pre-drilled, with step by step instructions.
If you're on the Outer Banks and have a home in one of the many coastal towns, a patio pergola could be a solution that would provide an extra bit of shade during those hot summer beach days. The same outdoor structure can also withstand the high winds that sometimes frequent the coast during hurricane season.
Take a minute to look through that'll enhance any outdoor patio in North Carolina. You can walk through our Guide to Choosing a Pergola, and if you have any questions, feel free to get in touch!