Choosing the Best Wood for a Pergola
Last Updated On September 1st, 2023 at 02:32 pm
This easy to follow wood pergola guide offers a brief overview of two of the most popular wood types for pergolas. What are the most important factors when choosing pergola wood? We've found that durability, sustainability, and easy of installation are 3 of the top features that homeowners are looking for when shopping for a wood pergola.
Two classic choices of wood for pergola kits that offer those features and more are #1 pressure treated Southern Yellow Pine and Western Red Rough Sawn Tight Knot Cedar. Both are excellent choices for a sturdy pergola that will last for many years. These wood types offer strength and durability that look good in many types of settings from rustic to traditional. Which type do you prefer?
We'll compare the two here and you'll be well on your way to finding your new backyard pergola!
Wood Comparison Guide for Pergolas
We'll start with a high level comparison of the two most common wood types for sturdy quality pergolas, western red cedar and pressure-treated pine. Three factors that will impact your choice are climate, cost, and finishing. We'll provide details about each to help you decide.
Rough Sawn Western Red Cedar Pergola Wood
Western red cedar is a beautiful light amber color. For our DIY pergolas, we use high quality western red rough sawn tight knot cedar, which is also highly resistant to decay making it great for outdoor use.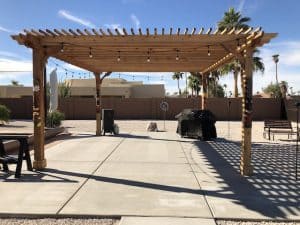 It has a wonderfully appealing fragrance that adds another dimension to its qualities, and is lightweight with close, even grain. This popular wood type is easily worked and can be finished smooth with little effort.
Western red cedar pergola kits take paints and stains very well, and can be applied as soon as you receive the pergola kit. Western red cedar is used in situations where exposure to the elements is continually severe.
A naturally stable wood, the warmth and natural beauty of real cedar makes it a very popular wood choice. If exposed for prolonged periods to conditions where decay could be a factor, such as where the wood is in contact with the ground, cedar should be treated with suitable wood preservatives.
When properly finished and maintained, you can count on cedar to maintain its beauty for decades. We recommend applying a stain or sealant before installing your cedar pergola kit, and then every second year after that to preserve this beautiful wood type. Western red cedar is sustainably harvested in North America.
Pressure-treated Southern Yellow Pine Pergola Wood
Southern yellow pine is known for its natural beauty, strength, and durability. An excellent choice of wood for outdoor pergolas, the #1 pressure-treated southern yellow pine we use for our pergola kits is also popular due to its affordability. This wood type is an ideal choice for projects exposed to the severities of weather, hot, humid climates, decay and insects.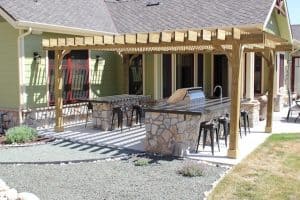 Pressure treated pine is very insect and rot repellant, and able to withstand severe elements, but has chemicals added to give it those properties. Pressure treated pine comes with a green appearance. As it dries it will turn to a golden brown, then gray if it is not water sealed or stained. One factor to keep in mind with pressure treated pine, is when you can stain, seal or paint. You will need to wait a few months before staining or painting the pine lumber since it will be saturated with the pressure treatment when you get it. This timeframe depends on your location, the time of year, and the level of humidity in your location. For pine pergola kits, only stain or water seal after installation and the lumber has dried.
Keep this in mind when planning the timing of your project. If you order a pressure treated pine pergola you will have to wait a few months (depending upon your climate and weather conditions) after it is installed in order for the lumber to be dry enough to absorb the stain or sealant.
A popular choice for landscaping projects such as pergolas, arbors, gazebos, and fencing, southern yellow pine lumber also has many other uses. Topping the list are truss rafters, outdoor decking, and boardwalks. Often used for commercial and residential building projects, southern yellow pine remains a leader in the industry as one of the most economical and durable wood products. Equally important for your backyard pergola!
Because of its inherent strength, treatability and beauty, pressure-treated southern yellow pine has become a top timber choice in North America for landscaping and construction applications. Southern yellow pine is sustainably harvested in the southeastern United States.
Best Wood for Pergola Designs by Location
Location, Location, Location! Do you have extreme weather during parts of the year? Are you on the coast where your pergola will be exposed to salt air and potentially extreme weather? Is your climate dry and arid? Or maybe you're somewhere in between.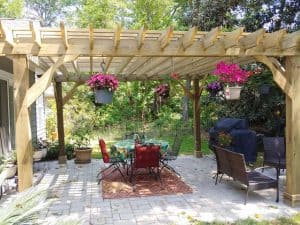 Good news! Both of the wood types that we use to build our pergola kits will accommodate challenging weather and climate. Often the best wood to use for pergola projects in coastal locations is pressure treated pine.
If you're coastal and you had your heart set on cedar, just take care in maintaining the wood with proper sealant and maintenance. Contact your local hardware store paint department for advice about which combination of stain and sealant works best in your climate.
As with all wooden outdoor structures, proper maintenance helps keep your pergola looking good regardless of your wood choice or climate. If you're in a moister climate like Florida, South Carolina, or parts of California, it's equally as important to maintain your pergola as it would be if you're in a drier climate like Arizona, Colorado, or parts of Texas.
Does maintenance affect your wood decision?
Top Factors When Choosing Wood for Pergola Projects
A few of the top considerations when comparing wood types are climate, finishing, and cost. What is your local climate – are you in a coastal area, dry climate, or in between? If you're in a coastal area, we often recommend pine. How and when would you like to finish your pergola? If you can't wait to get started staining, cedar will be your choice.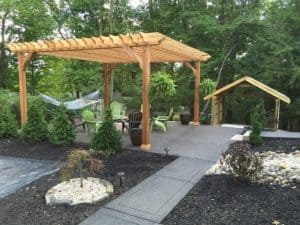 How will you be mounting the posts? If you're mounting in the ground, we recommend our pressure treated pine. If you're mounting on slab or footer, either wood type is a good choice. Is cost a consideration? Pressure-treated pine is a more affordable choice.
Staining or Sealing Right Away? Wood Type Matters!
Pressure treated pine requires that you install the pergola, then let the wood dry out completely before staining or painting. You will see it turn from green into a golden brown when the pressure treatment has dried. This could take 2-4 months depending on your location.
If you order a cedar pergola you can stain the lumber before or after installation, and you can stain or seal right away. So if you want to stain or seal right away, cedar will be your best choice. If you can wait a few months and you prefer the look of pine, opt for the pressure treated southern yellow pine for an equally beautiful wood type. 
Tips for Sealing and Staining Pine or Cedar Pergolas
Do you like the natural appearance of the wood? Use a transparent or semi-transparent water repellent sealant. Live in a sunny location? To ease the impact of the sun on your pergola, select a sealant with UV stabilizers.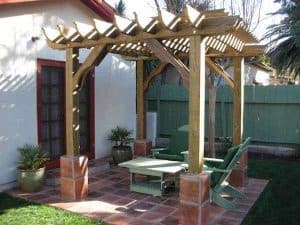 For either wood type, it's best to look for a stain that has a good manufacturer's warranty, is water repellent, and has a UV stabilizer. Always follow manufacturer's recommendations for application.
To keep the lumber looking its best, we recommend sealing pine or cedar lumber once the first year (for pine pergola kits, stain or water seal after installation), then every 2nd year thereafter. As with any lumber, it will weather to a gray color if not stained or sealed. You can purchase a stain and water seal combination from any hardware store that goes on in one application and saves tons of time.
Follow advice from your local stain & paint specialist for how and when to stain and paint outdoor structures.
Still not sure which type of wood will you choose? Read more about our wood pergolas on our FAQs. Some more great examples of each type are shown in the pergola photos on our Instagram feed or Facebook page, so feel free to follow along! If you still have questions, contact us anytime for some guidance.