Whether you're sipping sweet tea outside of Knoxville or barbecuing ribs on the patio in Memphis, the temperate falls, summers and springs of Tennessee are a welcome home for a backyard gathering space. Our Tennessee pergola kits are an ideal way to transform your yard and patio into a private paradise that you can enjoy throughout the year.
Our elegant attached and freestanding pergolas are designed with attention to detail.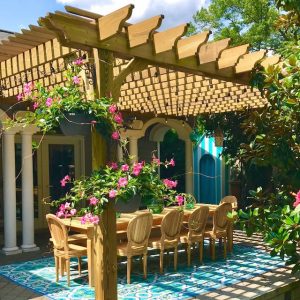 Using quality rough-sawn cedar or pressure treated pine we promise to have the size and style pergola that best suits your landscaping theme. We love the look of our deep red cedar against the backdrop of a Tennessee autumn. The dynamic colors of this state's gorgeous trees lend themselves to our classic designs and timber.
The Best Tennessee Pergolas
The Big Kahuna, our most popular design, with its height and notched finishes, lets you sit in comfort out of the glare of the hot summer sun while still enjoying your deck and patio. From a modest and classy 8X8 all the way up to a grand 20X20 pavilion, the Big Kahuna is ready to focus your landscaping tableau no matter what amount of space you have to work with.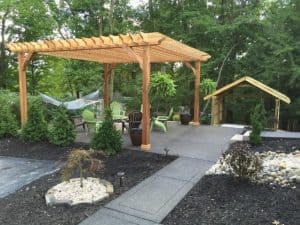 Next up is the Sombrero, which boasts all of the detail, and notched roof system of the Big Kahuna while limiting the number of ceiling slats to allow more sunlight to pour through.  Adding a retractable roof canopy can give you the control you need to maximize comfort and nature with ease. Perhaps you'll add a wooden swing from the rafters to rock away those sleepy Sunday afternoons.  The Sombrero comes in all sizes and will definitely make your yard become a favorite hangout for you and your family.
Finally, we have our most open pergola aptly named the Fedora. The Fedora provides the least coverage of the three and lets the afternoon sunshine illuminate your outdoor living space while providing enough cover to hang plants, climbing vines and other complimentary accessories like a pergola swing or hammock. Stunning in cedar with a robust timber frame, the Fedora is not to be overlooked for both value and quality.
Knoxville Pergolas Summer Shade in the Marble City
After a day of fun perusing the shops of Market Square or hiking in the breathtaking Ijams Nature Center, cooking out in your backyard to discuss the day's adventures is always better in the shade of your backyard pergola! Let's face it, the weather is hot in the summers here. After all, most of Knoxville's 208 days of sun happen when the kids are out of school. This is why adding a little 'roof' to your patio experience is essential to being able to take advantage of any day the summer brings.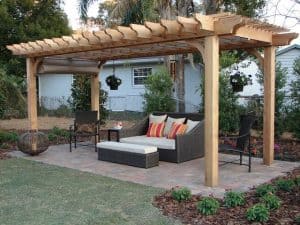 At Pergola Depot, we shy away from synthetics like vinyl in our construction in favor of natural woods like cedar and pine. Not only will they last season after season, but they will also compliment the abundant natural colors and themes that are inherent to the state. So if you're just looking to create a respite from work in Knoxville or if you want a perfect entertaining space in Jacksboro or Farragut, a wooden pergola from us is the answer to your imagination.
Perk up Your Wood Pergola the Nashville Way
There are so many great ideas out there for sprucing up your backyard sanctuary and we believe that it all starts with how you deck out and decorate your pergola. Climbing vines, potted plants, cedar planter boxes are all ways to bring even more of the outdoors into your space in Nashville and beyond. Whether it's purple clematis or a hyacinth bean, climbing flowers can provide a little more shade while adding grace and color to your patio.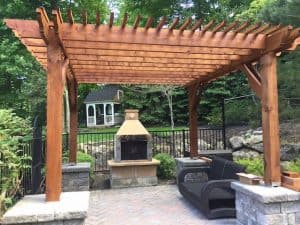 Lighting your pergola allows your evening meals to be enjoyed outside when the weather permits. Anything from classic sconces on the posts to simple and unassuming Christmas lights wrapped around the rafters can brighten up your summer nights and festivities with the flick of a switch. Some people opt for a more intimate route with fireplace, candles or a fire pit. Either way you choose to do it, lighting ensures that you will use your pergola for more than just outdoor grilling.
Selecting the best lounge chairs, end tables, and swings can be a wonderful way to quickly turn your outdoor living space into an extension of your living room. Don't forget about hammocks!  They can store easily by being hooked to the posts and provide an ultra-relaxing and creative place to get away from it all. There are many outdoor living room design ideas you can incorporate into your new outdoor retreat, and it can all start with a little planning and measuring for your new cedar pergola!
DIY Wood Pergolas Simple Installation
You've seen the care we put into crafting our pergola kits and you can bet we put the same effort into making our assembly and instructions as simple as possible. Much like the care and precision of amish built products, our DIY pergola kits come pre-cut and pre-drilled with an easy step by step set of instructions. Your backyard retreat can be completed in a handful of carefree hours. After your pergola arrives (courtesy of our free shipping!) you and a friend (or 2 for a larger custom size!) will have everything you need to set it up and start enjoying your patio in a whole new way. The end result is a durable and gorgeous pergola that you, your friends, and your family will enjoy for years to come.
What are you waiting for Tennessee?
Let's get cooking! Go to our standard pergola kit page and start turning your dreams into reality. We have great customization options so that you can get the best fit for you yard. You live in one of the most beautiful states in the country; let us help give you the backyard to match!