We've been building Tennessee pergola kits since 2008 and shipping them to all 95 counties and cities in Tennessee such as Bristol, Chattanooga, Cookeville, Jackson, Knoxville, Memphis, and Nashville. Our pre-cut pergola kits work well in any Tennessee location to create a beautiful shady spot to relax any time of year.
Best Pergola Kits in Tennessee
For the best Tennessee patio covers, we recommend our signature pergola kit The Big Kahuna or our Sombrero Pergola Kit.
Our Big Kahuna works well in Tennessee because it provides maximum coverage and a stylish design. The Big Kahuna boasts 6×6 posts, double 2×8 beams, 2×8 rafters (every 12 inches) and 2×2 top slats (every 6 inches). Shown here is one of our most popular sizes, a 14×16 freestanding Big Kahuna cedar pergola kit.
If you're looking for a pergola with a little less coverage but same sturdy design, the Sombrero shares a solid design with the Big Kahuna, with half the rafters and top slats. This makes for a high quality kit that captures the open feel of the outdoors at an even more affordable price point. The Sombrero can be configured in either freestanding and attached, and comes standard with 6×6 posts, double 2×8 beams, 2×8 notched rafters, and 2×2 top slats. The rafters are placed on 24 inch centers and the top slats on 12 inch centers, creating a slightly more exposed feel than the Big Kahuna, but with more coverage than a lot of other Tennessee pergola kits on the market.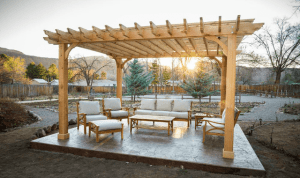 So if you live in The Volunteer State and would like to build a Tennessee Pergola, look no further than Pergola Depot. We have many different styles, and over 90 different sizes to choose from. Each of our pergola kits is customizable with options that can accommodate many popular patio designs. Your neighbors will think that you hired a carpenter to custom build a pergola in your backyard when they see the quality of the pergola kit that you receive from us. Make it easy on yourself and order your backyard pergola that's pre-cut, pre-drilled and ready to assemble!
Here's a overview of our pergola kits that will work in any location in Tennessee. Our Tennessee pergola kits that are available to be shipped free of charge to any city in Tennessee. Start building your backyard retreat today with a new pergola!