Beautiful DIY Pergola Decorating Ideas
Last Updated On September 14th, 2023 at 12:42 pm
Whether you are relaxing with family on a warm summer evening or grilling for guests on a fall afternoon, your pergola is the social hub for your backyard paradise. While the soaring wooden beams and posts are beautiful in their own right, we have put together 5 pergola decorating ideas that we hope inspire you to treat yours as a blank canvas ready for your creativity. Ideas range from simple to sophisticated. Let's dive in!
Pergola Decorations 101
There are so many fun and interesting options to consider when dressing up your pergola from hanging lanterns to wooden swings and pergola hammocks that it may be difficult to pick just one. Depending on the size of the pergola and overall design feel free to use a few of these special finishes to make yours perfect for you.
First, ask yourself a few questions. How do you use your pergola? Is it an area to sit and relax or is it a piece to showcase your garden or patio? Do you prefer total privacy or an open-air courtyard? Is your pergola attached to your house, a pergola for a deck, or is it off on its own in your yard? Imagining how you use the space will make any modifications and decorations complement your backyard lifestyle.
Types of Pergola Lighting
Pergola lighting can really make an impact on your finished patio. Let's compare outdoor lighting to indoor lighting for a moment. Inside your house, you have various fixtures from recessed lighting to wall sconces to create the mood for each room. Besides being beautiful, light gives a space purpose. A lamp by a reading desk, a dimmer switch for the bedroom or a chandelier for the dining room set the tone and function of each space in your home. We believe that your backyard and patio space deserve the same attention to lighting.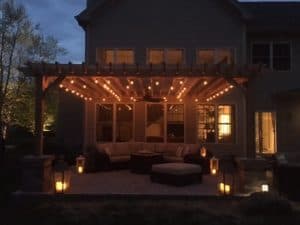 Lighting an outdoor space has an enormous benefit aside from just aesthetics. A warmly well-lit pergola can be used at any time of the day. Let's take advantage of these later hours. Doesn't dinner on the patio sound inviting?  There are lots of great examples of how to use lighting to liven up your evenings outside. Here are few:
String Lights – String pergola lights are a fast and easy way to generate a soft glow that isn't overbearing and still lets some of the night in. There are an endless assortment of bulb shapes, colors and lengths to suit any pergola size. Assembly is as easy as stringing them up.
Hanging Lanterns – These are stunning. Whether you're going for a rustic look with the classic metal and glass hanging lanterns, Japanese paper lanterns, or a more modern design, the warm light can illuminate seating areas and tables and are simple to install.
Sconces – These can really add a dramatic flourish to the posts of your pergola. From classic English designs to modern minimalist, sconces illuminate slightly upward which will provide ambient light below. This is a very intimate lighting scenario but one that could really complement those late-night chats over a glass of wine.
Christmas Lights – I couldn't really leave these little guys out, could I? I'm not talking about the haphazard LED arrangement in most dorm rooms but done properly, small Christmas lights wrapped around the cross beams, rafters or posts can add such subtle beauty to the wood while providing enough light to still find your seat. Inexpensive and easy to install, LED lighting is a great place to start!
Keep It Cool
Adding a patio shade to your pergola is a great way to keep the sun from burning your good times. Shades come in every color can be made from durable and flexible outdoor fabrics or can be created simply with additional top slats.
The most important thing is that they serve a vital purpose on bright and hot days while also offering you the opportunity to spruce up the look and feel of your patio. Check out the canopy offerings from PergolaDepot.com, which are specifically sized to fit our pergola kits.
Have a Seat – Outdoor Furniture Options
Now that you have lights on and can look around, you will notice that your patio is bright but empty. Next to lighting, nothing defines the purpose of a space more than furniture.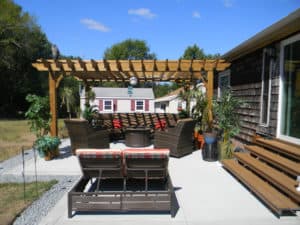 While the options for the outdoors are more limited than our climate-controlled homes, adding a table and chairs or a chaise lounge with an end table will make your time outside more comfortable.
Depending on the size of the space that you are working with here are some ideas to consider:
Dining Table and Chairs – Eating outside can be wonderful (if the weather and insects are elsewhere). Putting a patio table under the pergola makes entertaining much easier. Obviously, a weatherproof table is best but that doesn't only mean wrought iron. What about a beautiful teak table for a classic meal with friends? If you have the room, placing a table outside greatly enhances the practicality of your patio.
Bench Swing or Chair Swing – These can be a lot of fun and very comfortable. Utilizing the sturdy ceiling beams of the pergola you could hang a swinging bench or chair to one of the 'walls'. While it's a certainty you won't be able to get your kids off it, when you get the chance you'll love having your morning coffee while you rock gently back and forth.
Hammock – No, I am not crazy and yes, hammocks are amazing. A well-made hammock is perfect for 2 reasons. First, they are undoubtedly the most comfortable way to lie down (or sit if it's a hammock chair) compared to just about any other piece of furniture. Secondly, if it's a cloth or nylon hammock strung up to the posts, you can easily remove one end and store the hammock on a hook to create more space.
Say it With Nature
Plants, planters, crawling vines, and hanging baskets of flowers are all capable of turning your space into a lively and colorful garden gazebo!  After all, you are outside, so using Nature itself to decorate your pergola will always be in style.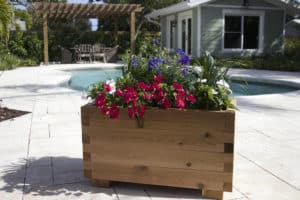 Planter boxes filled with fronds that love where you live will add beauty, where hanging baskets will fill the space with life. Large decorative pots against the posts can further seal the space off from the rest of the world. Using flowering or green plants, the options are plenty.
Pergola Curtains for Curb Appeal
Curtains are fantastic because they immediately add a splash of color even when bunched up along the wooden posts. When closed, a pergola curtain will make you truly feel like you are in another beautiful room of your home without leaving the backyard.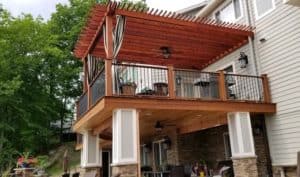 The wind expresses itself through fabric and adds a visual artistry to your patio space. Again, the wide range of colors, lengths and styles are sure to fit your tastes exactly.
Whatever your lifestyle, adding lighting, furniture, flowers or curtains to your pergola will mean that you will use it more than you do right now. This means you will spend more time outside and actually enjoy your yard and patio.
Isn't that the reason you wanted one in the first place?  I hope this list helps inspire your own thoughts and ideas. Please feel free to share those with us!