From tip to tip of Virginia, one of the best ways to create some backyard shade is choosing one of our ready-to-assemble Virginia pergola kits. Wood pergolas can provide a nice patio cover whether you're sitting slope side at Wintergreen Mountain resort, or if you're just off the blue line in Alexandria! One of our many pergola styles and sizes can be ordered online and shipped anywhere in Virginia free of charge. We sell patio pergolas and cedar planter box kits in all 95 counties and cities in Virginia.  That means that everywhere from Ashburn, Centreville, Charlottesville, Farmville, Richmond, Rocky Mount, and Waynesboro our stunning cedar and pine pergolas are creating backyard sanctuaries across the state!
Top Choices for Pergolas and Structures with Virginia Flair
Whether you call downtown home or have spread out a bit in the suburbs, we have the pergola that's a perfect fit for you!  The best option for your patio cover is a pergola kit that compliments your yard or patio while creating a new space for entertainment and relaxation. Full-size styles include The Big Kahuna, The Sombrero, and The Fedora. All of these styles can be built to suit your exact space requirements. The Big Kahuna offers maximum coverage and a strong sturdy design, and comes in standard sizes starting with an 8×8 attached pergola. The largest standard size we offer is a 20×20 freestanding pergola kit. One of the top sellers in the Old Dominion State is the 10×16 cedar freestanding Big Kahuna.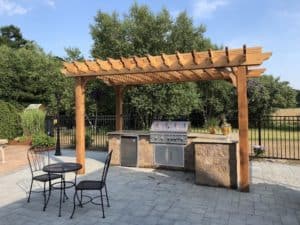 Alternative structures you can add to your outdoor terrace are arches, a wood gazebo, or other types of patio covers. Many of the arched vinyl pergola, pvc pergola or fiberglass pergola options you'll find don't compare to a cedar wood pergola for many reasons. The DIY pergolas we build are cut per order by hand in our Melbourne, Florida manufacturing facility. We take pride in our work knowing that you'll receive a beautifully crafted product that will make your backyard a favorite gathering spot and sanctuary.
Easy To Assemble Pergolas for a Fraction of the Cost
Most of the time ordering from us is about the same cost as materials alone if you went and priced out a Home Depot pergola kit or Lowe's pergola to build it yourself. We save you the time of figuring out how to lay it out, how to shape the end pieces, notch the roof, etc. Let us pre-build your pergola kit. Then you can sit back and plan the backyard party that you'll have once you assemble the pergola on your patio!
How to Landscape for Virginia Pergolas
What's the best way to landscape for a pergola?  A Virginia pergola should have a Virginia vine! The clematis will not only spiral around your patio pergola but also bloom beautiful purple and pink flowers. The hummingbirds will flock to your backyard sanctuary.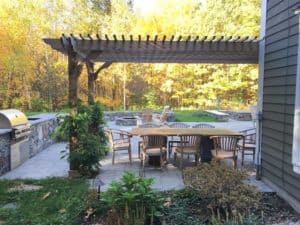 Maybe some Honeysuckle or another Virginia creeper will climb up your posts and work their way around part of your pergola's ceiling creating an intimate space for summer entertaining.If you do decide to add vining plants, keep in mind that sometimes vines can cause wood to deteriorate or add weight and pressure to the structure. An alternative is to plant your vining plants in pots near your pergola to create the same effect.
A pergola is meant to enhance the theme of your backyard paradise.  However, it can also be the focal point of your outdoor living space.  Ultimately, how you choose to actually use the pergola will determine the best landscaping options.
Attached and Freestanding Pergola Choices for Richmond and Beyond
An attached pergola actually attaches to the exterior of your home and extends out over your patio space.  This can offer a beautiful transition from your sliding glass doors to your yard.  It is less resource intensive and is perfect for those with limited space for additional supports.
A Freestanding pergola stands on its own with four large support posts.  Freestanding wood pergolas can be placed on any flat surface in your yard or patio.  They are perfect for people who have a large open space and want to create an island for dining or spending some quality downtime outside.
Virginian Summers Were Made for Pergolas!
Summer in Virginia can get hot! Sitting under the shade of your stunning new pergola will help you make the most of your backyard while staying comfortable.  Pergola kits Virginia residents often ask about are those that can include a canopy for extra shade.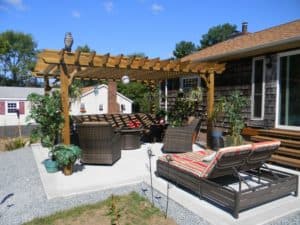 We sell retractable canopies for our standard size Big Kahuna, Sombrero, and Fedora to help you control how much direct sunlight you receive while chatting with friends on your patio. Install misters from the rafters and create a climate-controlled respite for your 4th of July gathering or allow climbing vines to generate shade and comfort underneath your pergola.
There are many ways to enjoy the hot days in Virginia with our quality wooden pergolas.  Let's get ready for summer picnics, cool fall evenings, or any season entertaining! So if you live in The Old Dominion State and would like to add a quality-built patio cover, get started today on our Choose Your Style page.
Then you can take a few minutes to plan your space, measure for your pergola, and choose your pergola kit. Before you know it the backyard retreat you've dreamed of will be ready for your next cookout!