From tip to tip of Virginia, one of the best ways to create some backyard shade is choosing one of our ready-to-assemble Virginia pergola kits. Wood pergolas can provide a nice patio cover whether you're sitting slopeside at Wintergreen Mountain resort, or if you're just off the blue line in Alexandria! One of our many pergola styles and sizes can be ordered online and shipped anywhere in Virginia free of charge. We sell pergola kits in all 95 counties and cities in such as Ashburn, Centreville, Charlottesville, Farmville, Richmond, Rocky Mount, and Waynesboro.
Best Pergola Kits for Virginia
Even if you live in a downtown space or suburb, a full-size kit is the best option for your patio cover. Full-size Virginia pergola kits include The Big Kahuna, The Sombrero, and The Fedora. All of these styles can be built in a range of sizes. The Big Kahuna offers maximum coverage and a strong sturdy design, and comes in 90 sizes starting with an 8×8 attached pergola. The largest standard size we offer is a 20×20 freestanding pergola kit. Here are photos of an 8×8 pine freestanding Big Kahuna, which is also offered in attached. Also shown is a 14×16 cedar freestanding Big Kahuna.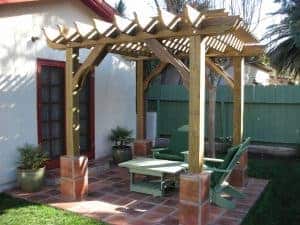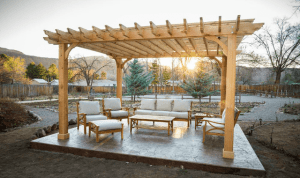 Customer Reviews for Virginia Pergola Kits
Check out our reviews before you start shopping, including one from an Augusta County pergola kit customer!
Most of the time ordering a pergola kit from us is about the same cost as only the materials would cost if you went and priced it out at Home Depot or Lowe's to build yourself. Then you would have to take the time to figure out how to lay it out, how to cut the end cuts, etc. Let us build your pergola kit. Then you can sit back and plan your pergola party that you'll have once you assemble the pergola on your patio. We build our kits with pride in Florida and ship them direct to you within 10 business days of your paid order. It'll arrive pre-cut and pre-drilled with easy to follow instructions and ready to assemble. It's that easy!
So if you live in The Old Dominion State and would like to add a quality-built patio cover, get started today on our Choose Your Style page. Then you can take a few minutes to plan your space, measure for your pergola, and choose your pergola kit. Before you know it the backyard retreat you've dreamed of will be ready for your next cookout!