Hot Tub Pergola Ideas – A Guide for Homeowners
---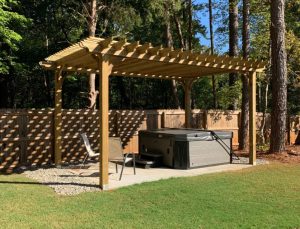 Hot tubs are an excellent addition to any backyard, providing both relaxation and enjoyment. If you're looking to combine a shade drenched area with your hot tub, consider a pergola with hot tub combo! A hot tub pergola not only adds an aesthetically pleasing touch to your backyard but also provides privacy and shade. Many people ask, can you put a pergola over a hot tub? In this blog post, we will provide insight on this to guide homeowners and home improvement specialists on how to create the perfect hot tub with pergola paradise.
What Size Pergola for a Hot Tub is Best?
The first thing to consider is whether you'll be installing the pergola over the hot tub, or in an adjoining area. This will help you determine what size pergola to select. For a stand-alone pergola in a nearby outdoor living room, your sizing will depend on the
pergola flooring
dimensions. For a hot tub under pergola sizing, you'll want to make sure the pergola is big enough to surround your hot tub and accommodate your family and friends.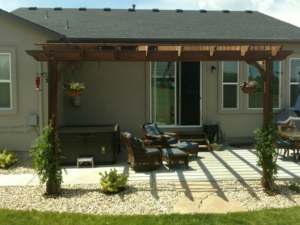 To make the most of your space and make it comfortable, choose a pergola that covers your space with ample room around the hot tub. This will ensure it doesn't make the space feel cramped for the perfect backyard design.
It's recommended to measure the dimensions of your hot tub and add a few feet on each side. This ensures that there is ample space for seating and movement around the hot tub. Also take into consideration the height of your pergola and how much headroom you'd like. Take a minute to measure for a pergola before choosing the size, roof coverage and pergola style.
Best Hot Tub Pergola Ideas - Materials and Size
There are many different sizes and styles when it comes to backyard landscape designs. Both of these are top considerations when considering a pergola to cover your hot tub. The choice of material for your pergola is important as it will affect the overall look and feel of the space. Wood is a popular and classic material choice that complements most backyard landscapes and blends well with many home styles.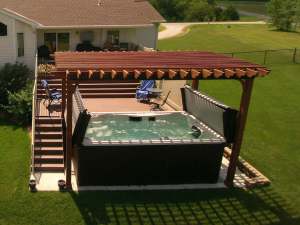 Cedar and pine are great options that can stand up to the outdoor elements and provide a natural, rustic look. Keep your pergola looking its best with a coat of clear wood sealant, a layer of stain, or colorful paint.
Keep in mind that if you choose pressure treated pine, you'll need to wait 3-4 months until the pressure treatment dries to apply stain, sealant, or paint. With our rough sawn western red cedar pergolas, you can apply right away. Add a coat every other year to maintain the beauty of your wood pergola kit.
The size you choose will depend on how much space you have in your backyard and the amount of open area you'd like surrounding your hot tub. Do you want the pergola to directly cover the hot tub? Or would you like to create a sitting area adjacent to it? Refer to this handy
pergola measuring guide
to discover which size pergola will fit best in your outdoor space. Next you'll choose the style and extras.
Hot Tub Pergola Privacy and Shade Options 
Hot tub pergolas provide an excellent opportunity to create a private and intimate space in your backyard. This is done by choosing a pergola style that provides the right amount of privacy. The closed and covered
pergola with roof
style is perfect for those who want total privacy while a partially
open roof pergola
design provides a more open feel to the space. Additionally, you can consider adding curtains or shades to your pergola for a more personal touch and to block out the sun on hot, sunny days.
Pergola Over Hot Tub Designs with Style
Adding style to your hot tub pergola will make it look even more attractive and add to the overall look of your backyard. You can add hanging lights, string lights, vines, or flowers to add texture and variety to the space. For special times with family or friends, consider adding a small table or bench seating area where you can sit and have a drink or snack. The more functionality the space has, the more you and your loved ones will use it.
Create the Perfect Backyard Hot Tub Experience
If you want to create the perfect hot tub pergola design but don't feel confident in your DIY skills, the best option is to work with a landscaping contractor. They will be able to advise you on the best wood pergola selection, roof style, and size to create a hot tub pergola that you will love. They also take care of all the pergola installation, making the whole process stress-free and enjoyable.
Take your backyard to the next level with a hot tub pergola - it's a great addition to any backyard space. It not only provides privacy and shade but also adds beauty and style to your outdoor living space. When designing your hot tub pergola, always consider the size, privacy, and functionality. With the right pergola design, your pergola with hot tub can become the focal point and centerpiece of your backyard oasis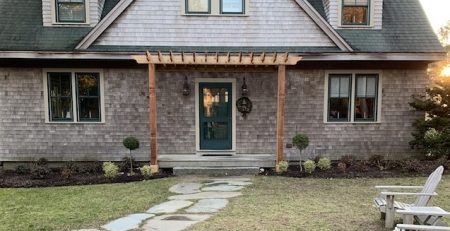 Ideas for Your Backyard Living Space
Spending quality time in your yard or patio is one of the most relaxing ways to enjoy the outdoors from...
Articles Related to Pergola Kits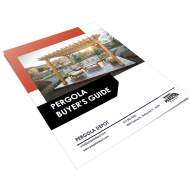 A quick PDF guide for buying and customizing wooden pergola kits from Pergola Depot.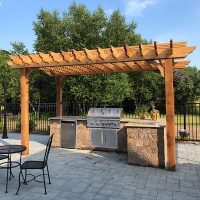 Learn how to measure the height and rafter spacing for your pergola kit.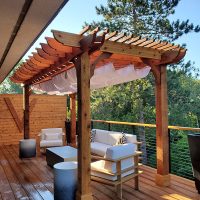 Find out the most common pergola sizes and styles that our customers use.