Arbor vs. Pergola vs. Gazebo
Last Updated On April 10th, 2023 at 02:04 pm
A beautiful outdoor space that can provide a space for outdoor dining and relaxation in the shade is one of the best additions you can bring to any home. Outdoor structures such as arbors, pergolas and gazebos can all elevate a backyard and make it feel like your own personal and private escape. Deciding between the three patio structure styles? Comparing an arbor vs. pergola vs. gazebo can help you decide.
If you're updating your backyard space and think that you'd like to add one of these structures, you might be wondering what exactly is the difference between a pergola and a gazebo and where an arbor fits into all of it. While there are certainly similarities between a pergola vs. gazebo or arbor, there are more differences that separate them by form and function.
To help you decide whether you should install an arbor, pergola or gazebo, we're sharing a little bit more about each of these outdoor structures so you can determine which one fits your needs and goals for your outdoor space. If one priority is to choosing one that blends well with the natural surroundings of your space, read more here to find out the difference between these popular covered structures and how each one might be a perfect match for your backyard retreat.
What Is An Arbor?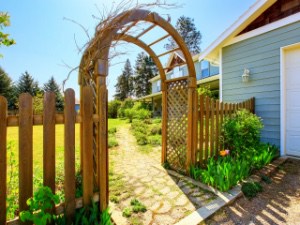 An arbor is a simple structure. It can be small or large, but if you're asking, "What's an arbor?" you should know that it's essentially a simple arch or flat-topped structure supported by one beam on either side. But there's a bit more to it than that.
An arbor comprises a frame that serves as an entryway of sorts. Many even include a gate. You'll likely see arbors covered with climbing plants or vines, like morning glories or even jasmine, which add texture, variety, color, and height to the overall appeal.
An arbor is very similar to a trellis, though that's not what we're comparing here. The difference between the two is that a trellis' primary purpose is to support plants, while an arbor offers that as a bonus function outside of serving as an entryway.
Later, we'll compare a pergola vs. arbor so you can see features of each and how they compare with one another.
Purpose of Arbors
Arbors help to welcome someone into a garden or backyard, or they can lead people down a particular path, like for weddings or other backyard events. They can also be beautiful photo backgrounds that enhance your favorite garden space.
Arbor Options
Arbors can serve multiple purposes, depending only on your unique goals. They can:
Create privacy
Offer shelter from bad weather
Create separate areas of landscaping
Support plants like vines
Direct backyard flow of traffic
Accent a beautiful outdoor space
What Is A Pergola?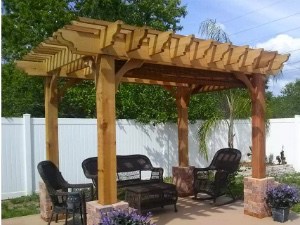 Pergolas are garden structures, usually made out of wood, that use columns (or posts) as the frame and feature either a closed or openwork roof. Pergolas are also often draped with plants like grapevines. Pergolas were once placed in small hideaways throughout gardens, offering a bit of shade and respite to anyone who needed it.
However, now, pergolas are more common as focal points for smaller gardens or backyards, and many people even attach them to their homes. This usually comes as a vertical addition to a deck or patio to provide a bit of coverage and shade. It makes sense that many people use the terms "pergola" and "patio cover" interchangeably.
This new style of pergola offers many advantages, including its accessibility and protection from weather like wind or rain. Many homeowners can also save when building pergolas by using the home's exterior as one of its walls.
If you're considering an arbor, pergolas or a gazebo, keep reading to learn how a gazebo stands out amongst these outdoor dwellings.
Purpose of Pergolas
Pergolas are mainly used to create separate outdoor spaces, offering some shade and an area to sit. The posts and ceiling can be used to hang lights, decorations or even plants as they can be open or closed to your liking. Most popular uses for a pergola are to frame in an outdoor room, create an open-air space for a backyard living area, or provide much-needed shade for poolside relaxation.
Pergola Options
If you're interested in installing a pergola, know that you have lots of power to customize it as you see fit. Some of the possible options of your pergola include:
Height up to 12 feet
Installed with an open top with varying degrees of shade
Installed standalone or attached to a home
Can be left out in the weather and remain intact
What Is A Gazebo?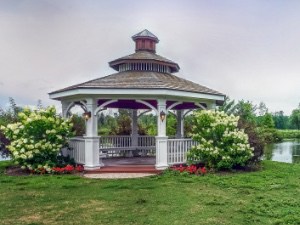 Ever wonder whether you should choose a gazebo or pergola but aren't sure exactly what the differences are between the two? A gazebo is considered the most defined of these outdoor structures. Gazebos are freestanding, usually with an octagonal shape that features a pitched roof with a cupola (tiny dome) at the very top. A gazebo is supported by multiple columns around the entire structure except for the entryway.
Gazebos usually have railings around the sides of the structure, and some even feature screening to offer more protection from outdoor conditions. Traditionally, gazebos also include built-in benches for seating.
While traditional gazebos were made of wood, today, you can find them made from several materials, like aluminum, vinyl and wicker. As for roofing, it's typically made of shingles or wood.
Purpose of Gazebos
A gazebo serves as your backyard's centerpiece. It can be beautifully decorated for weddings or reunions or simply serve as a gathering place for your family in the backyard. Their fully-covered roofs offer the most shade of the three options, and since they typically also include an entire floor, they can provide a smooth, safe place to walk and stand. They are also great for filling in empty yard space from an architectural vantage point.
Arbor vs. Pergola: The Differences
If you're wondering what the differences are between a pergola vs. arbor, you're not alone. These terms are often used interchangeably, although they are two separate things. While an arbor and pergola both have supportive posts with what is usually an open roof made up of lattices or beams, there's a lot more that separates the two.
An arbor is typically a freestanding structure that acts as a garden or yard's entrance in today's residential uses. It can feature a bench or a seating area to offer shelter as well. There are usually between two to four posts holding an arbor up, along with tons of plants and vines crawling about the entire thing. Latticework along the sides and top can help vines attach and grow more closely to the structure. An arbor may be made of various materials.
On the other hand, a pergola is primarily a shade structure built with similar construction as an arbor. A pergola may extend from the exterior wall of a home to create a shaded space and expand the outdoor living space. Pergola sizes range from small 4 post 8×8 pergolas up to an 8 post custom size pergola kit that can cover a large patio.
While an arbor's primary purpose is separation/entry with the added benefits of seating and shade if preferred, a pergola's main purpose is seating and shade with the added benefit of separation.
Additionally, a pergola doesn't necessarily need to be freestanding, while an arbor almost exclusively is. If you want to build something onto your home and cut down costs, a pergola can be a great way to eliminate the need for one side of columns and extend your outdoor living space.
Gazebo vs. Pergola: The Differences
If you've been asking, "What is the difference between a gazebo and a pergola?" that's a great question. They're similar enough to confuse the two, but there's enough that distinguishes a gazebo vs. pergola that is worth mentioning.
Pergolas, by their design, are meant to provide an outdoor dwelling space where you can enjoy both the sunshine and the shade. The roofs are commonly made of latticework and may include a retractable canopy or shade sail for more coverage.
A gazebo, on the other hand, is usually more elaborate in its style. Aside from the main difference between a gazebo and a pergola being size and shape (a gazebo is round or octagonal, a pergola is square), a gazebo also features a dome-shaped roof which gives it the ambiance you'd liken to an outdoor cathedral.
For your convenience, here are some of the most drastic differences between pergola and gazebo:
Roof: Pergola is opened and latticed, while gazebo is rounded and solid.
Sun-to-Shade Ratio: Pergola offers more sun, while a gazebo provides full shade.
Architecture: Pergolas can be attached to another structure, while gazebos are typically freestanding.
Purpose: A gazebo allows you to gaze at the surrounding landscape, while a pergola enables you to gaze upward and around.
Now that you understand the gazebo/pergola difference, let's explore some of the types of pergolas you may be interested in adding to your home.
Pergolas: Residential, Affordable, Customizable
While both arbors and gazebos bring a lot to the table, they tend to be better fitted for those looking to add a specific type of outdoor structure to their garden or large space, whether it be small or large. For those looking to add some architectural interest and shade to their backyard, a pergola is often the best choice.
Why? A pergola can be freestanding, or you can attach it to your home. Attaching it to your home's exterior wall can also save you money during the construction project since you won't need as many columns or as much support.
There are many pergola options available, especially here at Pergola Depot.
If you want to save on energy costs and invest in green technology, solar-powered pergolas may be of interest to you with the help of your local solar installer. Or, you may prefer to put up your pergola yourself with one of our Big Kahuna Wood Pergola Kits or Sombrero Pergola Kits.
Pergolas aren't just limited to the backyard, either. We offer garage pergola kits and a pergola trellis for walkways, as well. Whatever your outdoor goal is, we have the pergola product that can bring it to life.
For The Ultimate Outdoor Choice: Pergola Depot
If you're still deciding between an arbor vs. pergola vs. gazebo, consider what your goals are for your outdoor space, how much you want to spend to get the structure up, and how you plan to use it once it is built.
If you want the flexibility of either a freestanding or dependent structure and enough shade without completely closing you in, a pergola is likely the best choice for you. Luckily, we have a wide variety of options available so you're sure to find something that meets your needs.
Shop Pergola Depot's wide selection of pergola kits and take your backyard to the next level!