Outdoor Pergola Kitchen Ideas
Last Updated On March 8th, 2023 at 02:24 pm
Attention foodies that love fresh air! Quality bonding with friends and family is oftentimes centered around food. Something that makes those experiences even better is cooking outside. Have you decided that it's time to create that outdoor kitchen pergola you've been designing in your mind? One way to begin making your outdoor kitchen dream a reality is to make a checklist. This article provides direction with FAQ and outdoor pergola kitchen ideas to help you get started.
What are some of the top features of an outdoor kitchen? Do you envision a large dining table for friends and family to gather for special times? Or do you prefer a cozy intimate setting with a quality grill or cooking station? Whether you go big or small, one thing's for sure – a cover over your outdoor kitchen will be a welcome addition to expand your livable space!
Patio Covers for Your Outdoor Kitchen
Having a cover over your outdoor kitchen is a priority. This can take on many forms, but the one we'll talk about here is a pergola. Classic wood pergola kits offer a simple way to add an attractive cover over your new culinary workspace.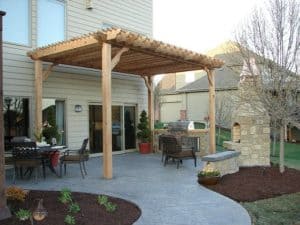 Ideas to incorporate a pergola in your outdoor kitchen are plentiful, so we'll try to boil them down here to help you choose the right pergola to use as a cover that works for your space.
Classic Outdoor Kitchen Ideas that Include Pergolas
One of most classic designs for an outdoor pergola kitchen includes a grill station built in to a stone workspace. On either side of the grill you can expand your counter space to include a spot for food prep, sink and other storage.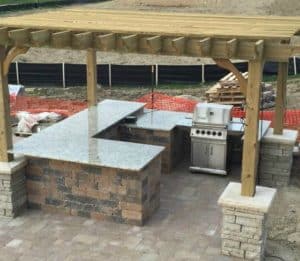 To enhance your outdoor room even further, an outdoor fireplace adds another dimension to the space and can double as a cooking area with brick oven for baking. The final touch is a wood pergola that pulls everything together. Placing a dining table and chairs just a few steps you're your grill station simplifies entertaining. Depending on the size pergola you choose, the pergola can be the focal point of your outdoor kitchen, or simply provide the framework for the boundaries of your new favorite hangout.
Unusual and Unique Outdoor Kitchen Pergolas
Your space may not allow for a large outdoor eatery, but an outdoor kitchen can also take on other forms. Customize your space with a prefab kitchen station, Big Green Egg, and outdoor bar. The pergola serves as a shade cover and an attractive enhancement to an otherwise plain looking backyard space.
Our pre-cut pergola kits can be ordered with various amounts of coverage. The Big Kahuna pergola kit provides maximum coverage, The Sombrero pergola kit offers medium coverage, and the open-roofed Melbourne pergola or The Fedora pergola design is our most open design for light coverage. The transformation your yard can undergo by adding a pergola to your outdoor kitchen design can be dramatic and create a space you can enjoy for many years. Shop today to choose a pergola to make your outdoor kitchen design unique!