Pergolas and Outdoor Fireplace Ideas for the Fall
Last Updated On May 25th, 2023 at 08:39 am
Backyard entertaining enthusiasts have spoken – pergola with a fireplace is today's top trend. With year-round use in many parts of the country, an outdoor fireplace is a great all-season addition. And what's a pergola? Another crowd-pleasing structure! The best part? Spring, summer, or fall is the perfect time of year to get your outdoor entertainment ready.
BTW, let's talk fireplaces. For anyone pressed for time, space, or cash, a fire pit is a great alternative that creates an equally cozy atmosphere. Whether you're mid-project or just getting started, we've got you covered with a couple of ideas to suit your patio design and budget.
Outdoor Fireplace Ideas with a Pergola
Most of today's homeowners are looking for a way to spend time outside well into the autumn and even in to winter. A covered patio with fireplace is one of the best ways to accomplish this. Luckily, there's a wide range of products and designs to add this touch to your outdoors. Designs can range from a full blown pizza oven and wood burning fireplace to a DIY fire ring. Read on for a few examples and photos.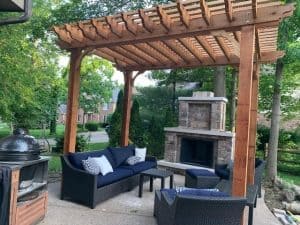 Most landscape aficionados agree that one of the most popular combinations to create a welcoming space to relax with family or friends is a covered patio with fireplace. Shown here are examples of classic patio designs.
This one is a stonework fireplace with one of our most popular sized free standing pergola kits and a comfy seating area. You can see you don't have to have a large space to build that outdoor room that gives you one more place to enjoy year-round!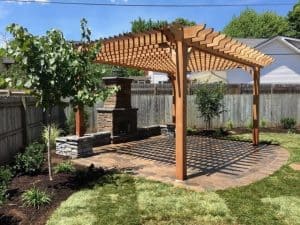 Another pergola fireplace combo showcases a custom stone wall with a tiered fireplace centered on the edge of the patio. The pergola offers a cover for a soon-to-be finished seating area close enough to feel the warmth of the fire, but far enough to allow safe distance!
If your backyard allows for it, you can build your dream outdoor room! Make your patio stylish and inviting with a solid stone fireplace perched at one end of your patio, adjacent to your pergola and dining area.
The sky's the limit for designing your patio, and if you're not a DIYer, you could find help from a local landscape designer to turn your dream into a reality.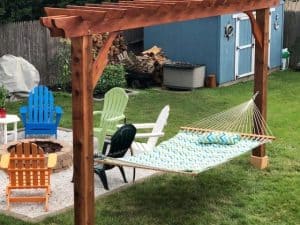 If you're not ready to invest the time or money into a full size fireplace, equally inviting is the pergola and pit combo! Fire pit pergola designs are a quicker way to bring a simple glow and warmth to your backyard patio. These can be built from a kit or from leftover patio pavers or bricks from a recent building project.
A gorgeous cedar pergola perched on top the patio with a view of the hillside is completed nicely with a fire pit to warm your toes and toast s'mores.
Do you have other ideas? Maybe you'd like a smaller pergola that sits near the patio, or one attached to the house. Either way, you'll be creating a beautiful and magical area to relax by the fire in the cooler weather.
How to Add a Pergola to Outdoor Fireplace Plans
Part of the equation required in completing your outdoor room with fire feature is the pergola! Whether you want a cedar pergola or pine, adding a pergola next to your outdoor fireplace or fire pit has the same general rule(s) of thumb as adding a pergola to an empty patio.
First, you'll want to plan out your space. Pick the perfect location and get an idea for the amount of space you'd like to use for your pergola. A couple things to think about when measuring for a pergola: Attached or freestanding? Depth? How wide? How tall?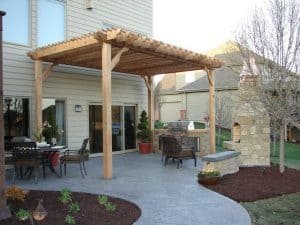 Will it be attached to your house (or other structure) or will it be standing alone on a patio? Some customers prefer not to attach the pergola, but install it freestanding immediately next to the house or other structure.
How much useable space would you like inside the posts or between the wall and posts, and how much overall roof coverage would you like to achieve? Look at the space you have and consider how much room you'd like inside the posts and under the pergola roof. The overall dimensions of our pergolas determine the size of the roof structure. The inside area is always a bit less.
Once you have an idea of the location and amount of space you plan to use, now you can take measurements to determine the actual size kit that you will be ordering.
Depth? How to Determine Pergola Rafter Length
The length of rafters ("Depth"), will be calculated by measuring the distance you'd like to have between the outside of the posts, plus the overhang (for freestanding); or the distance you'd like to have from the wall to the outside of the posts (for attached pergolas), plus the overhang.
Width? How to Determine Pergola Beam Length
The length of beams ("Width"), will be calculated by measuring your desired outside post to post width plus the overhang. Your second measurement will be the distance between the points where you'd like the outside edges of each post to land.
Overall Tip to Tip Pergola Size
Your overall dimensions equate to your Rafter Length (Depth) x your Beam Length (Width). This will be the overall size you choose.
Height? Pergola Post Length
There are a couple factors to consider when choosing the post length for your pergola. What's your desired pergola height above the ground, and how will you be installing the pergola?
Follow these simple steps and you'll be well on your way to your new dreamscape! If you need help finding the right size pergola for your space, feel free contact us with your questions. Then you'll want to decide what type of fireplace will be right for your space, or if you'll want to go with a fire ring or fire pit.
Patio with Fireplace or Fire Pit?
Sometimes simpler is better. A DIY fire pit or a prefab fire pit can bring the same warmth and glow that a grand stone fireplace can. Budget-friendly and a quick fix to create some ambiance and a place to roast marshmallows – a fire pit could be the way to go!
If you do have a larger space to accommodate a fireplace, you'll have some decisions to make before you get started. Will you hire a contractor to install it? Maybe there's an outdoor fireplace kit you purchase and build yourself? Or perhaps it's a DIY project you'd like to tackle from scratch.
However you're planning to put your finishing touches with a fire feature in your backyard, this is a great time to get started and put your plan in motion! Whether you go with a patio with fireplace or a fire pit pergola combo, you'll be very pleased when the cool temps arrive!